Samsung Galaxy J5, Galaxy J7 tout front-facing LED flash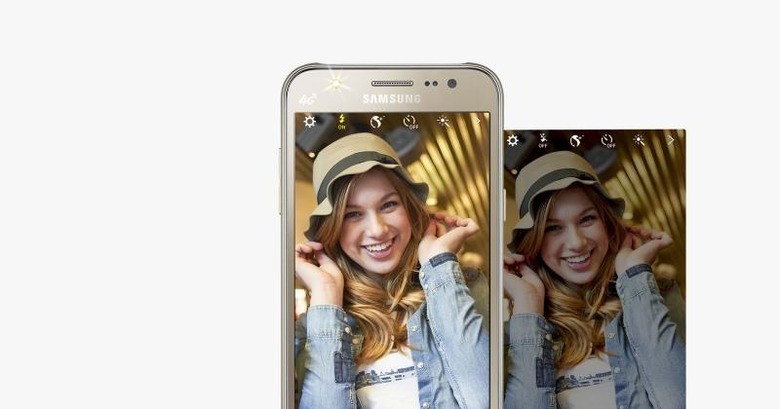 Yes, this is a selfie generation. If you're still not convinced, or are still in denial, just look at the number of features and gimmicks that even smartphone makers employ to appeal to this crowd. While the new mid-range Samsung Galaxy J5 and Galaxy J7 smartphones, now official in China, do not have the crazy rotating camera of an OPPO or the large sensor size of an HTC, they do have something very few have: a front-facing LED flash to illumine even the darkest of selfies.
Actually, Samsung cannot lay claim to the title of being the first with this feature. Not counting the OPPO N1 and N3's eccentric rotating camera, There are others who have already beaten Samsung to the punch. The HTC Desire EYE, unveiled October last year, had not only a 13 megapixel camera on its face, it also had front LED flash. Dual LED even. Following that lead, ASUS unveiled the ZenFone Selfie just this month, with the same 13 megapixel camera and dual LED "Real Tone" flash combo.
Compared to those, Samsung's 5 megapixel front shooter and single LED flash seems to pale in comparison. But the Galaxy J5 and Galaxy J7 have a distinct advantage: price. These two smartphones, being part of the new "J" line, are pretty much your conventional mid-tier devices. Happily, it seems that the bottom line for mid-range smartphones seems to have risen, with both sporting 1280x720 screens, 5.0 inches on the Galaxy J5 and 5.5 on the Galaxy J7. Both also have the same 16 GB internal storage, expandable with a microSD card up to 128 GB. Both also have the same 13 megapixel main camera.
Their key difference, aside from the size, is the processor. The Galaxy J5 is powered by a 1.2 GHz quad-core processor while the Galaxy J7 is a bit beefier, with an octa-core setup combining four 1.4 Ghz cores and four 1 GHz cores. Memory might be just 1 GB. They do also differ in battery packs, with the smaller Galaxy J5 sporting a 2,600 mAh and the Galaxy J7 requiring a bigger 3,000 mAh. The smartphone also have dual SIM dual standby feature and supports both 4G FDD and TDD LTE bands.
The two smartphones have been announced so far only in China, though they will most likely also trickle down to other markets where the Galaxy J brand is available. The Samsung Galaxy J5 is marked at 1,398 RMB ($225) while the Galaxy J7 would cost around 1,798 RMB ($289).
SOURCE: Samsung (Galaxy J5), (Galaxy J7)
VIA: iFanr