HTC Desire EYE Hands-On: The 13MP "Selfie Phone"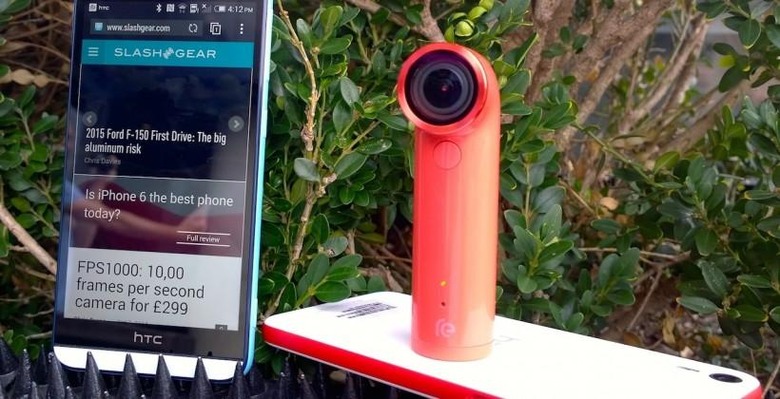 Blame Instagram, blame Facebook, blame Tinder: whatever the cause, the selfie is big business and HTC's latest smartphone, the HTC Desire EYE, is aiming to capitalize on that. Flagship of the Desire series – the mainstream range below the One series – the Desire EYE doesn't just boast a 13-megapixel camera on the back, but another one of identical resolution on the front for your vanity shots. Announced today at HTC's NYC event, I've been playing with the Desire EYE for the past few days: read on for some first impressions.
As designs go, the Desire EYE feels like it straddles what we've seen from both the Desire and One ranges before now. From the front, it borrows cues from the One M7 and M8, with its silver end-caps flanking the black glass of the display, and you get HTC BoomSound too, with dual front-facing stereo speakers for impressive audio quality.
Viewed from the back, meanwhile, and the plastic casing with its curved edges is reminiscent of the Desire 816, down to the rear camera being pushed right up into the upper left corner. It feels sturdy and well constructed, though like other recent HTC phones it's relatively long – 151.7 x 73.8 x 8.5 mm and 154 grams – thanks to fitting in those excellent speakers.
The size is also kept on the larger side by virtue of the 5.2-inch display, a solid Full HD panel with decent colors, good brightness, and broad viewing angles. Inside, there's Qualcomm's Snapdragon 801 2.3GHz quadcore and 2GB of memory, along with 16GB of storage and a microSD slot happy with up to 128GB cards.
Connectivity includes LTE and HSPA, along with WiFi a/b/g/n (2.4/5GHz), Bluetooth 4.0 with aptX, NFC, a microUSB 2.0 port, and a 3.5mm headphone jack. The usual sensors, like accelerometer, ambient light, proximity, gyroscope, and digital compass are included too, plus three microphones for background noise cancellation.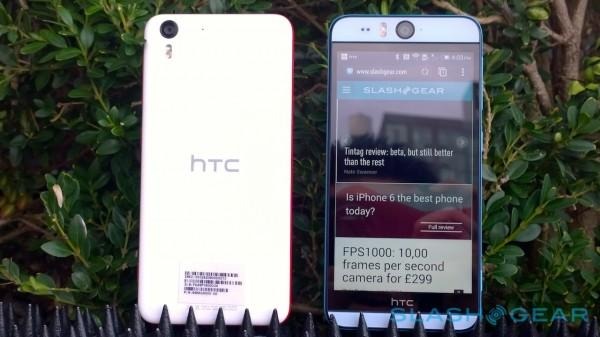 The Desire EYE is IPX7 resilient to dust and water, too, meaning it can last up to 30 minutes when submerged in one meter of water. You don't get annoying flaps to cover the ports, either, which would mar the "coral reef" or "blue lagoon" aesthetics.
Of course, the big feature is the Desire EYE's photography abilities. It gets off to a good start, with a dedicated camera shortcut button, and HTC has included its new HTC EYE Experience app which spots faces, tracks them, and crops the frame to suit. If you don't want to reach for the physical button and risk wobbling your shot, there's voice control for selfies: say "smile" or "say cheese" and you snap a still, while "action" or "rolling" automatically captures video.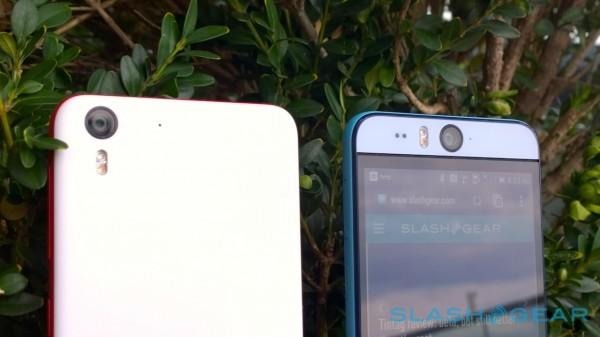 What strikes me as odd, though, is HTC's choice of front-facing sensor. 13-megapixels certainly looks good on paper, but I'd argue that HTC's UltraPixel technology would've been a better decision. Its improved low-light performance would mean nighttime or party selfies would be far more rewarding, without having to rely on the dual-LED flash which, despite promising "intelligent" color mixing to get skin tones right, still makes you look unnatural while simultaneously blinding you.
In fact, while the Desire EYE's selfie skills should be perfect, at least on paper, in practice I had mixed results. Good lighting is the camera's friend, though not if you're backlit: then, skin tones take on a weirdly plastic, over-processed appearance. Tested side-by-side with some lower-resolution front facing cameras on other phones, and the Desire EYE's plentiful megapixels didn't translate into a clear advantage in image quality.
It's possible that HTC can tweak things ahead of the commercial launch at the end of this month, with software updates before the Desire EYE is released across the US, EMEA, and Asia from late October.
HTC's Desire line has proved successful in fleshing out the mid-range the company neglected in 2013, buyers lured in by the style and capabilities of the One series but then opting for a Desire handset instead for price reasons. The Desire EYE certainly has the design and solid construction, but it remains to be seen whether it finds favor with the discerning selfie crowd.