The Desire EYE isn't the only evidence of HTC's selfie obsession today, with a new app, the HTC EYE Experience, promising smarter photos from your cellphone's camera. Offering a combination face-tracking, smart cropping, photo blending, and voice-controlled selfies, there are also some stranger options, like mixing your face with that of a celebrity, or even applying digital makeup. Meanwhile, there's also a new version of the HTC Zoe app.
HTC has been putting wide-angle lenses on its front-facing cameras for some time now, but the EYE Experience promises to make that broader field of view more useful. Using face-tracking, the app can spot up to four people in the same room, and then digitally zoom and crop them so that they're positioned best on the display.
It works in apps like Skype, and HTC has thrown in screen sharing too, so that you can show people exactly what you're looking at, just as has long been the case with desktop video conferencing.
Elsewhere, there's Split Capture – effectively combining stills or footage from both front and rear cameras into a single frame or clip – which HTC believes will be useful for documenting your reaction to what you're memorializing. I've used similar systems on other handsets to record interior and exterior car footage, and it works really well.
Other features involve cutting out faces or blending shots. Crop-Me-In, for instance, can take a person or object from a still or video shot using the front camera and then paste it into the main camera; similarly, Face Fusion merges two different faces together.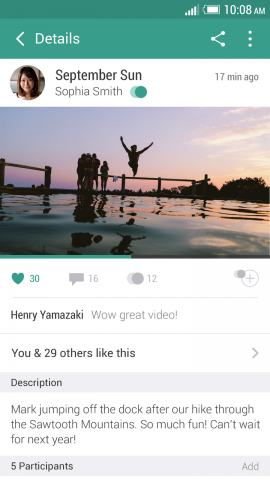 Finally, there's voice control not only for still image selfies but video clips, too, which is fairly unusual. Calling out "say cheese" or "smile fires off a photo, while saying "action" or "rolling" triggers video recording.
The HTC EYE Experience won't just be limited to the Desire EYE, however. In fact, as well as being preinstalled on that phone, it will be available to download for those with a One M8 or M7, a One E8, the One mini and One mini 2, One max, Desire 816, Desire 820, and Butterfly 2 in "the coming months," though exact functionality supported by each device may vary.
Even broader in its availability is the latest version of the HTC Zoe app. Released in beta earlier this year, and today updated to Zoe 1.0, the new app now supports different lengths – short, medium, or long – for the auto-curated highlight reels.
A new Zoe content engine, meanwhile, will be added later in the year to improve on selections, and make it less obvious if you only have a small number of photos and videos to choose between.
HTC Zoe 1.0 is available for Android now, and will arrive on iOS later in 2014.