HTC Zoe app hands-on: Can embracing Android save HTC?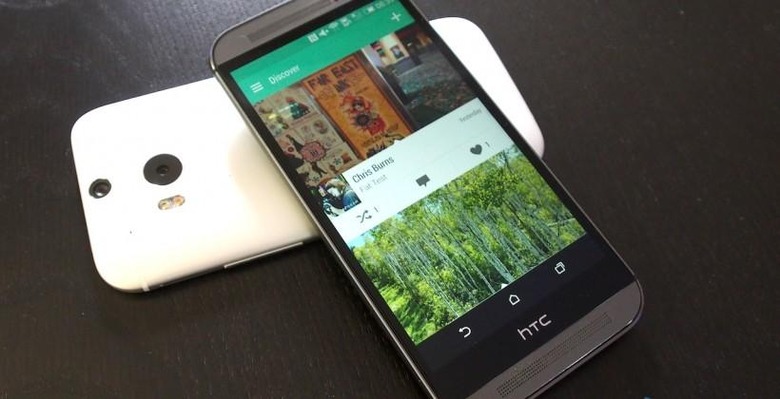 wants to give the world "Instagram on steroids", and it believes its new HTC Zoe app is the way to do that. Handiwork of the
cooking up software for the company, it's the first time the Zoe photography system has been released for Android phones other than HTC's own, allowing Samsung, LG, and Nexus 5 users to get involved too. I've been playing with the latest beta of the app, which hits Google Play today; read on for some first-impressions.
HTC's Zoe system has always walked a somewhat troubled path. Announced
alongside the original HTC One (M7) in 2013, it tried to instill smartphone photography with some sort of life, automatically curating thirty second video clips made up of the stills and video the phone recorded.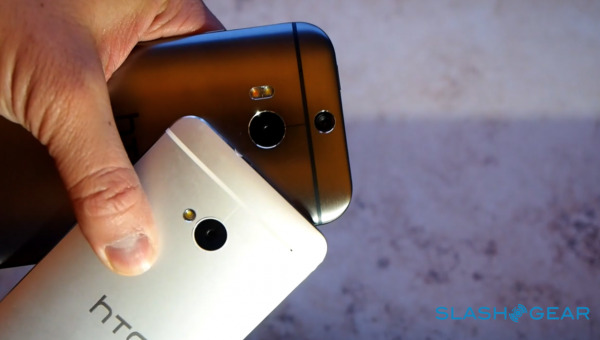 Those automatic highlight reels were overshadowed by confusion around the Zoe photography system, however, which could simultaneously snap burst images and brief video clips. The auto-curation system was subsequently updated with more themes, the ability to add custom background music, and greater control over what content was included, but it struggled to gain traction as a feature limited to HTC's own devices.
That's something the company plans to change with the new HTC Zoe app. Released not only for the
, but for any HTC phone running Sense 6, as well as Samsung's Galaxy S5, S4, and Note 3, the LG G2 and G Pro, and the Nexus 5, it's the first time Zoe has gone cross-platform.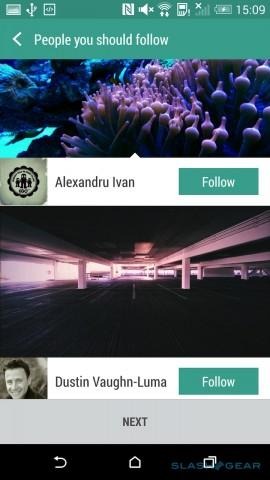 It won't end with those devices, either. "You'll see support increase dramatically over time," HTC told me, pointing out that the company had accepted that, if it wants to make Zoe a brand in its own right, then it needs to embrace market leaders like Samsung. While you could argue it weakens the value of buying an actual HTC device, the company's counterpoint is that broader Zoe support will make for a better experience for HTC owners in the long run.
The app itself is a cross between a basic video editor and a social network. After signing in with a Google account, and running through the initial suggested accounts to follow – HTC has a "Zoe Team" account, for instance – it walks you through creating your first Zoe.
Whatever photos and video are on your phone are shown in the bottom half of the screen, with a preview of the finished highlight reel on the top. Swiping to the left shows the different themes you can choose between, each with their own color filters, cut styles, and musical backgrounds. Swipe to the right, meanwhile, and you can choose the musical accompaniment, either picking between some of HTC's tracks or opening any MP3 on your device.
As we've been impressed with before, the cut process is practically instantaneous, at least on the HTC One M8 we tried the app with. Footage is added in and out, and different themes applied, without any lag or pause for processing. That makes it relatively painless to try slotting in different content, though for the moment there's no way to specifically order what's included: rather, you can manually specify the start and end clips, put them all in chronological order, or shuffle them randomly. HTC tells me more flexibility is in the pipeline.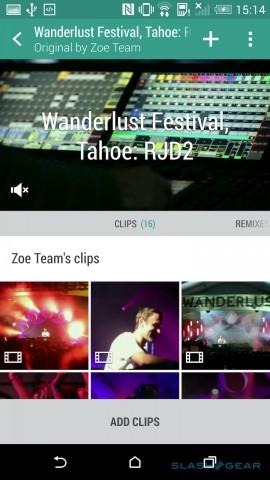 When you're satisfied, you can share the finished video. That can be done publicly – it shows up on your Zoe profile page, complete with an animated preview of the content itself – and a link automatically pushed to social networks like Facebook and Twitter, or private, with only invited friends getting a link to see it.
The Zoe app isn't just about viewing other people's clips, though; we have YouTube and Facebook for that. What's special is that – if they're not locked – you can edit someone else's shared Zoe and customize it. Tap the Remix button and the video opens in your own editor, downloading the clips and music they used, but also allowing you to add your own in, and change the overall theme.
The finished Remix can then be shared, whereupon someone else could feasibly take it and customize it themselves, each time evolving the finished footage to shape it with their own experiences.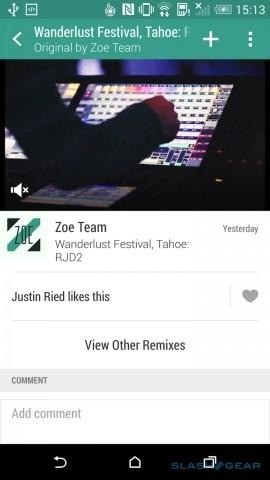 HTC envisages this sort of "Instagram but collaborative" approach as being popular for those who've had shared experiences like concerts, festivals, or family gatherings.
You can certainly imagine a Zoe being passed around after a wedding as each participant adds their own perspective, though for the moment each clip is just thirty seconds so there's a limit to how much content you can actually squeeze in.
The app isn't without its bugs, given it's a beta release. You can't unlock videos which were shared as locked clips, and on a couple of occasions we had to hit Remix a few times for Zoe to download all the shared clips.
Nonetheless, it's an interesting approach to video sharing, and certainly more engaging than just watching someone else's footage. How successful it is at promoting Zoe as a brand – and, in turn, pulling HTC along with it – remains to be seen, but it's good to see the company finally taking its photography developments seriously.
Every HTC One M8 owner will get a push notification, telling them that the stub app on their phone is now ready to be updated. Meanwhile, the Zoe app is available in Google Play for other users today as well. HTC says the full 1.0 version is expected this fall.
MORE