LG Nexus 5 specifications take shape with renders aplenty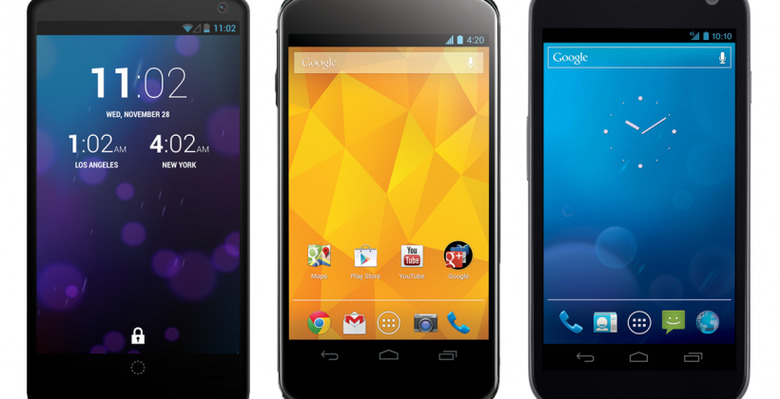 It's not often that a device is so highly anticipated that more than one person creates a freestyle rendering of it before its even confirmed to exist – but that's just what's happened this week with the LG-made Nexus 5. This device has been tipped to be taking on the specifications of the LG G2 for the most part, and has appeared quite possibly on purpose, but supposedly on accident – inside a teaser video for Android 4.4 KitKat. Now the user-made models can pour in.
What we're seeing here courtesy of Android Community is a set of renders coming from several different illustrators. Each of them very much appear to be using a combination of sources for their creations including both the KitKat video and the FCC appearance of this device – or what's almost certainly this device – from just last night.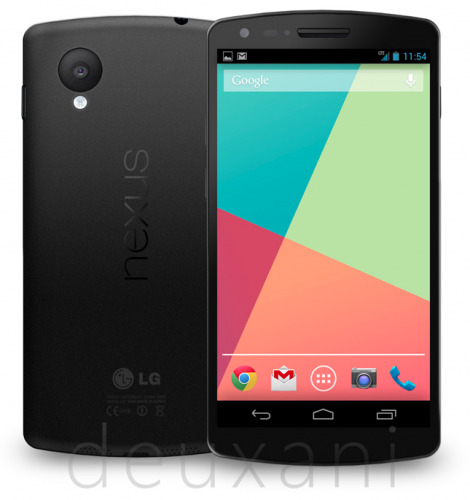 That little FCC tidbit also gave some insight on the wireless capabilities of the device, it coming with wireless charging abilities as well as Bluetooth 4.0 and NFC. Also included in those documents were notes on CDMA, WCDMA, and LTE network connectivity as well as Wi-fi. You'll also find a 5-inch display (quite likely, as in almost certainly 1080p), along with a Qualcomm Snapdragon 800 quad-core processor.
As we discussed back in August, the Qualcomm Snapdragon 800 has Samsung Voice Activation for always-listening abilities as well as processor architecture well suited for low-power tasks – or contextual computing, as it were. It would not make a switch of sense for Google to have helped Motorola launch a touchless iteration of Google Now with no intention of releasing it more broadly with their own Nexus lineup on Android – the Qualcomm processor allows it to happen.
Meanwhile the Motorola family of devices – Moto X and each of the DROID devices released to Verizon this summer – use the Motorola 8X compute system with a couple of extra processing units to handle these odd tasks. Qualcomm simply integrates it all in with the same chip and a bit different angle.
Expect the Google Nexus 5 with Android 4.4 Kitkat to appear inside a month – that's a relatively safe estimate given the idea that it's already popping up in the FCC and being dogfooded by Google to the public in teasers. We'll see this device soon!
VIA: Vovicon on Reddit; The Verge