LG ET83 Touch 10 LED Monitor Review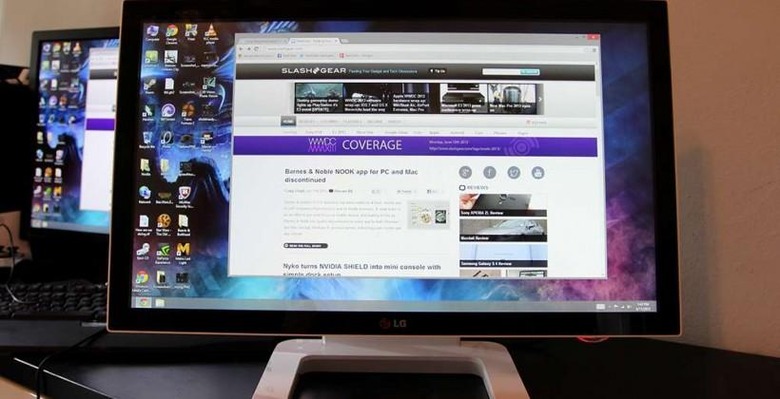 The 23-inch Class 10 point touch LED IPS monitor from LG going by code-name 23ET83V-W is more than just a mouthful in name: it's a rather fine piece of equipment made for today's Windows 8-friendly computing universe. The LG ET83 has been working hard on our review desk for more than a week, becoming more than a review device in our common working environment here at SlashGear. Instead of turning this review out with ultra-speed, it became more of everyday experience: this is a monitor I dread having to send back.
Across 23-inches of IPS LED screen, this machine works with 1920 x 1080 resolution, a brightness of 250 nits, and an aspect ratio of 16:9. With the ability to register 10 points of touch at once, ease in use results with any app where on-screen piano playing or ultra-quick typing comes in play. With what LG quotes as a 178 degree viewing angle from all sides, it's easy to see why this machine is aimed at not just personal use, but multi-viewer interaction as well.
The LG ET83 has been a winner as an extension of the build we're still using from Falcon Northwest since we first hooked it up. While less cords is always more when it comes to any extra hardware, this machines ability to work instantly with HDMI + USB came in handy for a quick startup.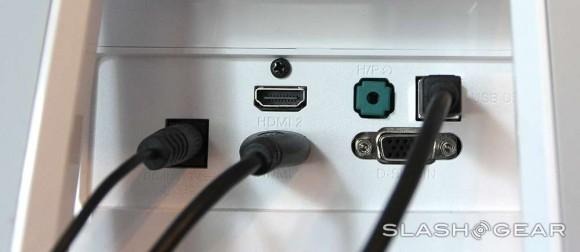 All you'll have to do is plug in the power cord to the wall, plug the HDMI cord from the monitor into the computer, and plug the USB on one end into any USB port on the computing unit on the other. What you'll have from there – assuming you're using a recent version of Windows, preferably Windows 8, is a plug-and-play situation. Touchscreen action right on command.
This monitor works with D-Sub in, two full-size HDMI ports, one headphone-out port, and USB. Select your inputs from the front and you'll be good to go.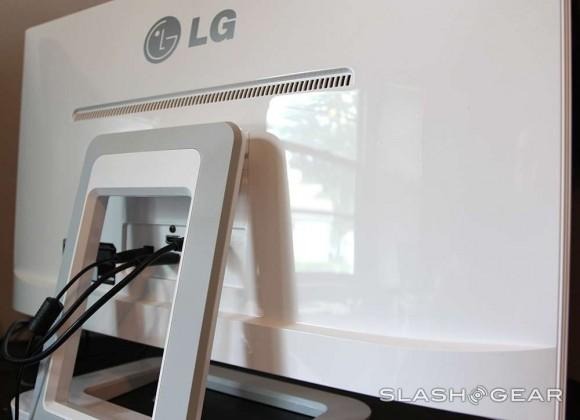 The front of this machine works with touch-sensitive buttons and a rather odd light that, if we could change one thing, would be out of the running for a reboot. Nothing like a red light in the middle of the night letting you know your monitor is still on, or distracting you from gameplay if you happen to want to play games in the dark.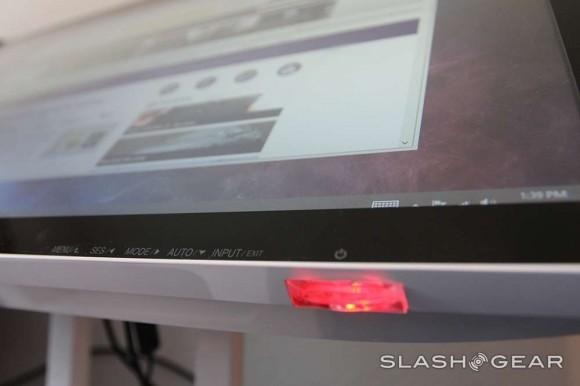 This machine weighs in at 19 pounds shipped and works with a white border and back, all hard plastic. It's not the lowest profile monitor in the room, but it's modern looking and will match any setup you've got – just so long as there's white in it.
You'll be dropping $549.99 USD MSRP on this machine if you pick it up today, with price varying ever-so-slightly depending on where you grab it. If you're looking for a fine monitor to connect to your desktop computer working with Windows 8, LG has your back right here and now.