LG H160 sliding tablet and V325 all-in-one PC pack Windows 8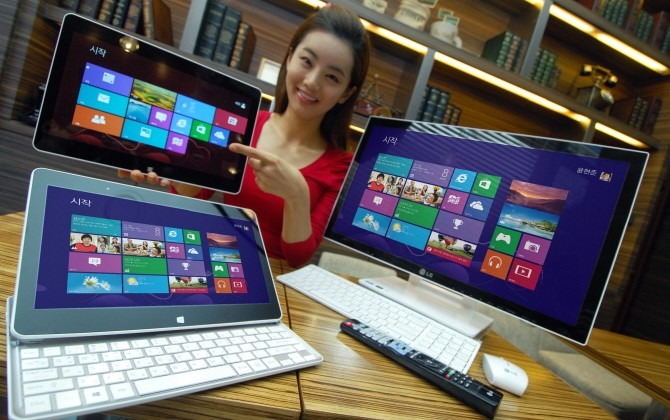 LG has outed a duo of new Windows 8 machines, the H160 sliding-convertible tablet and a 23-inch touchscreen all-in-one, the V325, with the promise of a standalone touchscreen version in the pipeline. The LG H160 has an 11.6-inch touchscreen and runs Windows 8 on a sliding/tilting form-factor, with a QWERTY keyboard revealed when the display is pushed up with LG's new "Auto-Sliding" mechanism.
The display itself is an LCD IPS panel with 178-degree viewing angles, while connectivity includes USB, an HDMI port, microSD card slot, and the usual wireless options. The whole thing is 15.9mm thick and weighs 1.05kg – somewhat hefty for a tablet, we have to say – but manages to fit a battery good for up to 10hrs use.
There's also a "Smart" touch pen, though it's not clear if that's a simple capacitive stylus of a proper active-digitizer version; we're hoping the latter.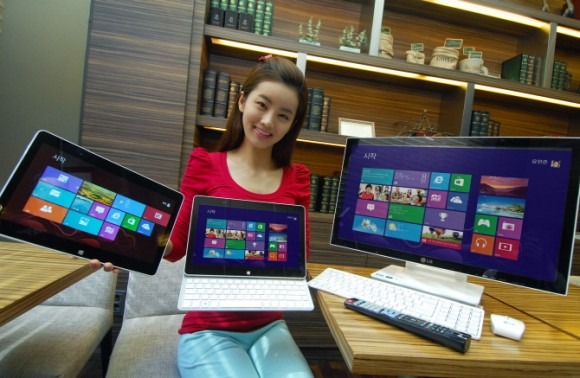 As for the LG V325, that's a 23-inch Full HD AIO PC with 10-finger multitouch and a digital TV tuner, allowing for standalone TV viewing without having to boot into Windows 8. It comes with a remote control just to complete the illusion.
When you're actually doing some work (or gaming), however, there's an Intel Core i5 processor, NVIDIA GeForce GT640M graphics, and support for 3D, while LG says the V325 can boot up in half the time of its Windows 7 predecessors.
LG says there'll also be a display-only version of the AIO PC, the LG ET83, launching from October 26, targeting those content with their PC/notebook but wanting touchscreen control. The company will also have new ultrabooks – the LG Z355 and Z460 – and other laptops and desktops running Microsoft's new OS, again from October 26.
We've more on Windows 8, meanwhile,  in our full review.