LG Enact Android Slider Keeps Verizon In The QWERTY Business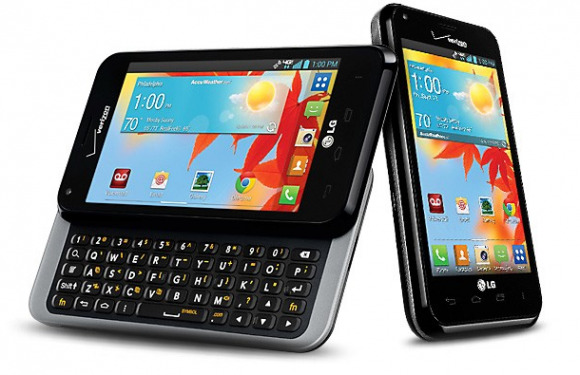 It's not as if the LG Enact was the last device on the planet to offer a full physical keyboard with Android software – though the most recent entry with Verizon was the BlackBerry Q10. This LG device brings a sliding front panel that reveals a full QWERTY keyboard much in the same way that the Motorola DROID 4 did back in February of 2012. There's also a near-identical device by the name of LG Mach that was released earlier this year – not that you'd need to know that if you're sticking with Verizon.
This device works with many of the LG-made software innovations that've appeared on higher-end Android devices from the manufacturer over the past several months. You'll be working with QSlide 2.0, meaning you can have two apps open at once, and QuickMemo – a note-taking service that also works over screenshots. LG has also added what's called Q Translator, able to use this device's camera to scan and translate text in 44 different languages.
On its back, the LG Enact works with a 5 megapixel camera able to record 1080p HD video, while a front-facing VGA camera works with LG's "Cheese Shutter" – saying, "Cheese" takes a photo. You've got other software features for the camera added by LG like HDR, Panorama, VR Panorama, Beauty Shot, and Continuous Shot.
Up front the LG Enact features a 4-inch WVGA display at 800 x 400 pixels with a Corning Gorilla Glass pane to protect it. The slide-out keyboard features 5 rows of keys and dedicated keys for Google Search as well as Write & Share. Inside you'll find a 2460mAh battery that should easily keep your usage time up to a full day.
This device is launching with a Qualcomm Snapdragon S4 Plus dual-core processor at 1.2GHz clock speed and you'll be rolling with 8GB of internal storage. There is a microSD card slot – if you're worried about the tiny built-in storage – that you can use to expand your space by another 64GB. LG Enact is available starting this week for $19.99 USD on a two-year contract.
VIA: Verizon