Verizon BlackBerry Q10 Review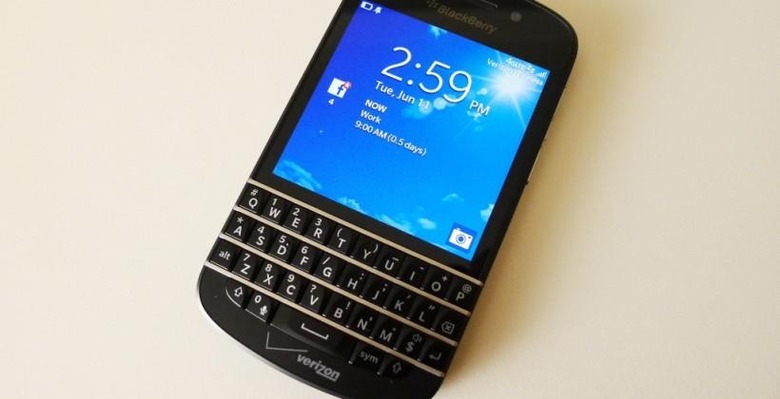 BlackBerry's rolling the dice this year, with a complete overhaul of their operating system and releasing all new devices. We've taken a look at both the BlackBerry Z10 and Q10 in full, with the latter being a 2013 version of a classic BlackBerry device that we've grown to know. All four major carriers have signed on to offer the Q10, and we've decided to take a look at Verizon's variant to see what the device offers on Big Red. While we've reviewed the Q10 before, this'll be the first time we've taken a look at the handset on a US carrier, so let's see what the QWERTY-equipped device has to offer for us Americans.
Hardware & Design
We got to try out the Q10 for just a little bit back in January during BlackBerry's launch event, so there weren't really any surprises when we gave the phone a more-thorough handling. The device will be very familiar to any BlackBerry user, as it sports the overall same design and physical keyboard as past devices. What's changed however, is that you now get a physical QWERTY keyboard and a touchscreen display. The 3.1-inch AMOLED square screen is plenty large enough to navigate around without having to squint your eyes, yet there's still room for a full keyboard down below.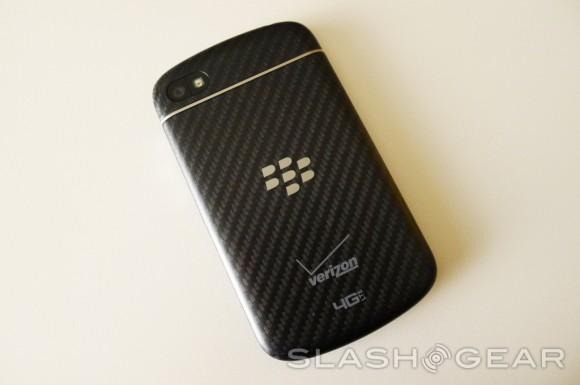 On the inside, the Q10 is running a Qualcomm Snapdragon S4 Plus dual-core processor clocked at 1.5GHz with 2GB of RAM and 16GB of internal storage (microSD card slot available). You're also treated with an 8MP camera on the back and a 2MP front-facing shooter for selfies and video chats. As for connectivity options, the Q10 has 802.11n WiFi, Bluetooth 4.0, and even NFC.
As for ports and buttons on the outside, it's your mostly-typical selection, including the power/sleep button at the top and the volume rocker situated on the right side, along with a voice command button squeezed between the volume up and volume down buttons. These buttons feel rather cheap, with an obnoxiously loud "click" noise that you don't normally hear with these kinds of buttons on other handsets. As for ports, you're treated with the headphone jack up top, and the microUSB port on the side, along with a microHDMI option, which is interesting to see on a device like this.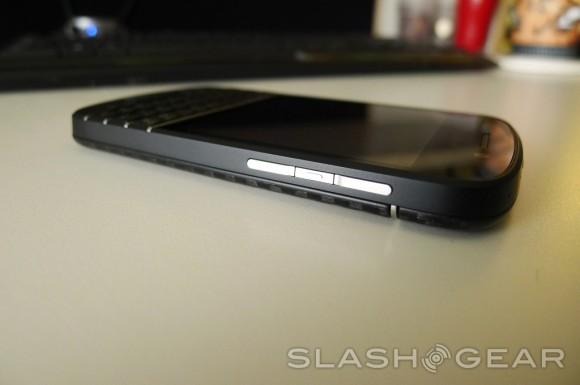 The only difference in design between this Verizon variant and other carriers is the prominent but subtle branding of Big Red. At the bottom below the keyboard you'll find the Verizon logo, which easily blends in with the color scheme of the phone. On the back, you'll see a slightly larger Verizon logo with the carrier's iconic 4G LTE logo right below that. And yes, this Q10 boasts Verizon's 4G LTE speeds.
The keyboard isn't anything to write home about, and as mentioned in our full review of the device, the Q10 is missing the traditional row of buttons that usually sit betwixt the keyboard and the screen. Nonetheless, it's a keyboard that's rather easy to get used to quickly. At first, my typing was really sluggish, almost to point where I was reminded of the time when I first got a computer and was learning to type. However, I was quickly able to get back up to par — not as fast as a touchscreen keyboard, but it was doable.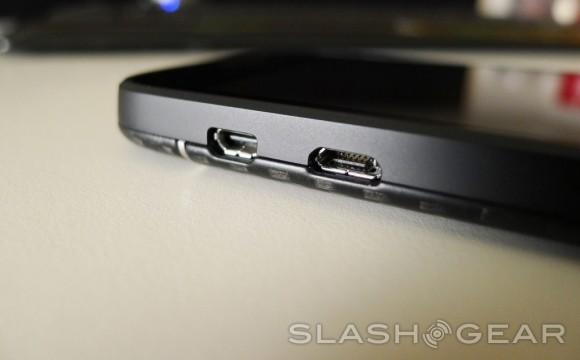 Overall, the design of the phone isn't anything too special. Of course, I really love the carbon fiber look on the back, and if there's anything that gets me excited, it's carbon fiber (heck, my wedding ring is made out of carbon fiber!). However, the Q10 doesn't have real carbon fiber sadly, and it's merely just a soft-touch plastic that's easy to grip.
Software
As for the software, I'll just say that I actually kind of like BlackBerry 10, probably to the point where I like it better than Windows Phone 8. The user interface takes a little while to get used to, but since the Q10 and other BlackBerry devices don't have home buttons, the interface relies mostly on swipes to get back to the home screen and such, which I find incredibly intuitive. You have your typical pages of apps, and scrolling farther to the left will reveal a page dedicated to recently-opened apps, and swiping all the way to the left will bring up BlackBerry Hub, which is the company's new centralized communication hub of sorts, where your phone gathers up all of your email and social network activity into one stream.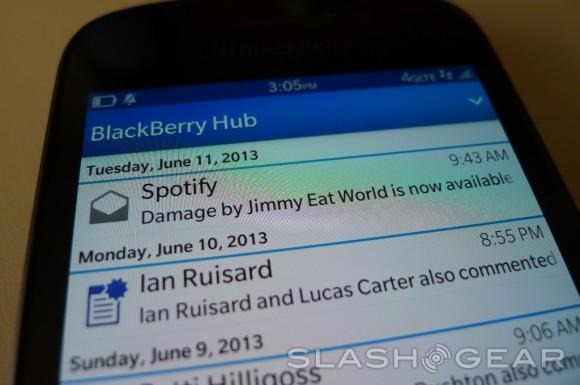 We covered BlackBerry 10 fairly extensively in our full BlackBerry Z10 review, but there are just some slight changes in this Verizon version that are worth noting. Firstly, as a part of the default apps, you'll get the My Verizon Mobile app, which can be used to manage your Verizon Wireless account, as well as see how much data you're using or many minutes or texts you have left in the current billing period.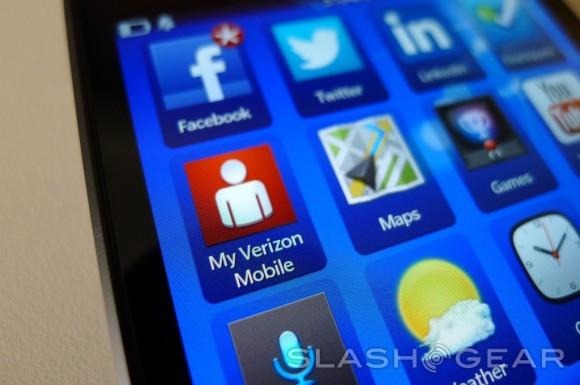 The other very-minor difference is the "Verizon Wireless" branding on the lock screen in the upper-right corner, just underneath where you'll see "4G LTE." Other than that, there's no other bloatware besides the default apps that come with the Q10 out of the box, including Facebook, Twitter, LinkedIn, Foursquare, YouTube, Box, Bing, Adobe Reader, and Slacker Radio, just to name a few.
Of course, though, BlackBerry 10 is still young, and while I really like the user interface, the app and game selection in BlackBerry World is horrid. That's probably one of BlackBerry 10's biggest turn-offs right now, but as with any young platform, more and more apps will come with age and maturity.
Camera
The Q10 has the same camera sensor as the Z10, so there weren't any surprises for us this time around, and the Verizon version of the Q10 doesn't include a different camera. It's certainly not the best smartphone camera we've used, but it's definitely not bad. Macro abilities are admiral and there's even an HDR mode that takes some well-lit shots, providing that you can hold still for a hair longer than usual. You can also record full 1080p HD video, which we're rather impressed by. However, saturation in photos leaves a lot to be desired, and images taken in low-light bring in a considerable amount of ISO noise.
Performance & Battery
BlackBerry 10 is quick, but we obviously wouldn't really expect anything less anyway. Then again, the device had a bit of trouble registering certain swipes — mostly swiping up from the bottom edge of the display in order to go back to the home screen. Of course, this seems like merely just a design issue rather than a performance issue, since there's hardly enough room between the bottom edge of the screen and the keyboard to get a running start on an upward swipe.
As for battery life, the Q10 boasts a fairly large 2100mAh battery that can also be removed by sliding out the back cover and lifting it up (that's right: no need to pick at it with your fingernail in order to pry it off). I was able to go all day long and then some just by playing around with it and surfing around the handsets many menus and apps available. Standby time of the Q10 is perhaps even more impressive. Those who aren't heavy users and merely just use their BlackBerry to check messages every now and then and write some emails throughout the day will easily be able to get a couple days out of the battery without plugging into the wall.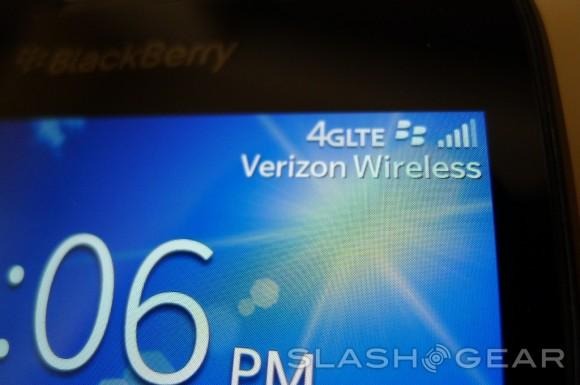 Of course, business-centric folks that will use this device will most likely actually use the phone portion, and Verizon claims you'll get just over 21 hours of "usage time" and up to 16 days of standby time. Of course, "usage time" is quite vague on their part, but BlackBerry says you'll be able to go up to 13.5 hours on 3G talk time.
Wrap-Up
I certainly don't dislike the Q10, but I'm not sure I could go back to a physical keyboard after I've been using touchscreen-based keyboards for a few years now. However, the Q10 is still a great device, and it's definitely the BlackBerry handset to get if you want a physical QWERTY keyboard on your next smartphone. Plus, the Q10 features the best of both worlds: a physical keyboard and a touch screen, which almost seems like too much to ask for, but BlackBerry was like, "No problem." It's not a completely solid medley between the two, but it definitely still works out great.