BlackBerry Z10 Review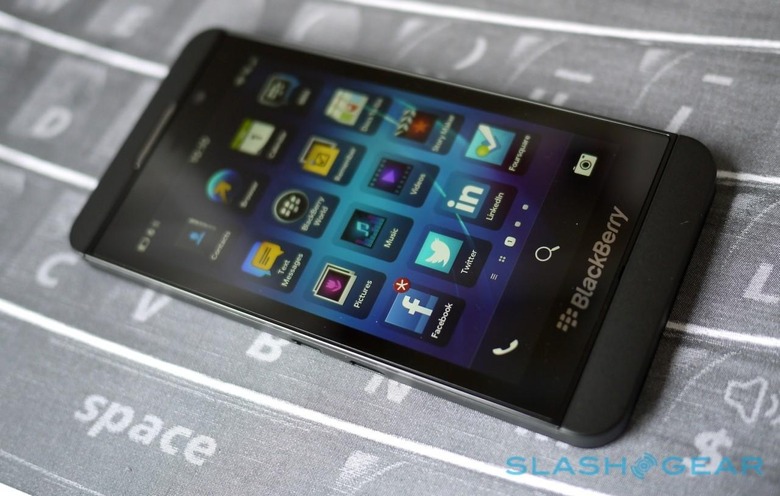 RIM reborn... and now it's BlackBerry, if you don't mind. Rebranded, refreshed, and desperate to impress, you can't knock BlackBerry's enthusiasm about its now-eponymous platform. Then again, it's had several months of delays in which to practice, and the BlackBerry Z10 – first out of the gate to run the OS – is so close to the two prior variants of developer device that there isn't a long list of new features to be learned. Instead, and with the arguably more important Q10 QWERTY version a couple of months off, it's a case of making an argument for BlackBerry 10 to occupy the coveted "third ecosystem" spot, and the scraps left behind from Android and iOS. Is BlackBerry 10 the OS to give Windows Phone nightmares, reboot BlackBerry itself, and snatch both consumer and enterprise crowns? Read on for our full review.
Hardware and Design
Familiar and bland. The Z10 is a reasonably nondescript slab of black plastic and glass; as close to the sketched-in graphic of a "generic touchscreen phone" as you could imagine. BlackBerry was always keen to stress that the A and B versions of the Dev Alpha developer device were far from production-status, but bar a little aesthetic smoothing – the ridge around the display is gone, and the upper and lower front bezels are refined – this is the same identikit block as we've been seeing for months.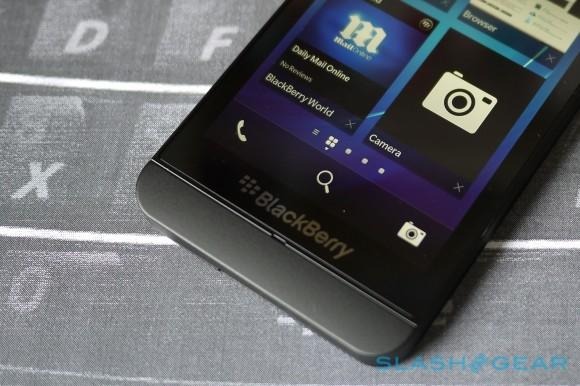 It's not a bad design, per se, just an uninspired one. The plastic back cover – which tugs off with a fingernail's snatch at the bottom edge, to reveal a long, thin battery compartment, micro SIM slot and microSD slot – has been given a soft-touch, dimpled finish reminiscent of a golf ball; it feels neither cheap nor premium, being merely easy to grip and reluctant to slide around tabletops. MicroUSB and micro HDMI ports sit snugly along the left edge (BlackBerry includes a USB cable and charger in the box, along with a wired stereo headset which plugs in on the top edge of the phone, but not a micro HDMI cable); on the right there are volume buttons flanking a center key that triggers voice control.
The power/lock button is on the top edge, next to a second microphone, the first being a small notch under the 4.2-inch, 1280 x 768 resolution LCD touchscreen. It's a bright panel with accurate colours, and the size and resolution balance do a fine job for smooth text. A front-facing 2-megapixel camera is above the display, along with proximity and ambient light sensors, while an 8-megapixel camera with LED flash is on the back. Shiny BlackBerry branding front and back complete the picture; you don't get a home button or any other fascia controls, with BlackBerry 10 dismissing them in favor of on-screen gestures.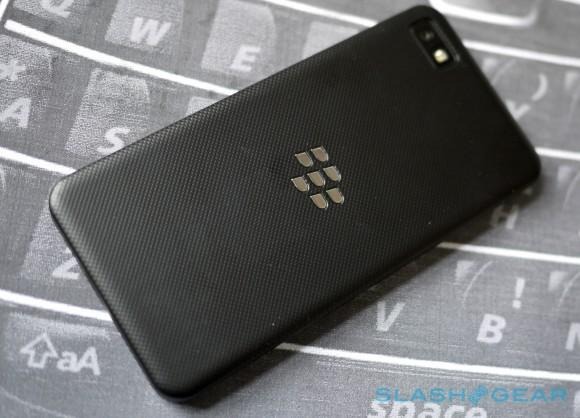 Inside, it's business pretty much as usual for a modern smartphone, with BlackBerry ticking most of the important boxes. The Z10 gets a 1.5GHz dualcore Qualcomm MSM8960 processor with a healthy 2GB of memory and 16GB of storage space (plus that microSD slot, of course, which is hot-swappable with up to 32GB cards), together with GPS, an accelerometer, digital compass, and a gyroscope.
Connectivity includes quadband LTE, quadband UMTS/HSPA+, and quadband GSM/EDGE, in addition to WiFi a/b/g/n. There's also Bluetooth 4.0, as well as the ability to share the 4G connection with an integrated mobile hotspot feature.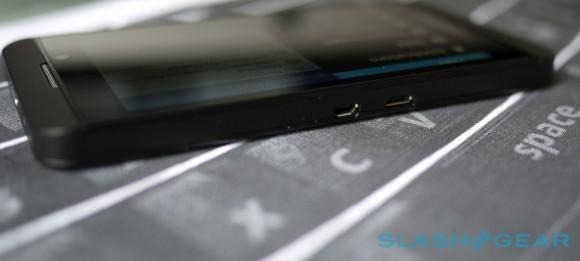 Should BlackBerry have hurried the Q10, the Z10's QWERTY-blessed cousin, out to the market first? There's a good argument for that, BlackBerry being best-known for its physical keyboards, and while we had limited time with a non-final device at the BlackBerry 10 launch, our battering of the buttons nonetheless suggested that none of the RIM QWERTY goodness has been inadvertently thrown out with the name. An all-touch phone is perhaps better suited to the state of the smartphone market today, however; the iPhone 5 and Samsung's Galaxy S III, the current best-sellers, are both dominated by their touch interface, and while the BlackBerry faithful is crying out for physical keyboards, the company needs a broad audience if it wants to turn about its fortunes. Still, the combination of touch and QWERTY with the new OS leaves us eager to spend more time with the Q10 when it's fully baked.
BlackBerry 10
BlackBerry describes BlackBerry 10 as its platform for the next decade. It's also the OS it really could've done with for the past five years, as its portfolio of phones grew to look progressively more archaic in comparison to the iPhone's simplicity and Android's growing refinement. Getting it right out of the gate was perhaps the best decision BlackBerry could make, and while it came in for criticism in missing its 2012 launch goals, it at least avoids the stigma of being broken on day one.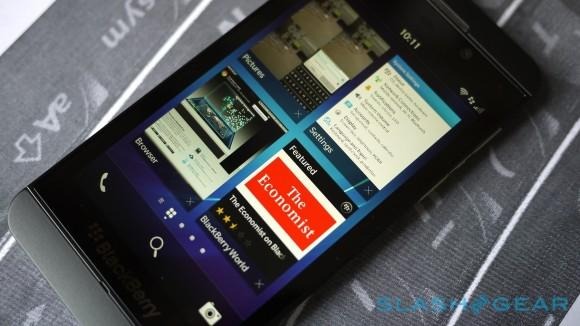 So what's new? Well, just about everything, at least to BlackBerry users. Whether you generously call it an homage, or think it's plain copying, BlackBerry 10 cherry-picks several interface elements from other platforms we've seen over the past few years. So, there's a task switcher with preview panes showing still-running apps, just like we had on MeeGo, and various gestures to navigate through without physical keys, as in webOS and MeeGo again.
Gestures and Multitasking
The gestures – which are walked through in a quick tutorial upon first boot – are straightforward. Swiping up, from the bottom edge of the display, takes you back to the task switcher; it also unlocks the phone, if the display isn't active. Swiping down, from the top of the display, pulls out a contextual menu, the contents of which depend on what view you're in. At the homescreen, for instance, there are toggles for Bluetooth, WiFi, screen rotation, and notifications, as well as shortcuts for the settings and the alarm; above it, there's a status bar with battery, clock, WiFi, and network signal strength.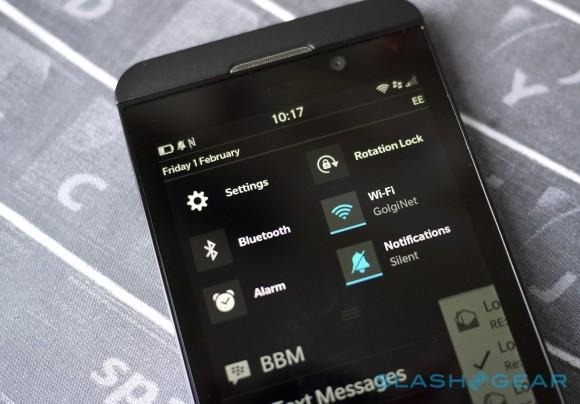 Swiping to the right on the homescreen, from the task switcher, takes you to the app launcher, a 4x4 grid of icons. As on other platforms, you can drag one icon onto another and create a folder, as well as long-press and hit the trash icon to uninstall apps. A row of squares under the grid show how far through the launcher you are, and you can tap them to jump back, while at the bottom there are fixed icons for phone, search, and camera. Searches go through contacts, messages, calendar, web history, and apps by default – though you can narrow things down with filters – and third-party apps can hook into the search system so that their results are included too.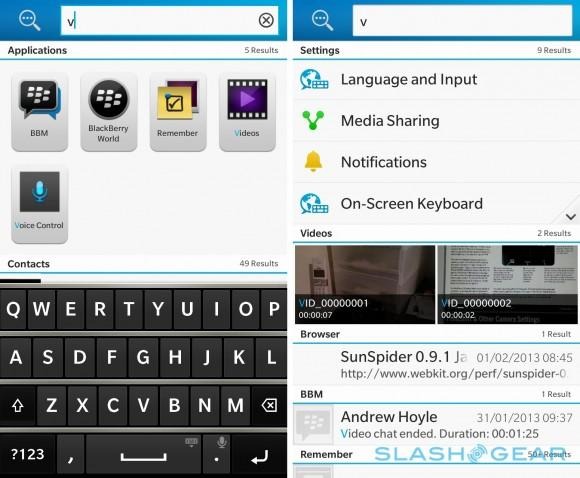 Up to eight apps can be kept "live" on the task switcher at any one time; BlackBerry 10 will automatically close the oldest, or you can manually shut them down by hitting the "X" icon. The theory is that, even when minimized in the task switcher, the app is still active: BlackBerry calls this an "Active Frame" which basically means the app is free to feed certain information to you, such as calendar reminders and the current weather, though you don't necessarily get a tiny thumbnail of the full functionality of the software. Of course, even if an app isn't running – either full-screen or in Active Frame form – you still get its notifications in the Hub.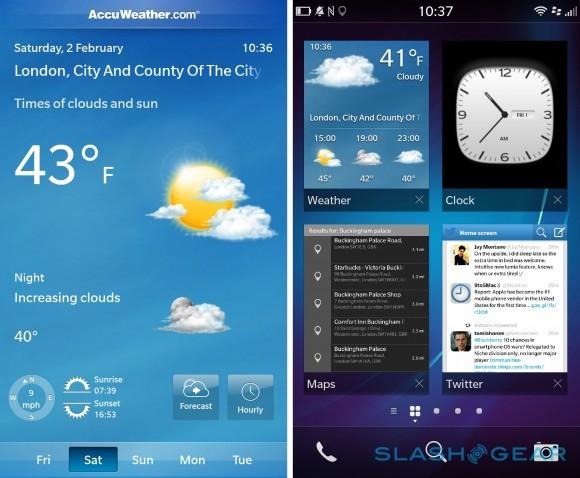 BlackBerry Hub and "Peek"
Swipe to the left of the task switcher and you find the unified inbox, now called BlackBerry Hub. It's a catch-all for every notification – email, alerts, BBM and text messages, Facebook and Twitter messages, and calls – though you can pull out a menu by swiping to the left again and pick one specific category. Swipe down a little on the list, and you'll see your next few calendar entries.
However, BlackBerry 10 doesn't expect you to necessarily do all that swiping to get to new alerts. Instead there's "peek", a way to catch a glimpse of notifications from wherever you are in the system. Drag your finger partway up from the bottom of the display, and it zooms out slightly to show a row of notification icons; keep swiping, pulling the screen over to the right, and you expose the Hub. You then have the choice of pulling all the way to fully bring up the inbox, or let go and spring back to what you were doing before.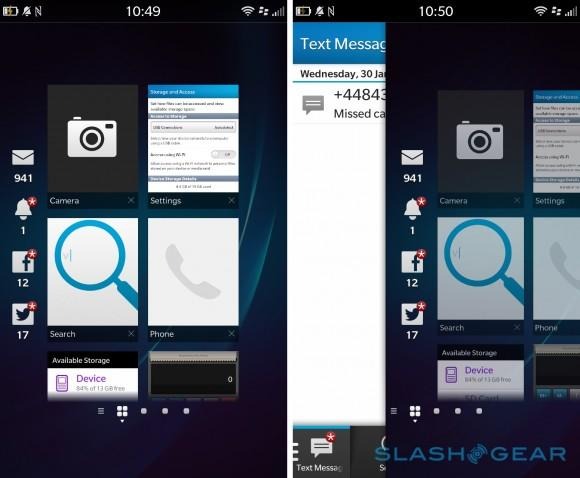 Peek is one of those features that, initially, makes perfect sense: stop leaping from app to app when a notification comes in, and instead – with a half-swipe of your finger – grab a glimpse of what's new. After a short while of actually using the Z10, however – especially if you've come to BlackBerry 10 from iOS or Android – it makes less sense. On the other platforms, when you get a new email, or Twitter notification, or text message, a banner at the top of the display notifies you and gives you a preview of the content; you can then tap it to open it fully, or ignore it.
With BlackBerry 10, though, the notification system is stretched out into several, arguably unnecessary stages. First the blinking red light, though no on-screen notification, even if you're using the phone at the time; then the half-swipe to "peek" at the list of notification icons, which tell you whether you have a new email, or message, or something else. That's all they say, though – if you want to actually see what the content is, you need to keep swiping to expose the unified inbox preview.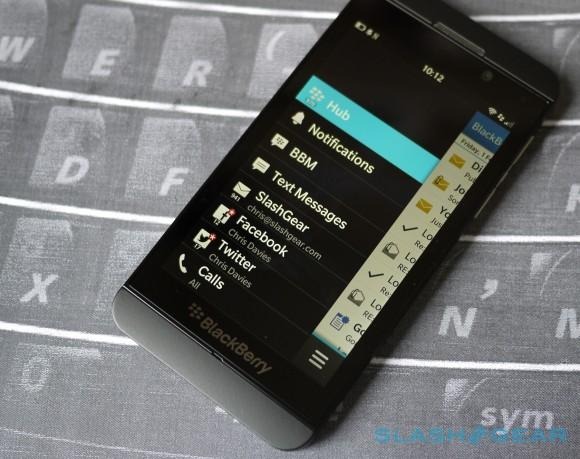 It's all very smooth, but it feels unnecessarily protracted. Not once in using the Z10 did we peek at the notification icons and then think "I'll leave it at that": every time we swiped into the inbox to see exactly what sort of content was new. BlackBerry argues that existing notification systems are distracting, forcing you to pay attention to new alerts as they come in, but we found that its alternative – a blinking red light and nothing else – had more of a Pavlovian response to make us check the inbox than iOS and Android's snippets ever did.
Once you're there, triaging messages can get a little confusing. Pressing and holding on an item in the list pulls in a context menu from the right side, sliding in with a neat animation; unfortunately, while it arguably then makes sense to let you swipe the menu in by sliding a finger right to left across the message, in fact that will just take you back to the task switcher. We also got stung a couple of times by some icon jumping: usually in the hub, there's a context menu button (which allows you to jump to the top or bottom of the list, to search, compose, multi-select, refresh, or leap into the settings) in the bottom right hand corner, but that switches places with the delete button when you pull out the message-specific menu. More than once we almost deleted a message by stabbing to where the context menu key had been, but instead inadvertently hitting delete.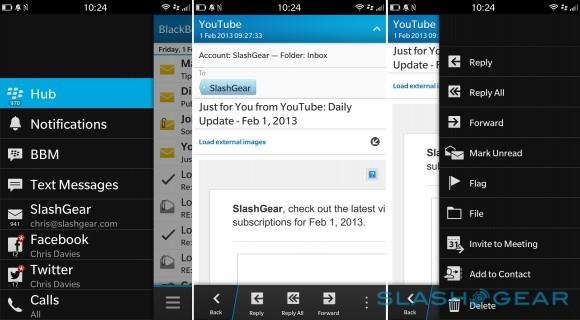 Keyboard
Actually replying to messages is a solid experience, even without the traditional BlackBerry physical keyboard to rely upon. The new on-screen keyboard is another point of pride for the company, though given it had waxed similarly lyrical about the much-maligned Storm series, many were wary. Happily, a clever auto-prediction and correction system steps in to save the day.
A sensible layout kicks things off, with a well-spaced four row layout that finds room for a broad spacebar. A swipe down from the upper edge of the 'board switches to the number/symbol view, with a toggle button to flick between two pages of options. The period doubles – with a long press – as a voice dictation trigger, which requires an internet connection for server-side processing (just as with Google and Apple's systems) and turned out to be reasonably accurate as long as there wasn't too much background noise.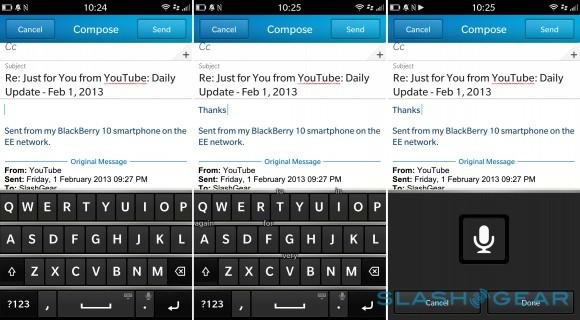 Start typing, however, and BlackBerry 10 begins suggesting the word it believes you're aiming for. That's nothing new, but BlackBerry has opted to float its suggestions over the next letter you'd be reaching for, whereupon rather than tap it you can swipe up to insert the full word. Since there are usually multiple word-complete options, at any one time you can have a cluster of words floating over the 'board. Get it wrong and a swipe right to left deletes the whole word; a double-tap of the space bar punches in a period.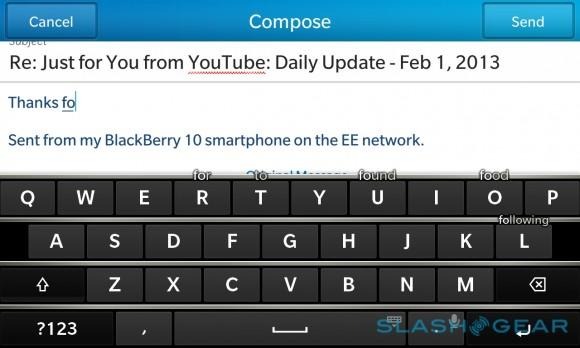 At first, it's disconcerting. We're accustomed to glancing above the top QWERTY row, as on other platforms, for suggestions, and so the constantly shifting UI of BlackBerry 10's system takes some getting used to. After a period of use, however – which also gives the custom dictionary time to pick up some of your common words, as well as figure out what you're more likely to be typing – we grew more familiar with it, and soon were punching out emails with alacrity. It's helped by the fact that the keyboard doesn't wait for you to begin the next word before it starts predicting: type "Hello, how" and "you" is already hovering there, among other options.
Browser
The browser doesn't need to be sexy and innovative, it just needs to be fast and stable, and happily BlackBerry 10's example seems to tick those boxes. WebKit based, with HTML5 and – switched off by default – Flash support, it did a solid job showing webpages, and will even prompt when there's Flash content rather than force you to dig into the settings and enable it permanently. We did have some mixed results when dealing with mobile and full websites: BlackBerry 10 would opt to show us the mobile version of some sites, then the full versions of others, with no real indication of what that decision was based upon.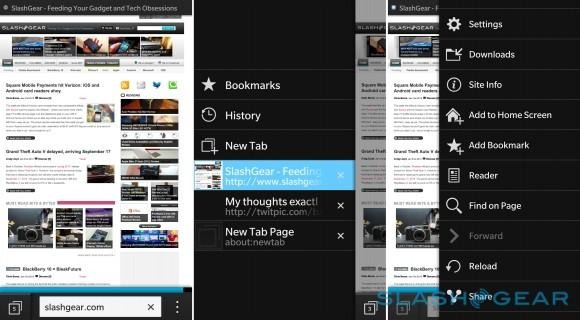 Searching is via Bing by default, though you can switch that to Google or Yahoo if you'd prefer, and there are auto-suggestions as you type in the URL/search bar at the bottom of the screen. A contextual menu gives options to share – BBM, Email, Facebook, NFC, and BBM Group are all offered, among others – as well as to switch to a pared-back "Reader" view with ads and other content stripped out. Both bookmarks and the option to pin a webpage shortcut to the homescreen are offered.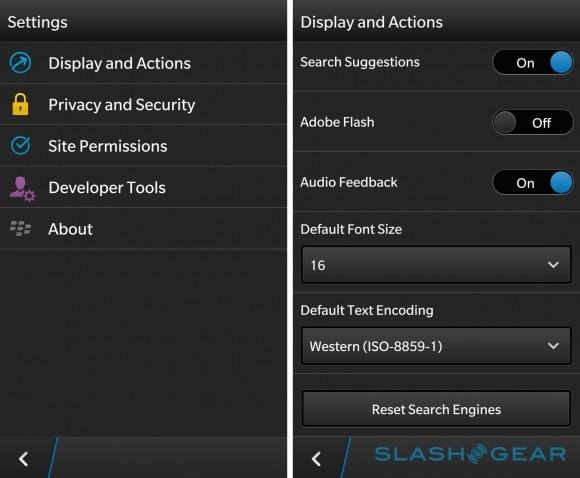 As for speed, it's nippy but not the best browser we've seen. In SunSpider, the test of Javascript performance, the Z10 scored 1,847.0ms (lower is better); that's slower than the Galaxy S III managed, back on its original firmware, and close to twice the time it took the iPhone 5 to complete.
BBM
BlackBerry Messenger has become a point of addiction for both BlackBerry's enterprise and consumer users, and so it comes as no surprise that in BlackBerry 10 it's had a makeover of sorts. In addition to the voice chat over WiFi feature added back in BBM 7, there's now video chat, though all participants need to have a BlackBerry 10 device to use it.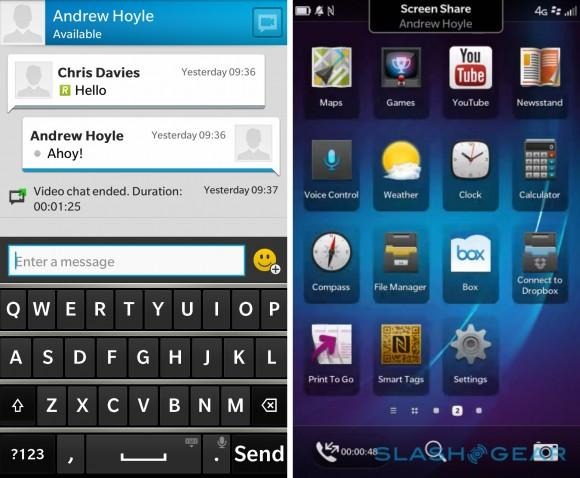 Tap the green icon in the upper right hand corner of any IM window, and you get a choice of voice or video chat. The latter puts a small preview thumbnail of the view from your own camera in the bottom left corner, and has buttons for mute and to switch between the front and back cameras. There's also a screen sharing key, which basically shows whoever you're chatting with whatever is on your phone's screen at the time.
BlackBerry positions it as ideal for presentations, but it's also useful for sharing photo galleries or travel directions using BlackBerry Maps. It's worth noting that, over cellular connections at least, the screen sharing resolution is lower than the Z10's default, and things look a little fuzzy.
BlackBerry Maps
With BlackBerry cutting a deal with TomTom to power its live traffic data, you'd be forgiven for expecting standalone-PND-quality navigation from BlackBerry 10. Unfortunately, the Z10 falls not only well short of that, but pales in comparison to Google Maps and Apple Maps.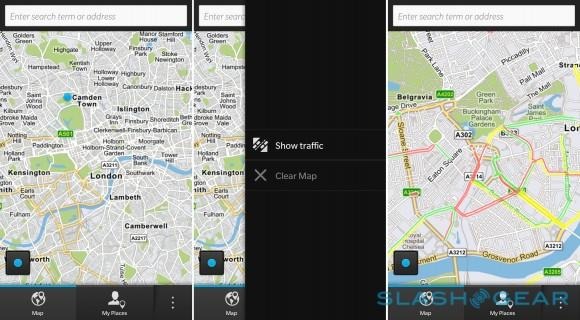 It's not so much in the range of features offered – indeed BlackBerry Maps ticks most of the significant boxes, like 2D and 3D views, vector-based graphics for swifter, more data-efficient loading, and voice prompted turn-by-turn navigation – but in how they all actually work. In short: badly.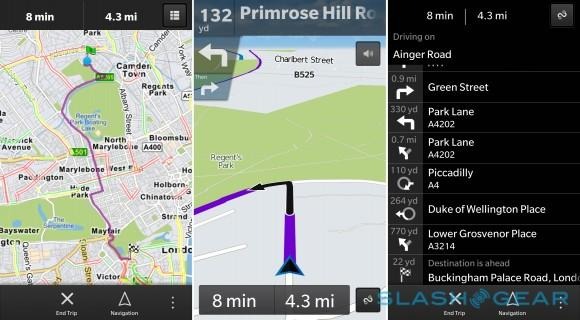 There's no offline mode, even when you've begun navigating, so if you stumble out of data service (or go abroad and don't have roaming turned on) you're out of luck. BlackBerry credits TCS, the company behind Verizon's VZ Navigator, for developing BlackBerry Maps especially for OS 10, while TomTom supplies the mapping data, points of interest, and traffic information; unfortunately, much of the time the app throws up the wrong location or confused POIs in response to searches. Meanwhile, even though there's live traffic data, the navigation function doesn't appear to call on it to figure out a better route.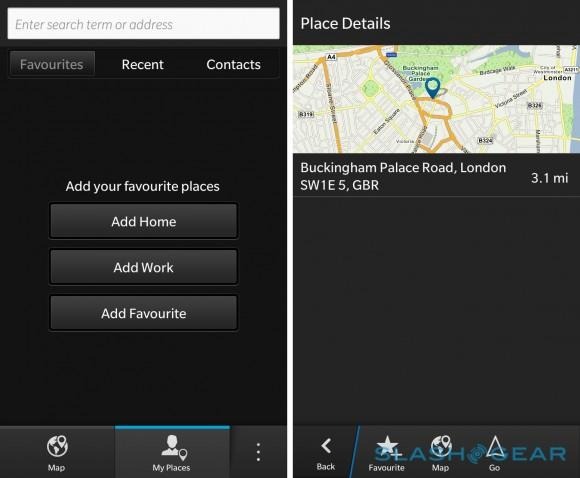 Voice Control
Hold down the middle button on the side, and – after agreeing to BlackBerry doing some server-side processing – the Z10's voice control system kicks in. There's a similar array of features to what Apple's Siri and Google's voice control features offer: you can call a contact, or send them a message (by email, BBM, text, or Facebook), schedule an appointment or compose a note reminder to yourself. Log into Facebook, Twitter, or LinkedIn and you can change your status there, and you can also search your device for apps or content, or the internet (using Bing) all by voice.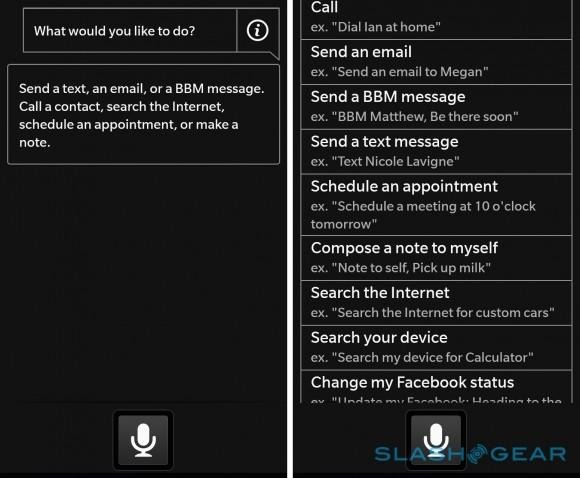 In practice, it works reasonably well, though it falls short of what Siri is offering. BlackBerry 10's voice system is more literal: where Siri will figure out that your "husband" or "wife" is a person rather than a name, and clarify who exactly you mean the first time you ask to call or text them, BlackBerry 10 merely goes hunting for a contact called that. Ask for a simple conversion – what a mile is in kilometres, for instance – and BlackBerry 10 asks you if you want to search the internet for the answer; there's no in-app result.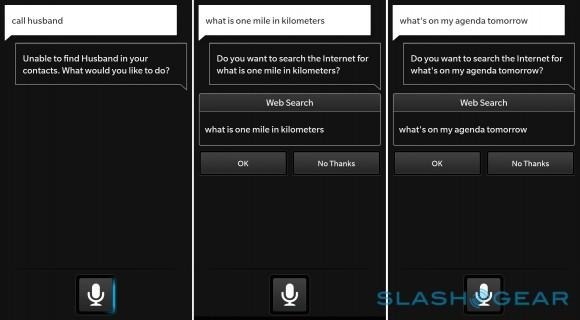 Of course, the good thing about server-based features like voice control is that BlackBerry can easily update them over time: eventually, your Z10 could figure out that when you ask "What's on my agenda tomorrow?" you want an excerpt from your calendar, not to search Bing for that phrase. For the moment, though, it's functional but basic.
BlackBerry World
There's an app race on, but it's more than just how many titles you have in your catalog. BlackBerry World – the renamed BlackBerry App World – comes populated not just with 70,000 apps for BlackBerry 10, the company is keen to point out, but with several of the most-popular "must haves" in place. That includes Angry Birds (including the latest Star Wars version), Facebook and Twitter, Skype, Amazon Kindle, FourSquare and WhatsApp, Box, and various enterprise-focused apps.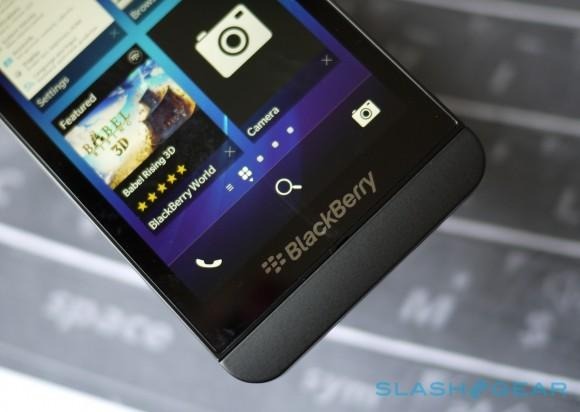 As we've seen with other platforms, though, a huge quantity of apps is little comfort if the title you particularly want or need is missing. Don't bother looking for Netflix, or an official Tumblr app; there's no Spotify or Pandora, nor Sonos; go hunting for Instagram and you're out of luck. BlackBerry has been proactive in engaging – even encouraging with cash payouts – developers to port over their wares, but it faces the same uphill struggle as Windows Phone does: for every one "must have" app that arrives, there's a dozen mediocre titles that do nothing but bulk out the overall count.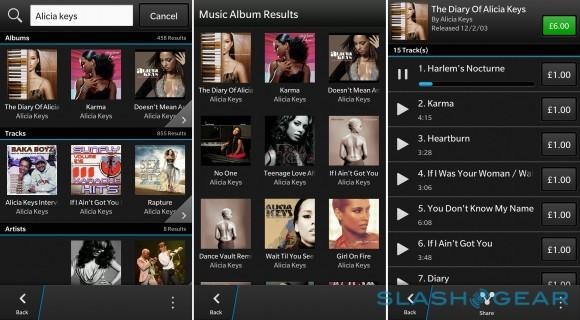 BlackBerry World is also the home to BlackBerry 10's multimedia offerings, with a music download service powered by 7Digital and a TV/movie download/rental service from Rovi Corp. We had no problems buying an Alicia Keys album and downloading it straight to the Z10, where it was saved as a DRM-free MP3; the Music app shows album art and remembers your most recent tracks, and you can optionally enable track-skip by holding down the volume keys.
Movie and TV show purchases work in much the same way, though there's no iCloud-style streaming option. Instead, you'll need to download the whole thing to your phone before you can start watching. BlackBerry promises movie releases on the same day as their DVD counterparts hit stores, though time will tell if that pans out.
Blackberry Balance and Protect
BlackBerry 10 makes a big play for the consumer market, but that's not to say BlackBerry has forgotten its enterprise roots. In fact, a key part of the company's message is that today's smartphones are invariably expected to do double-duty – to satisfy both business requirements and home needs – and that BlackBerry 10 is at the forefront of that balance.
The Z10, therefore, offers the appropriately named BlackBerry Balance, for those who expect their smartphone to be a beast of burden as well as a way to check Facebook in their downtime. In effect, it puts a firewall between your work data and your personal data: the former is accessible by your corporate systems administrator (indeed, your business will have to be running BlackBerry Enterprise Service 10 in order to use BlackBerry Balance) and secured with 256-bit AES encryption, while the latter is yours alone.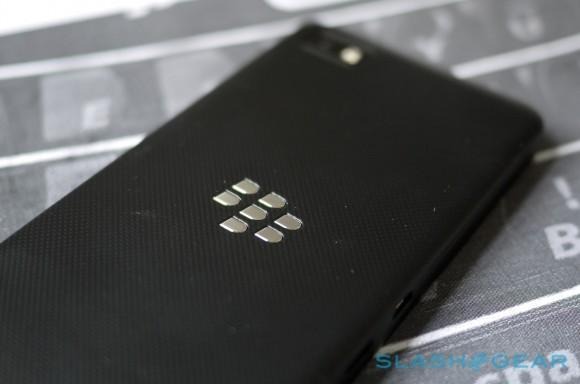 Since flipping between work and personal could quickly become frustrating, BlackBerry allows for some degree of integration between the two environments. There's only one task switcher, for instance: work apps get a tiny briefcase icon to show they're running in the secured environment, and the Hub collates both personal and work messages (albeit locking the latter after a set period of time). Two BlackBerry World stores exist, with corporate administrators able to lock down the work store to certain apps.
Then there's BlackBerry Safeguard, which for the most part doesn't require a corporate infrastructure. BlackBerry includes everything from parental safeguards – locking down everything from app purchases, browser use, whether YouTube uploads are allowed, if Facebook or Twitter can be used, to whether incoming calls and texts are permitted generally or only from those contacts already stored to the phone – to comprehensive app permissions, plus the BlackBerry Protect remote management system.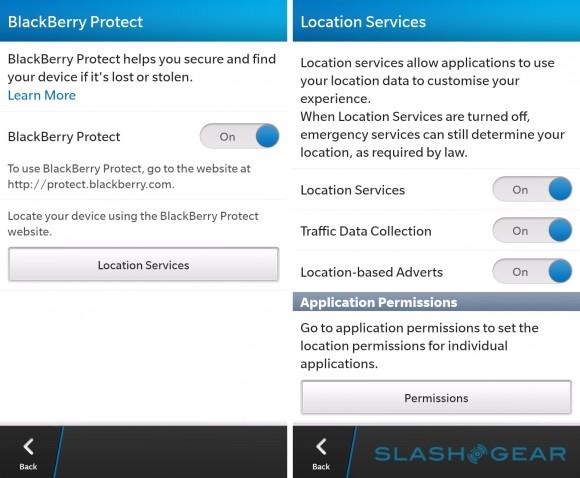 Similar to "Find my iPhone" from Apple, BlackBerry Protect allows lost or stolen devices to be remotely locked or even wiped via a web interface. It's possible to track the location of the handset, make it play a loud noise (very useful if it's dropped down behind the couch cushions), and display an on-screen message, for instance advertising a reward for return. The web-based BlackBerry Protect interface will even show what sort of battery life is remaining on the phone. There's no subscription fee for any of the Protect services, though your Z10 will of course need to have a data connection if you want to locate, lock, or wipe it.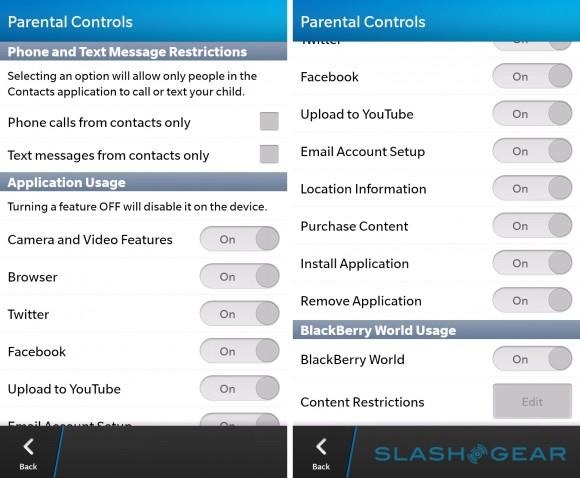 Camera
8-megapixels on the back; 2-megapixels on the front. BlackBerry doesn't stray too far from the smartphone-norm with its photography provisions, and as you might expect the Z10 puts in a pictorial showing that's also pretty much par for the course. Up to 1080p Full HD video recording from the main camera, and up to 720p from the front camera, are supported too.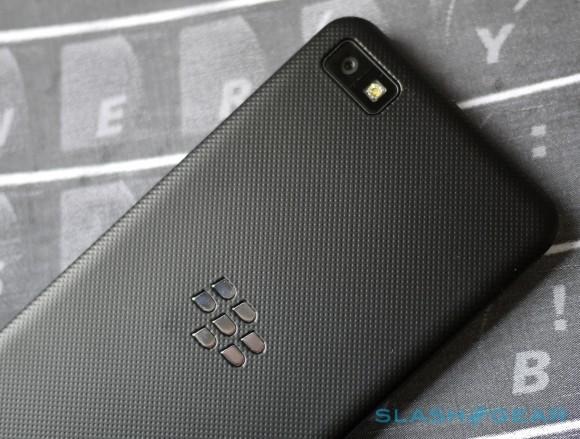 The camera app itself bears some mention, with BlackBerry making some different UI choices than, say, Google or Apple. There's no actual shutter-release key to be found: instead tapping the display fires off a frame. You can drag the focus point around by swiping your finger across the screen, and use the pinch gesture to control the 5x digital zoom (3x when using the front camera).
A menu offers a choice of digital image stabilization and a burst mode which fires off shots for as long as you hold your finger down, while there are five scene modes: auto, action, whiteboard, night, and beach or snow. Pull down the easily-forgotten context menu with a swipe down from the top of the display, and you can choose whether to save shots to a memory card (if present) or the Z10's internal storage. There's also optional geotagging. Somewhat bizarrely, there's no apparent way to change the resolution the Z10 captures images at: you're stuck at the maximum resolution of each camera.
Video recording is similarly triggered by tapping anywhere on the screen to start and then stop; you can turn the LED light on during recording, but there's no way to capture a still photo while shooting video, unlike on many recent Android phones. YouTube is one of the sharing options in the gallery, and once you've signed into your account, you can upload footage filmed on the Z10 directly to the internet. Unlike for stills, video recording offers a choice of quality settings, albeit only two: 1080p and 720p for the main camera.
With a single quality setting for stills, then, you'd be excused for expecting great things from the Z10's camera. Unfortunately it's a mixed bag, and while daylight shots are fair – albeit with a tendency to wash out in lighter parts of the frame – when light gets scarce things rapidly go downhill. Photos quickly acquire the sort of gloom that even Edgar Allan Poe might describe "a bit much"; blur is minimal, but you get lashings of noise and colors that skew toward the sepia.
BlackBerry is making a big deal out of its TimeShift feature in the Z10's camera, though to be fair it's based on licensed processing magic from Nokia-acquired Scalado. Origins aside, it's a clever system: in TimeShift mode, the Z10 fires off multiple frames in rapid succession, then identifies any faces in the frame and allows you to cycle through the different expressions captured, piecing together a final image with the best of the bunch.
Take a photo and, after TimeShift has done its burst business, each identified face is framed by a colored square. Tapping that brings up a loupe which, by dragging a knob around the periphery, cycles through each of the different options. Closed eyes, skewed smiles, or blurred expressions can be cut out, and since each face can be processed independently, you end up with a single, master shot with everybody looking their best.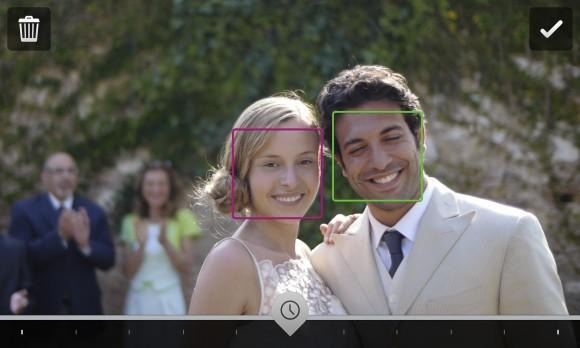 TimeShift isn't the only image editing tool baked into BlackBerry 10. There are Instagram-style filters available in the Pictures app, and the same face-recognition system that spots people in TimeShift also flags up subjects for optional red-eye reduction. Crops, automatic color/brightness/contrast adjustment, and facial tone smoothing are also on offer.
As for video, like most front-facing cameras the 720p footage underwhelms, but the main camera produces reasonable clips. At 1080p, they're decent if fed with enough light, but as brightness decreases so does video quality, and the LED light isn't sufficiently powerful to give you anything but a Blair Witch effect to up-close subjects.
BlackBerry Z10 1080p video sample:
Video clips can be trimmed, as well as have brightness, contrast, color, and volume tweaked; however, BlackBerry 10 also includes the Story Maker app, a more comprehensive video editing tool. It's similar to the video apps we've seen Samsung bundle on the Galaxy series: you can pick a combination of video clips and still images, combine them with music (either your own tracks, or from BlackBerry 10's preloaded audio), and then add titles and credits. Themes – such as "chromatic", "bleach bypass", and "vintage"; think Instagram for video – can be added, and then the end results uploaded to YouTube.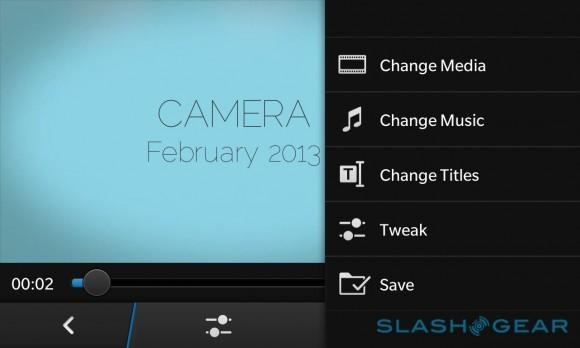 Story Maker works, certainly, but just as per similar apps on other platforms, we're still not convinced that video editing on a handset is ever going to take off. Far more useful is the ability to access the Z10 over WiFi. Turn the feature on, and the smartphone shows up on your network as a shared device, and we were able to use both Windows and Mac machines to browse the full file structure, including any microSD card that was loaded.
It makes pulling photos and videos off the Z10 particularly straightforward, though it's worth noting that on a Mac we were able to access files without having to type in a password at any point (despite BlackBerry 10 prompting you to create one – each and every time you turn on WiFi access, no less – to secure the sharing). You'll definitely want to turn the feature off when you're away from your home network, just in case.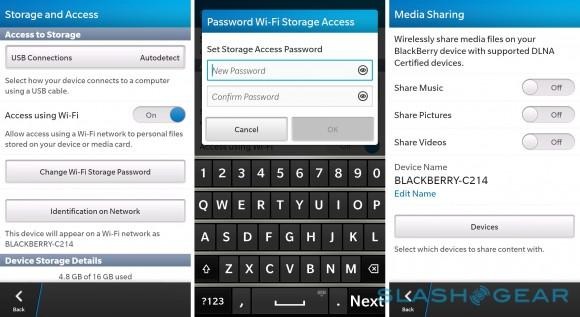 Phone and Battery
Tenacious but quiet. The Z10 showed BlackBerry's usual zeal at clinging to a signal, while downloads over the LTE connection (using an EE SIM) were prompt. There's no Speedtest app for BlackBerry 10 as yet, and the full website struggled to run in the browser, even with Flash turned on.
More troublesome was the surprisingly low volume from both the Z10's earpiece and speaker. Call quality was generally solid, but we had to crank up the volume higher than we'd expect if there was background noise to contend with. The same proved true when trying to use the Z10 for an impromptu conference call, something which may give the BlackBerry faithful pause for thought.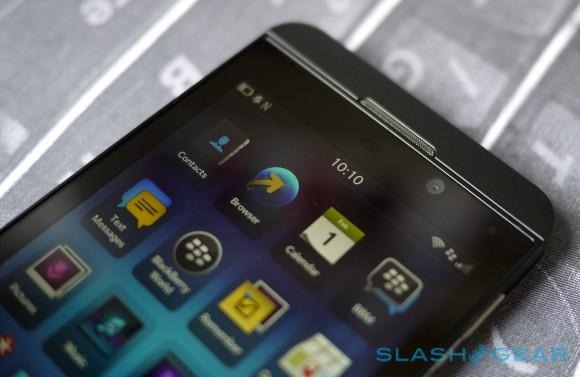 The Z10's long, narrow 1,800 mAh battery is smaller than what we're used to seeing from modern smartphones, though BlackBerry still predicts up to 11hrs of 3G talk time or up to 408hrs of 3G standby from a full charge (alternatively, up to 60hrs of audio playback or up to 10hrs of video). In our experience, though, those targets are slightly too ambitious.
In typical use, with a single push email account turned on, plus Facebook and Twitter, some app downloads and photography, some browsing and map use, a little mixed media playback, a couple of calls, and some messaging (both SMS and BBM), the Z10 struggled to make it through the day on a single charge. Standby time is good – we left the Z10 off the charger overnight, and the battery gage had hardly moved by the morning – but actually make use of the phone and the juice starts flowing fast.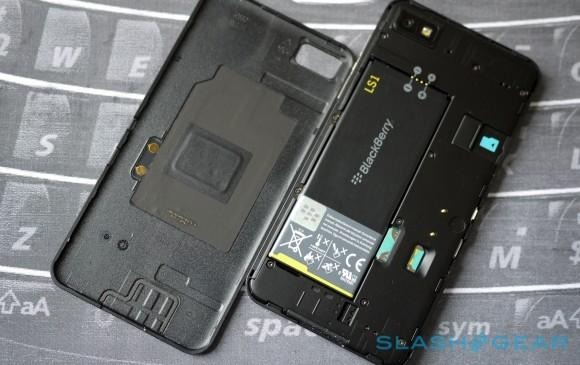 Unfortunately, unlike Android's useful battery report page, which shows exactly how your power was consumed, BlackBerry 10 makes do with merely the small icon in the status bar and a percentage of power remaining in the settings. At least the Z10's battery can be switched out; if we were BlackBerry, we'd consider bundling a second in the box, just to pre-empt business users' complaints.
Price and Value
Rumor had it that BlackBerry would price the Z10 to move, following Nokia's strategy at pitching the new phone well under the smartphone norm of $200-on-contract in recognition of its "plucky challenger" status. Unfortunately that's not turned out to be the case, and when it arrives in the US this March it'll be $199.99 with a new, two year agreement. In the UK, where the Z10 hit shelves on January 31 (albeit in black only; the white version isn't expected until midway through February), you get the handset free on monthly plans of £36 ($57) or above, again presuming a two year contract. Canada comes next, with the Z10 priced at $149 on a three year contract and arriving in-stores on February 5.
That puts it on a par with the 16GB iPhone 5, HTC's DROID DNA, and Samsung's Galaxy S III (in the US at least; in the UK, you'll save £10 a month if you opt for the Galaxy S III), and we're not entirely convinced that either the Z10 or BlackBerry 10 deliver enough to make it entirely competitive. The value question gets all the more shaky when you consider the two markets BlackBerry is currently strong in: the enterprise and among teenagers.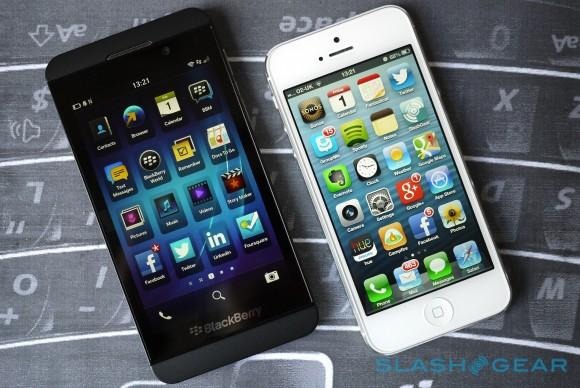 Among business users, BlackBerry has faced growing competition from enterprise-level functionality in Android and iOS, and Microsoft has made a significant play for that segment in Windows Phone, pushing the seamless integration of mobile Office. Meanwhile, as the bring-your-own-device trend continues, it's questionable as to how many of BlackBerry's corporate customers will choose to outfit their workforce with a fleet of new Z10's, rather than simply open up access to employees' existing devices.
As for teens, lured to BlackBerry phones by virtue of cheap pre-pay deals and the ubiquity of BBM among their peer group, the Z10's premium pricing isn't going to fly. In fact, BlackBerry has already said it plans to keep BlackBerry 7, the old OS, around to cater for the low-end market; that's sensible, when you consider pre-pay BlackBerry devices are often European carriers' best-sellers (particularly during the holidays), but it does little to build out BlackBerry 10's user-base.
Wrap-up
BlackBerry 10 is a huge step forward over the versions that came before it, that much is clear. It's easier to use, looks better, is more consistent and understandable for new users, and sensibly implements touchscreen gestures rather than a spray of buttons under the display. BlackBerry Hub and its attempts to collate every notification and update may not be to everybody's taste, but if your social life is spread across your phone, there's a good argument for pulling everything together in one, easily-monitored place.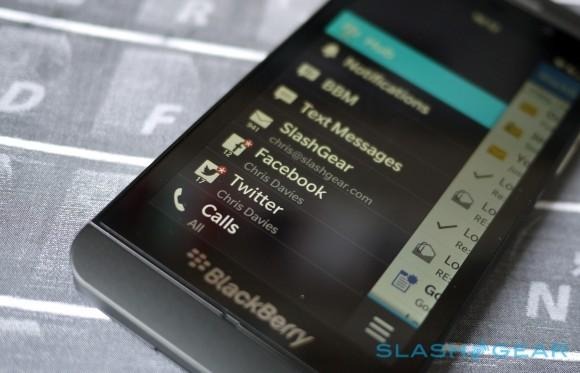 Unfortunately – and you just knew there'd be an "unfortunately" – a huge step isn't enough to make BlackBerry 10 a must-have. Yes, BlackBerry has itself a good OS, but the mobile industry has more than its fair share of "promising but dead" platforms, each with clever ways of addressing smartphone complexity, and yet each failing along the way. As MeeGo and webOS demonstrated, you can have software with touches of genius but it may still end up in the graveyard.
BlackBerry could've swung it had the Z10 itself been a blockbuster device, but the sober black slab is relegated to little more than a frame to demonstrate BlackBerry 10. It feels neither cheap nor expensive in the hand, neither fast nor slow in use; its specifications tick the necessary boxes but go no further. That adds up to an absence of "must have" experiences: BlackBerry 10 and the Z10 are nice enough to use, but there's nothing really to stop you from going back to iOS or Android and their well-stocked app stores.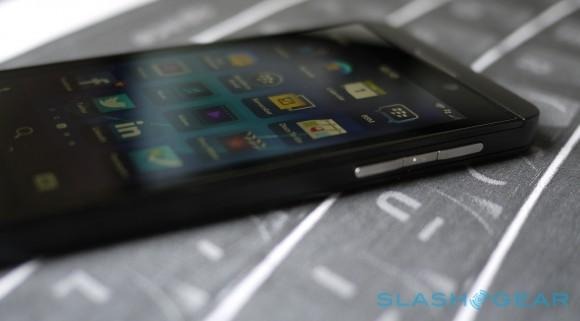 If you're a BlackBerry fan, then the Z10 (and, with its promise of a physical keyboard, the upcoming Q10) is undeniably a big step up from whatever you're currently using. Sadly BlackBerry fans are now in short supply, in the grand scheme of the mobile market, and selling a shrinking group new phones does little to help the Canadian company break out of its doldrums. Thorsten Heins & Co. have done an admirable job dragging BlackBerry out of its bad old habits, but BlackBerry 10 still has a long way to go before it's anything more than a reasonable alternative to Windows Phone in the smartphone little leagues.