LG Mach LTE QWERTY slider shows itself for real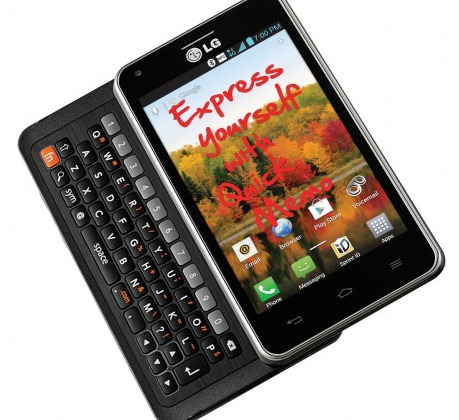 It's time to jump back in the LG Android boat with the LG Mach LTE, a smartphone with a slide-out QWERTY keyboard and a 4-inch display. The body of this device may appear fat to you – that's because it most certainly is, bringing its rather Intuition-like body in at a much more handheld size. Here you've got otherwise mid-tier specifications with a 5 megapixel camera on the back and a set of apps that make the carrier of this device integrate deeply.
This device is able to work with 1080p video recording on the back and comes with quite a few of the lovely LG-specific features we've seen on their last few devices. You'll be working with LG QuickMemo for quick sharing after you've taken a screen shot. You've got LG Time Catch Shot for photos that appear to have been taken before the shutter button was pressed. You've got LG's own user interface unique to their newest collection of Android 4.0 Ice Cream Sandwich devices, too!
Inside you've also got a 1.2Ghz dual-core processor of unknown origin. This is very likely an OMAP4 processor from Texas Instruments – but the possibility remains that it's a Qualcomm Snapdragon S4. We shall see soon!
Here we're also seeing LG's own rather nice-looking keyboard and the same lovely soft plastic components around the back that we enjoyed with the LG Optimus Vu – aka the LG Intuition on Verizon. You'll be able to pick this device up across the United States starting in less than a few weeks, but all pricing and release information will be available at a later date. Later than now, that is, we must assume that it'll be out before the device is.
Given the sparse bit of information we've got on the phone thus far, let us know if you think you'll be picking this up or waiting for whatever super-powered Nexus this is. LG also has the Optimus G coming out on several carriers soon – expect this slider to be its slightly less powerful cousin!