LG E900 Windows Phone 7 gets Euro/Asia HSPA confirmation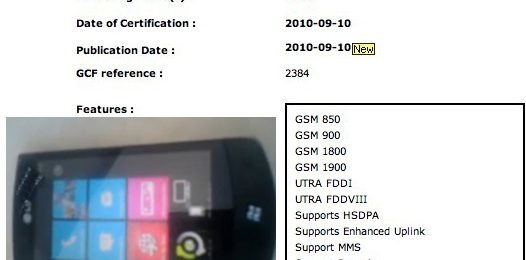 LG's second Windows Phone 7 device, the LG E900, has emerged courtesy of a testing organization, with the smartphone – expected to go on sale in Europe and Asia – turning up at the Global Certification Forum.  They've listed the E900 as having dualband UMTS/HSDPA/HSUPA (900/2100 MHz) along with quadband GSM/GPRS/EDGE, making it less than useful in North America.
Of course, that's probably because LG have readied at least one other Windows Phone 7 device for the North American market, the C900, which has been spotted with AT&T branding.  According to an earlier listing at the Bluetooth SIG, the C900 will come in three variants and be released in most territories.
Unfortunately the GCF isn't saying much else beyond what bands the E900 supports, and so we're still in the dark regarding a concrete launch date.  Most recently we've heard talk of Windows Phone 7 making its official debut on October 11th.
[via the::unwired]