LG confirms Nexus 4 still in production with no 5 on the books

If there's one element in the news universe here that tells us Google is doing things right, it's the constant talk and response to a new Nexus smartphone – even when the current model is doing exceedingly well on the market. Here in first quarter of 2013 heading into Spring (or maybe that's just wishful thinking), we've got rumors galore of a Nexus 5 being worked on for release at Mobile World Congress 2013 from LG, none other than the manufacturers of the Nexus 4. Today they've confirmed that no, that doesn't make any sense, and that yes, they're still making massive amounts of the current Google hero Nexus 4 for the time being.
The word was that even thought the Google Nexus 4, manufactured by LG, was doing much better on the market than anyone had guessed, that they'd be creating a Nexus 5 with ever-so-slightly improved specifications all around plus a modified body with no sparkly back panel. One rumor suggested that a brand new Nexus 5 would be shown off a MWC 2013 (which we'll be at with bells on one way or another), while another rumor with a bit more realistic an outlook suggested they'd show a new Nexus at Google I/O 2013 later this Summer.
"Our domestic Pyeongtaek manufacturing plant has been producing the Nexus 4 without a hitch. There is no problem in supplying. [Nexus 5 rumors] are unfounded. The Nexus 4 by LG is significant in that it's becoming more successful than the Samsung Galaxy Nexus, and [Mobile World Congress 2013 products] have not been finalized." – LG Electronics Official (roughly translated)
LG today has spoken to the publication known as Chosun Biz, confirming that they're still very much invested in the Nexus 4 in its current state, projecting production well into the future for this extremely hot-selling beast. For those of you that are unaware, this machine has sold so well that the online Google Play store had to push shipments back several weeks back in the later weeks of 2012, only now coming up to speed with availability across the USA and Europe. Rest assured, Nexus 4 owners, your device will be the Google hero for many moons.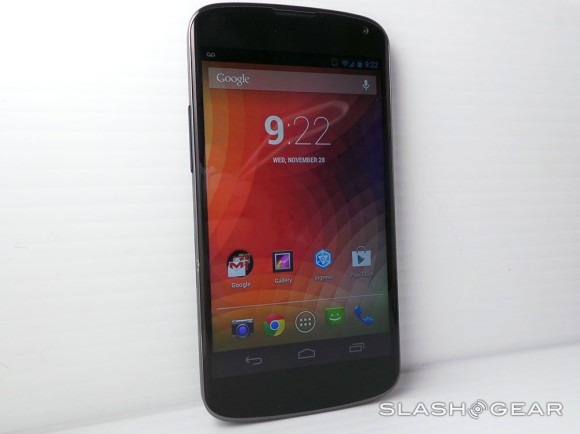 If you'd like to know more about the Google Nexus 4 by LG, be sure to check our not one, but two big reviews! First have a look at our original Google Nexus 4 review, then see our T-Mobile Nexus 4 review, taken from a slightly different angle. Be sure to jump in to our Android portal as well for more Google mobile OS action than you can possible handle!
[via Android Community]