LG Blade P530 hands-on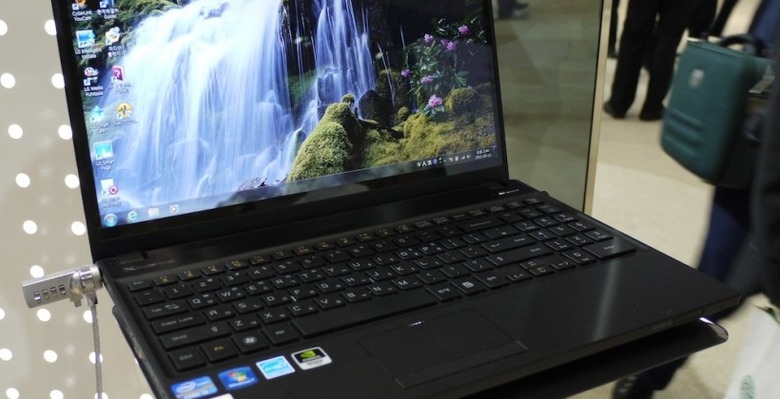 LG shook up ultraportables with the Xnote P210 late last year, a super-compact notebook which squeezed a 12.5-inch display into where you'd more commonly find an 11.3-inch panel; now the company is back with a new model based on the same narrow-bezel technology. The LG Blade P530 made its official debut earlier this month, and SlashGear scored some hands-on time at the Korea World IT Show today.
The Blade P530 uses LG Display's so-called "Shuriken" panel, an ultra-thin bezel design that is also tipped to show up in future Acer notebooks and possibly even make an appearance in Apple's next MacBook Pro refresh. Unlike the Xnote, it has a 15.6-inch display (there'll be a 14-inch P430 as well), framed by a mere 10mm surround; it's also thinner than a regular notebook screen, just 4.5 mm thick, bringing the display section down to around 50-percent of rivals.
In fact, the screen is so slender the rest of the notebook starts to look chunky in comparison. LG says that's not actually the case – in fact the Blade P530 is between 24.1 and 28.1 mm thick with the lid closed – and that the notebook is up to 22-percent thinner than its closest competitor, but it's an unbalanced look all the same. Happily there's no flex or twisting to be seen, and build quality in general from the matte aluminum chassis is solid.
Inside there's an Intel 2011 Core i7 processor (LG will also offer Core i3 and i5 chips), up to 8GB of memory, both NVIDIA GeForce GT 520M 1GB and Intel  HD Graphics 3000 GPUs, and up to 750GB of hard-drive space. The LG Blade P530 is expected to ship in June 2011.