LG 77-inch Ultra HD Curved OLED eyes-on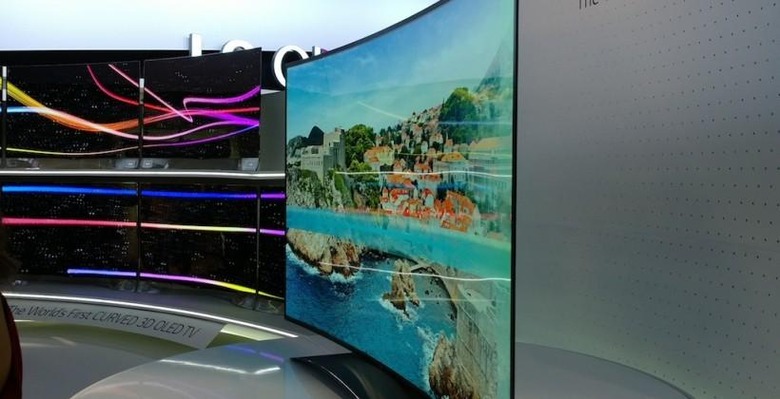 Big, curved, and OLED: every year there are some keywords IFA's prime competitors cling to, and in 2013 LG is leading the pack with its whopping 77-inch Ultra HD Curved OLED TV. Full 4k resolution spread across a near-painfully bright, sweeping pane of OLED technology; does the world need a set so big, so detailed, and so painfully expensive? We basked in the glow of organic semiconductors to see what the fuss is about.
LG has a track record with curved OLED, bringing along a set to CES back in January 2013. That was "only" 55-inches in size and mustered just 1080p, Full HD resolution, however.
Still, it made it to market a few months later with a roughly $13,500 price tag.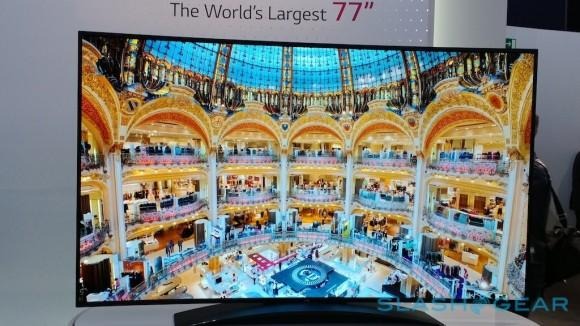 Now LG has an even more impressive set, though the company is tight-lipped on production plans. At 77-inches it towers over the previous model, not to mention Samsung's 55-inch curved UHD OLED also shown off for the first time at IFA this week.
Picture quality is what grabs you, though. We're getting used to the extreme levels of detail Ultra HD delivers, but that plus OLED on a large scale means punchy colors, fantastic viewing angles, and blistering brightness.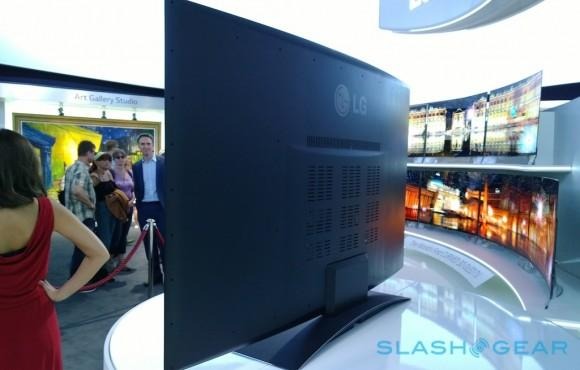 We're still not 100-percent convinced that the arguments for curved TVs – usually that it means the edges are the same distance to the viewer as the center – will make a significant difference in the living room, but then we're also not convinced that sets like this 77-inch behemoth will end up in many living rooms either.
LG 77-inch Ultra HD Curved OLED TV eyes-on:
Instead, it's another sign of the display war continuing between big producers like LG Display and Samsung Display, and that could have a valuable knock-on effect for more mundane panel sizes. Sony admitted earlier in the week that, while its 56-inch OLED set is brighter and more colorful than others, it couldn't really manufacturer it at scale with current production processes, forcing it to drive development of technologies like printed OLED.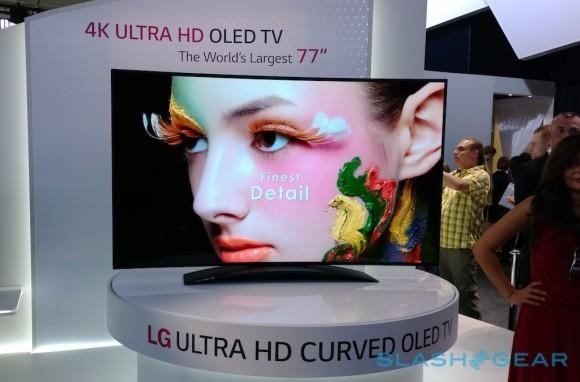 Those technologies, along with things like roll-to-roll processes, are going to make smaller OLED panels for smartphones, tablets, and in-car displays more affordable and better quality, which is something the rest of us can benefit from. Until then, however, we'll stand on the sidelines and watch as LG and Samsung try to wow us off our feet with increasingly huge TVs.