KFC Canada offered BTC-themed chicken in Bitcoin Bucket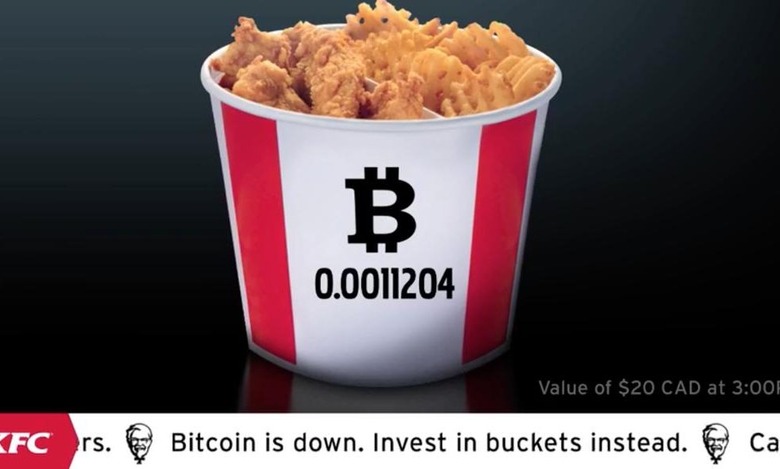 KFC has a wonderful history of getting in on bizarre tech trends, including a food tray that doubles as a Bluetooth keyboard, a meal box that can charge your phone, a VR training game, and even chicken-flavored edible nail polish. The fast food chain's latest promotion attempts to cash-in on the growing Bitcoin craze with a limited time meal that can only be paid for with the cryptocurrency.
KFC Canada launched the "Bitcoin Bucket" on Friday last week, and it appears to have promptly sold out. The meal could only be ordered online for delivery, and payment was accepted through the Bitcoin payment processor Bitpay. Priced at approximately .0011673 BTC at the time of the promotion — the equivalent of $20 CAD — the bucket included 10 chicken tenders, waffle fries, gravy, a side, and two dips.
"Despite the ups and downs of Bitcoin, the Colonel's Original Recipe is as good as always," the KFC site writes. "So, trade your Bitcoins for buckets and invest in something finger lickin' good."
Unfortunately for those in Canada with Bitcoin to spare, KFC offers no word on if or when the Bitcoin Bucket will be available again. This is probably for the best, however, as that fraction of digital currency could soon be worth a couple thousand dollars. More than likely this was just another viral stunt by KFC with no chance of returning, just like their "Internet Escape Pod" Faraday cage.
SOURCE: KFC Canada