Karma Revero takes Fisker from ashes to EV reboot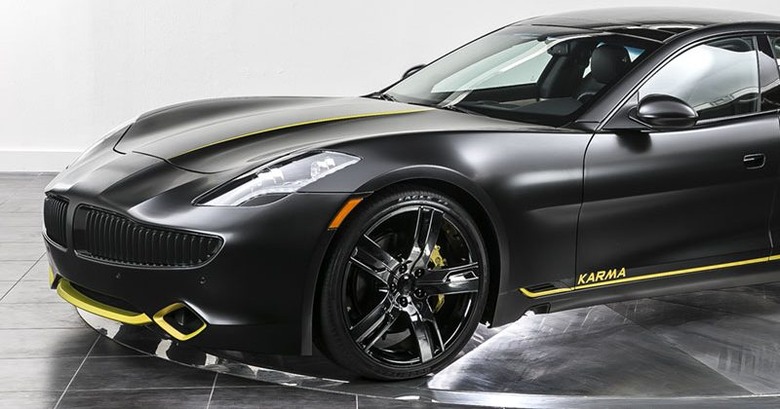 If at first your electric Tesla rival doesn't succeed, go bankrupt, get bought out, ditch your running gear, team with BMW on powertrains, and – if you're Karma – rebrand. Out of the ashes of the Fisker Karma, the slinky electric sedan which took plenty of federal incentives but then showed more of an inclination to set itself on fire rather than save the planet, comes the Karma Revero.
At first glance, you might be tempted to think that the only thing different about the Revero is its badging. Turns out, however, that there's more than meets the eye about the luxury sedan.
That's courtesy of a deal with BMW that brings the German automaker's EV smarts to Karma's car. While Henrik Fisker's exterior design has been preserved – no bad thing, given it's still one of the more striking four-doors out there, even several years after first being unveiled – it's now on top of the battery system and some of the powertrain technology BMW has been using in its own cars, like the i8 and i3.
It'll be paired with an as-yet-unnamed gasoline engine, for a hybrid setup just like the original Karma. That's almost certain to be a different powerplant too, given the particular GM-sourced 4-cylinder 2.0-liter is now out of production.
Providing the cash is Wanxiang, a Chinese conglomerate which bought up the Fisker assets in 2014 after the automaker's high-profile bankruptcy.
The original Karma car had been positioned as a $100k+ range-extended hybrid alternative to mainstream luxury options from Mercedes-Benz and BMW, but was plagued with quality issues. Less than 2,000 were sold, several of which went up in flames after overheating.
Plans for a second model, the Fisker Atlantic, were delayed repeatedly and then ditched altogether as the company dumped its workforce, defaulted on its US Energy Department loan, and then finally declared bankruptcy in 2013.
For Chinese auto-parts maker Wanxiang it was an opportunity to get into actual car building, shifting manufacturing of the new Karma to the US from Finland, and putting an executive team sourced from traditional automakers at the helm.
In addition to renaming the company from Fisker to Karma, the car itself will be christened Revero and play heavily on its individual, hand-built heritage. Performance, pricing, and specific availability are yet to be announced, though the Revero is expected to go on sale midway through 2016.
What remains to be seen is whether there's a market for a niche high-end hybrid, something Cadillac struggled with when it launched the cooly-received ELR. Tesla's domination of the high-end EV segment has only grown in the years the Karma project has taken to regroup and try again, breaking out of the luxury space and now sitting on over 400,000 reservations of the Model 3, an all-electric car which will come in at a fraction of the price of the Model S and, almost certainly, the Karma Revero.
MORE Karma Automotive