Tesla Model 3 pre-orders reach 400,000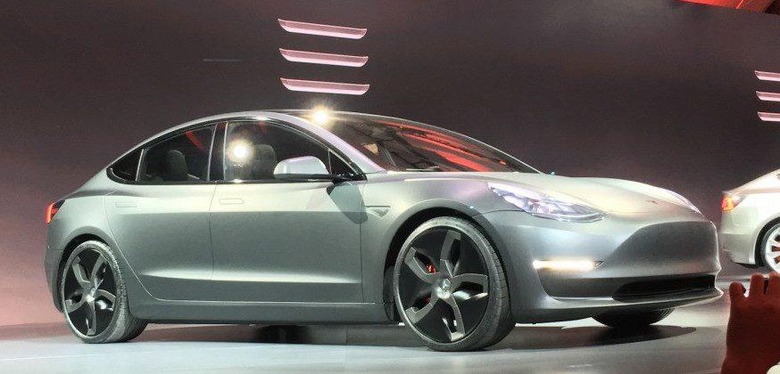 By now you've likely heard that the latest Tesla vehicle, the Model 3, has been in high demand almost immediately since its debut early this month. The first 24 hours saw more than 250,000 pre-orders, over double what Tesla CEO Elon Musk said they expected. Now, almost three weeks later, Musk has provided an updated number on pre-orders: nearly 400,000. All for a car that even the first buyers won't see for another year and a half from now.
Musk revealed the new total at a press conference in Norway this week, Reuters reports. The first week after the Model 3's announcement ended with about 325,000 pre-orders, indicating that most eager buyers placed their order for the four-door sedan almost immediately. It's clear that the rate of orders has significantly slowed at this point, but 400,000 is still a ridiculous amount for a car no one has even driven yet.
We took the Tesla Model 3 for a spin
Following the Model S and Model X, the Model 3 is meant to be Tesla's flagship for bringing affordable electric cars to the masses. The sedan features a starting price of $35,000 and promises a battery range of at least 215 miles. Musk has added that he expect pre-orders to reach 500,000 before the second official Model 3 unveiling event, sometime later this year, which will reveal more details about the car.
The rapid rate of pre-orders for the Model 3 has also prompted concerns about how Tesla will be able to meet the demand in a reasonable time. After all, the company has only managed to produce 125,000 cars up to this point since the Roadster began shipping in 2008.
Tesla says that production won't be so much of an issue once its $5 billion Gigafactory finally opens, but that isn't scheduled until 2020. So either way you cut it, early Model 3 buyers will be in for one long wait before their car is delivered.
SOURCE Reuters