Joaquin Phoenix Used To Promote Joker Edition Galaxy Z Flip In Russia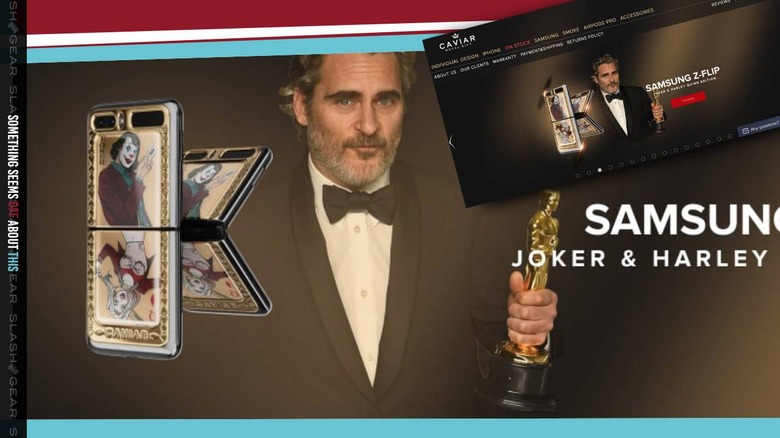 The folks at Caviar have a new super-expensive super-elite smartphone with the launch of the Samsung Galaxy Z Flip. This device makes use of the two-sided, split backside of the Galaxy Z Flip with a Queen and Joker card pair – one for Harley Quinn, the other for The Joker Himself. What's more, the company's gone ahead and used Joaquin Phoenix and his newly-awarded Academy Award for Best Actor to promote the phone – though we're not quite ready to believe that he or his representatives signed off on said appearance on their webpage as such...
The folks at Caviar operate out of Russia. In the past they've released phones with images of Vladimir Putin, Donald Trump, John F Kennedy, and properties like Game of Thrones. They've included some very strange... memorabilia in their special edition phones. They've made a Tesla iPhone case with solar charging capabilities. They do not seem to be particularly worried about copyright infringement or legal matters in the global IP realm.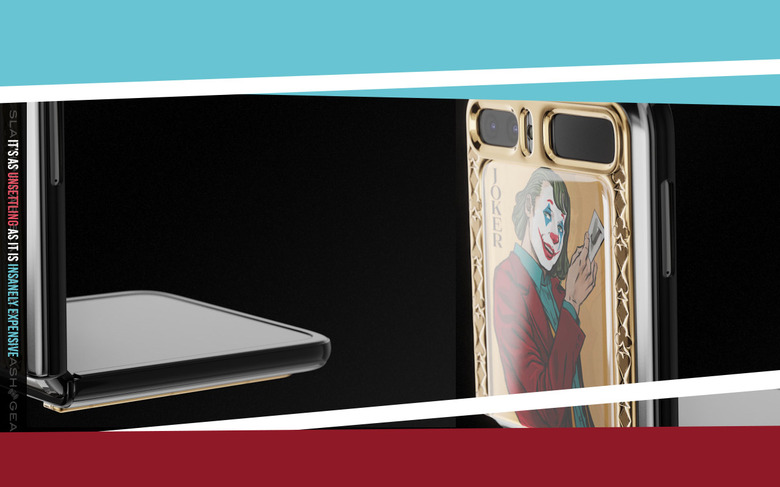 The "Caviar Samsung Z Flip Joker & Harley Quinn" device was revealed by Caviar for a cool $5.2k – that's over five thousand dollars, USD. And it's not their most expensive edition of this smartphone. They've also got a Z Flip with Carbon Titanium for $5.69k, and a Caviar Samsung Z Flip Gold edition for $6.01k.
"Caviar Samsung Galaxy Z Flip Joker & Harley Quinn is a luxury version of the smartphone in the form of a playing card with colorful images of the Joker and Harley Quinn covered with jewelry varnish," said a Caviar representative. "The case is covered with 999 gold using Double Electroplated technology and decorated with embossed engraving in the form of card suits."
SEE TOO: Our own hands-on with Galaxy Z Flip at Samsung
The style of the artwork on this smartphone is not particularly common when it comes to other Caviar-customized devices. We've not yet gotten word who it was that illustrated these two images – but we're very interested to know.
You'll find this smartphone to be limited to 54 pieces: "The Caviar Samsung Z Flip Joker & Harley Quinn concept is presented in limited edition of 54 pieces, by the number of playing cards in the classic joker deck." All must be ordered through caviar dot global, if you've got a mind to drop massive amounts of cash on something so questionable.
This device is up on the front page of Caviar right this minute. Take a peek at the timeline below for a few more extravagant customizations from Caviar. They've been at this business for a while now – could they actually be selling these things for two and three times their original cost?