Samsung Galaxy Z Flip Hands-On: Second Time's The Charm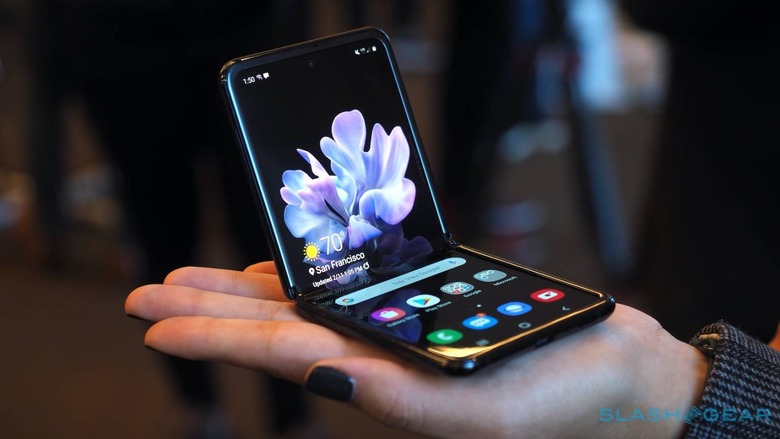 If the Galaxy Fold felt like an experiment, Samsung's second foldable Android phone, the Galaxy Z Flip seems like a real play for a larger market. That's "larger" with some not-insignificant quotes, mind: a $1,380 sticker price still puts this well out of the reach of most smartphone buyers. At least, my early impressions suggest, the foldable they're getting for their money feels a lot more grown-up.
Samsung has plenty to prove, even with – or maybe because of – the Galaxy Fold being on the market already. Few will have forgotten that handset's abortive initial launch, review units hastily recalled after screens quickly started failing. Samsung revamped the design, but the Fold was always facing an uphill battle.
Fast forward to today, and the Galaxy Z Flip tackles those potential criticisms right out of the gate. It clamshells closed higher than the Fold does, leaving less of a gap for dust and other detritus to work its way between the halves of the screen. The hinge is firmer and feels much more sturdy; tiny fibers inside further help keep grit out of the equally-tiny cogs and gears.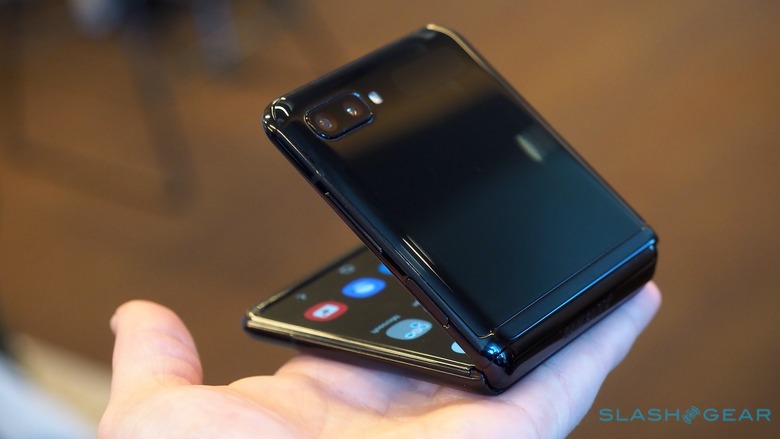 Most importantly, Samsung has unleashed the latest in flexible glass to protect its folding display. The Galaxy Fold not only has a noticeable crease running down its center, its plastic OLED was prone to picking up scratches. Samsung even warned new owners not to press too hard with their fingernails, lest they permanently damage their $2k+ device.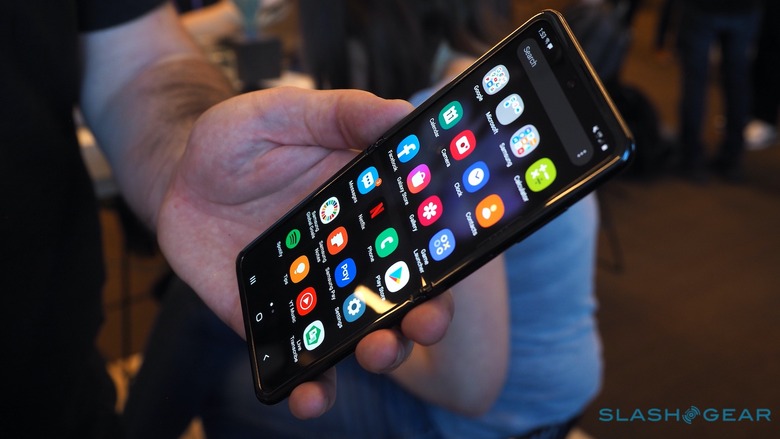 It's early days and a limited amount of time with the Galaxy Z Flip, but already those concerns seem passé. The flexible glass does have a crease across in its center, but it's not as aggressive a dimple as on the Fold. Casual scratches seem much less likely, just as with glass on a regular smartphone.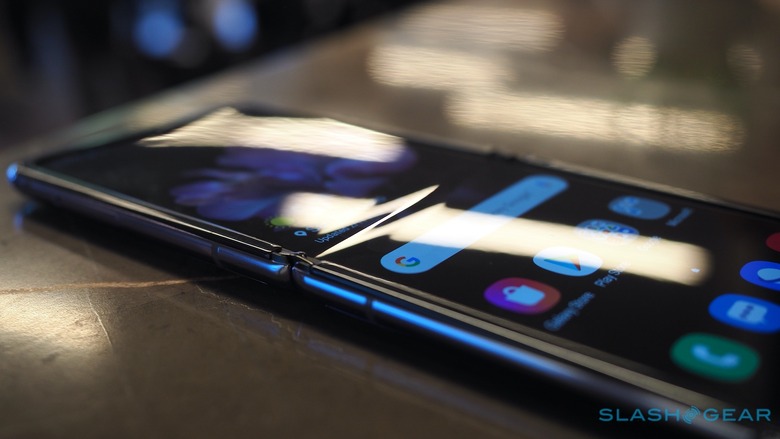 I'm not saying you could drop the Galaxy Z Flip in a bag, opened, and expect no bad results whatsoever. This is still a cutting-edge device and an expensive one, and should be treated as such. But that feeling of needing kid-gloves to interact with a device we're used to whipping out and using multiple times every hour is less present.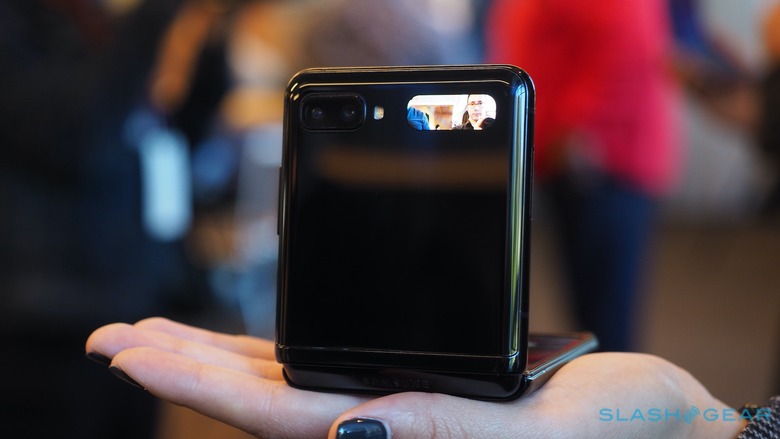 It's not perfect. The external screen is useful, you can even frame yourself for selfies with it, but it's small and there's a limited amount you can do with that little real-estate. While text message previews will scroll across like a ticker machine, I suspect you'll still be opening up the Galaxy Z Flip regularly.
Doing that requires a firm hand, too. Unlike the flip-phones of old, which you could snick open by easing a thumb in-between the two halves, the Galaxy Z Flip really takes both hands. That might bode well for longevity, but if you were hoping for a phone that would be both small in your pocket and conducive to one-handed use, this may not quite be it.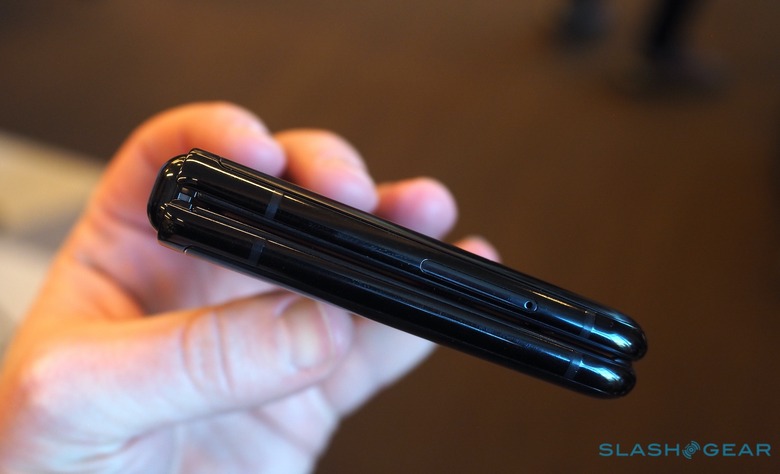 Samsung is positioning the Galaxy Z Flip as catnip to influencers, and I can see that panning out. It's definitely eye-catching, especially in the range of colors Samsung will be offering. I don't know if those users will be taking advantage of the firm hinge's ability to hold the upper half of the display at various angles and film themselves, but it could be useful for Google Duo calls. Like with the Galaxy S20 5G range, Duo is baked into the Galaxy Z Flip's dialer and contacts. Unlike the S20, the Flip doesn't have 5G, though you do still get dual rear cameras, an octacore processor, and 8GB of memory.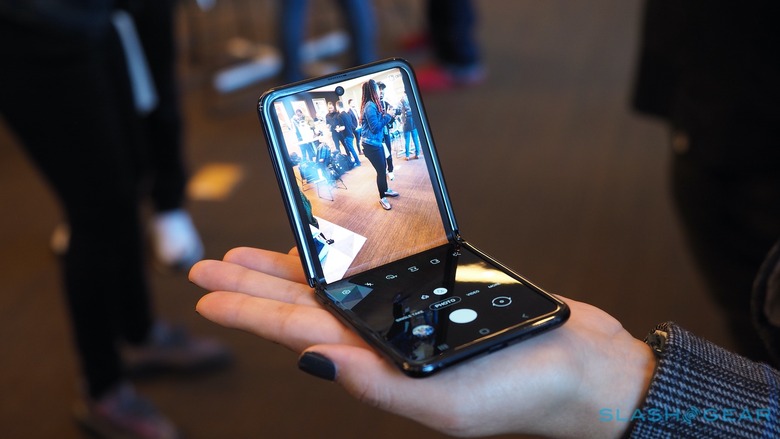 Time will tell whether foldable phones of this scale are going to work out to be a legitimate segment or a flash in the pan. What seems clear today, though, is that Samsung has resolutely shown Motorola the door when it comes to the Razr. First impressions of the clamshell Razr proved to be fairly dire; now, undercutting it on price, delivering better specs, and looking set to be far more resilient, the Galaxy Z Flip has further closed Moto's window of opportunity.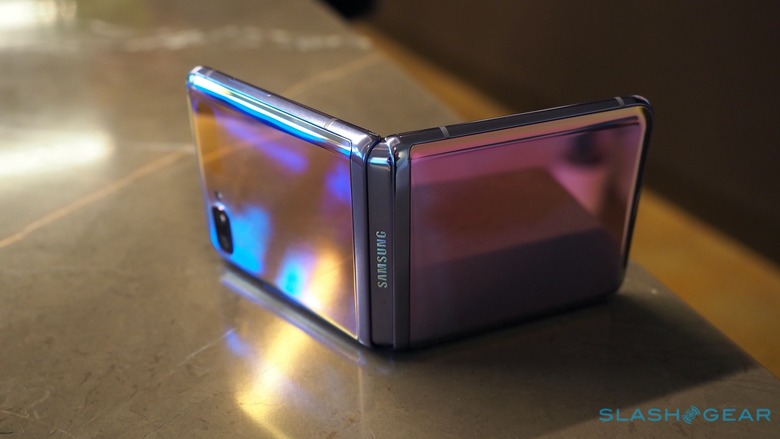 Sales of the Galaxy Z Flip kick off on Valentine's Day, February 14. It's priced at $1,380, so you'll really need to be feeling some love for the form-factor in order to take the plunge.