Samsung Galaxy Z Flip revealed with release date and price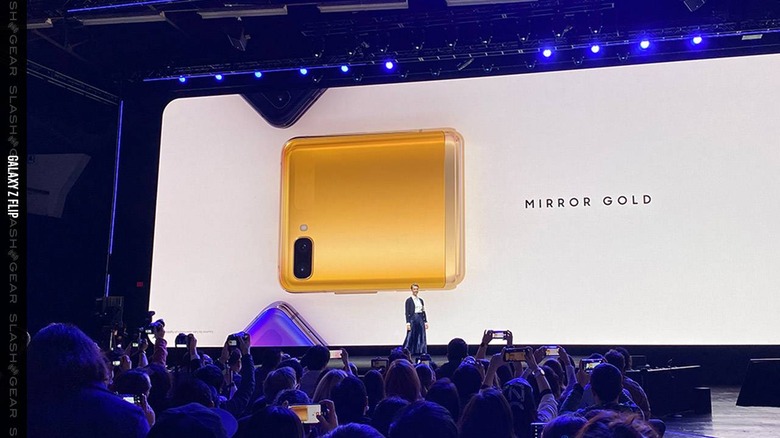 Today we're taking a peek at the Samsung Galaxy Z Flip, a smartphone with a foldable display that closes like a traditional flip phone. This device features a large display inside, and a tiny display outside – a touchscreen at that! This device has the ability to work all the way open or at an angle – "place it on any flat surface to activate Flex Mode!"
With Flex Mode, the Galaxy Z Flip is "optimized for a hands-free selfie and vlogging experience." That means top-screen viewing (the top half of the screen) and bottom-screen controls. Per Samsung, this device is "perfect for shooting 16:9 ratio Portrait Mode videos for Youtube uploads." This machine was made to steal the influencer crowd away from the iPhone – to be sure.
The Samsung Galaxy Z Flip has a 6.7-inch display inside that folds out. This is what Samsung calls its Samsung Infinity Flex Display. It has a single circle punch in its forehead area for a front-facing camera, and it rolls with Dynamic AMOLED technology with "incredible color quality and reduced blue light."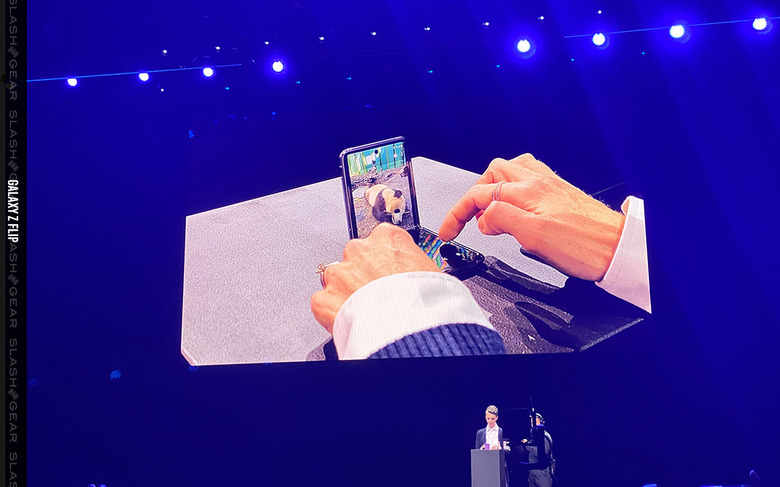 Flex mode is the most unique bit of this whole experience. As Samsung suggests, "When the device is free-standing, the display automatically splits into two 4-inch screens so you can easily view images, contents or videos on the top half of the display, and control them on the bottom half. Easily watch and navigate YouTube – stream on the top while searching for other videos, reading descriptions and writing comments on the bottom."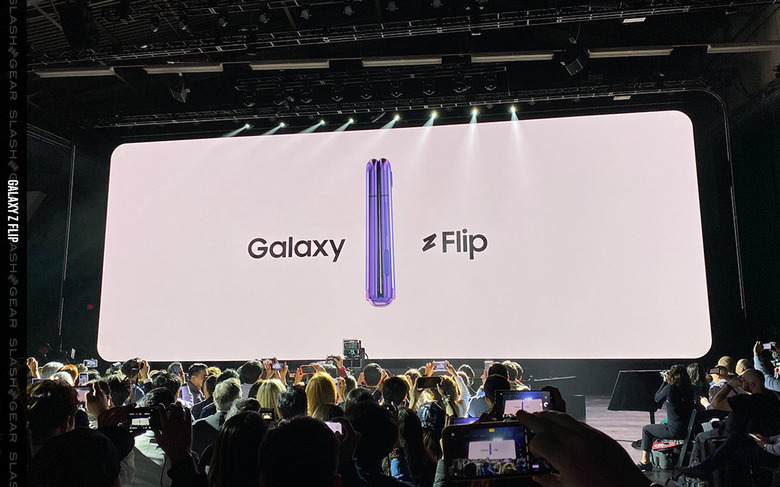 Samsung also expands upon this system with "Multi-Active Window". To activate, the user will drag and drop apps into the multi-active window, and they'll split. Users can "Scroll through an article on the latest fashion looks on the top half while shopping for your favorite pieces on the bottom."
The Samsung Galaxy Z Flip will be released in two colors right out the gate. There'll be a Mirror Black version and a Mirror Purple version – you'll likely see the latter in press materials most often, it's very eye-catching.
The Samsung Galaxy Z Flip will be released "in limited quantities" starting in "select markets" including the U.S. and Korea on February 14, 2020, Valentine's Day! There'll also be a Mirror Gold edition coming to "select countries." This device's price will start at a cool $1,380 USD.