These iPhone 11 Pro units include macabre bits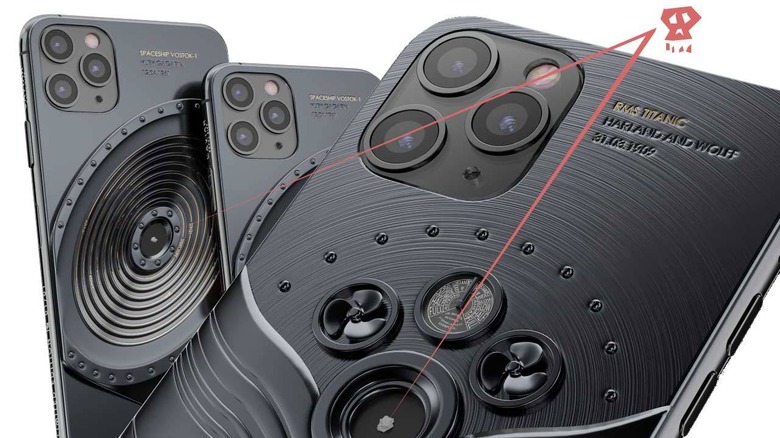 The folks at Caviar Royal Gift created a set of new iPhones with pieces of two very different historical craft. Count this amongst the strange stories for which you've probably not come prepared today. One of the two new "limited edition" iPhone 11 Pro editions comes embedded with a piece of the Titanic. The other comes with a piece of the spacecraft in which Yuri Gagarin orbited our planet Earth.
iPhone 11 Pro with bit of VOSTOK-1
Yuri Alekseyevich Gagarin was the first human being to exit our earth's atmosphere and travel through outer space. The folks at Caviar decided that they'd make use of a fragment of the Gagarin spacecraft (VOSTOK-1), in a custom re-fitted casing for the iPhone 11 Pro. If purchased, this phone will be a one-of-a-kind piece of hardware. Potential buyers can choose either the iPhone 11 Pro or the iPhone 11 Pro Max.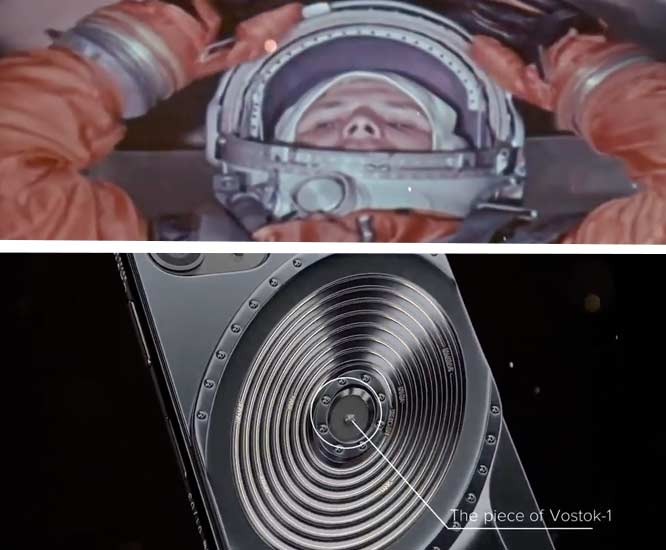 Pricing on this VOSTOK-1 custom iPhone 11 Pro will be approximately $33,760 (that's over thirty-three thousand dollars, USD). That's for the iPhone 11 Pro with 64GB internal storage. If you want to ramp up to the iPhone 11 Pro Max with 512GB internal storage, you'll be paying $34,940 USD instead.
iPhone 11 Pro with bit of RMS Titanic
The other iPhone 11 Pro made by Caviar has a fragment of the Titanic. The Titanic, a ship whose sinking resulted in an estimated 1,517 human deaths. There's a chunk of that ship in the body of this custom-fitted iPhone 11 Pro from Caviar.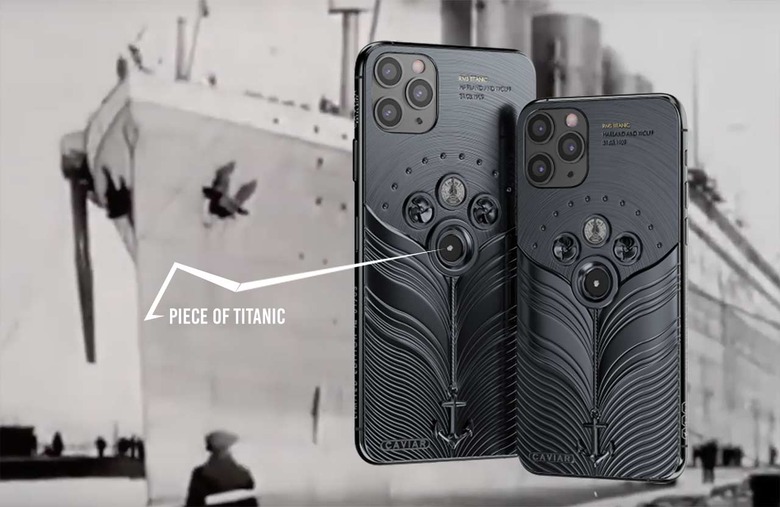 "Every year, the time provides more and more new damages to the sunken ship; more time will pass and Titanic will disappear completely," said Caviar. "That's why Caviar designers have set up the goal to be in time and got a fragment of Titanic and included it into the luxurious design of iPhone 11 Pro." There'll be 10 Titanic iPhone 11 Pro devices, starting at $7,310, running all the way up to $8,490 USD.
BONUS: Fire-inspired Apollo 11 iPhone 11 Pro
Oddly, Caviar decided to put these two versions of their customized iPhone collection (and a few other space-inspired iPhone 11 Pro customizations) into a single set called "Discovery." Also amongst the newest set of Caviar customized iPhone 11 Pro devices: Explorer, Soyuz, Singularity, Universe, Universe Diamond, and Apollo 11.
It almost seems like they happened to be able to acquire a piece of the Titanic and wanted to put it into one of their customized iPhones as soon as possible, but also wanted to include the device amongst a collection... which is otherwise comprised of space mission-themed devices.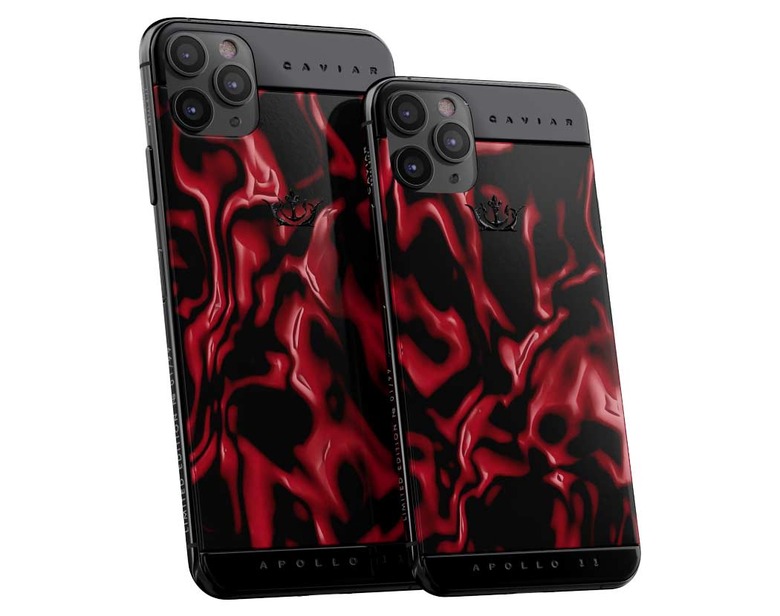 Above you'll see images of the company's iPhone 11 Pro Apollo 11 model. It's made with Kevlar, which they explain will give the device high fire resistance. "So, iPhone 11 Apollo Edition limited edition phones are intended to become astronauts' phones, providing he protection in the event of both falling from a height as well as from the direct extreme cold and fire impact."
You'll find more examples of Caviar-made wildly-expensive custom-made editions of iPhones and Samsung Galaxy devices in the timeline below. They've been doing this sort of thing for a while!