Jaguar I-PACE Concept previews Model X rivaling EV for 2018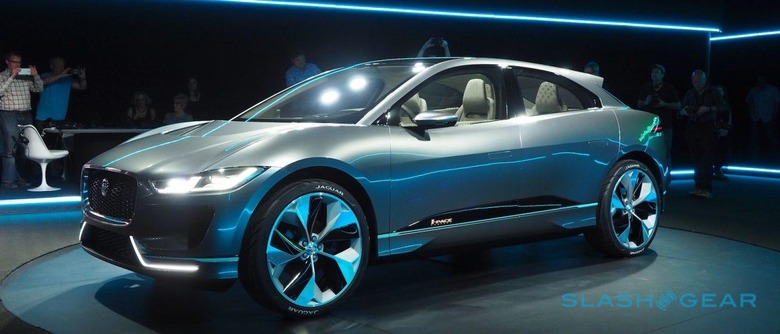 Concept cars are usually flights of design fancy, but nobody at Jaguar got the memo about being wildly impractical when designing the new I-PACE Concept EV. Making its striking debut at the LA Auto Show 2016 today, the beautiful concept takes a homegrown EV platform good for 0-60 mph in around 4.0 seconds and combines it with styling cues from the F-PACE and C-X75 concept. Best of all, this is no flight of far-off fancy: Jaguar says we can expect a production version of the I-PACE Concept in 2018.
Jaguar may be most closely associated with Britain – as is Sir Ian Callum, the famed designer who created the I-PACE Concept's lines – but there's a big reason for the car to be officially revealed in the US. North America is, the company's execs say, the epicenter of electrification. While the I-PACE production car will be a global vehicle, it's places like Los Angeles which are expected to flock to it first.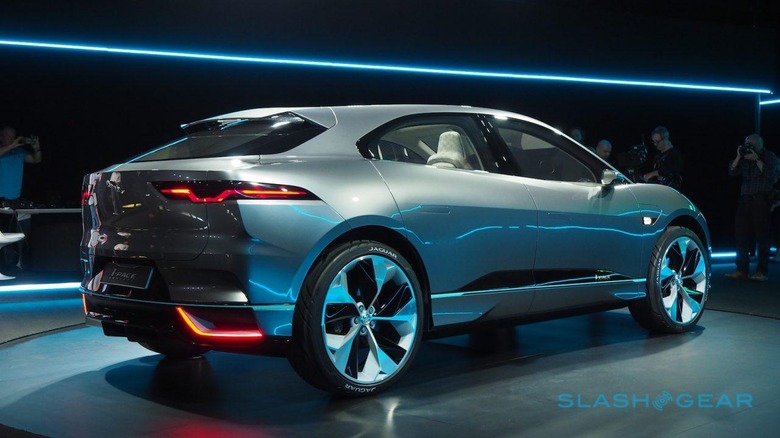 As Jaguar's first ever fully-electric car, the I-PACE Concept has plenty to live up to. Leaving nothing to chance, the company opted to develop just about everything in-house, particularly when it comes to the powertrain. While it shares a few suspension components with the F-PACE SUV – which is on sale now, though only with gas or diesel engines – just about everything else is brand new.
There are two electric motors, one on the front axel and one on the rear, for all-wheel drive. Although that sort of setup isn't unusual in EVs, the motors themselves are: concentrically wrapped around each axel, each musters 197 HP and 258 lb-ft. of torque. Total horsepower is 395 HP and total torque is 516 lb-ft., the same in fact as the F-TYPE SVR.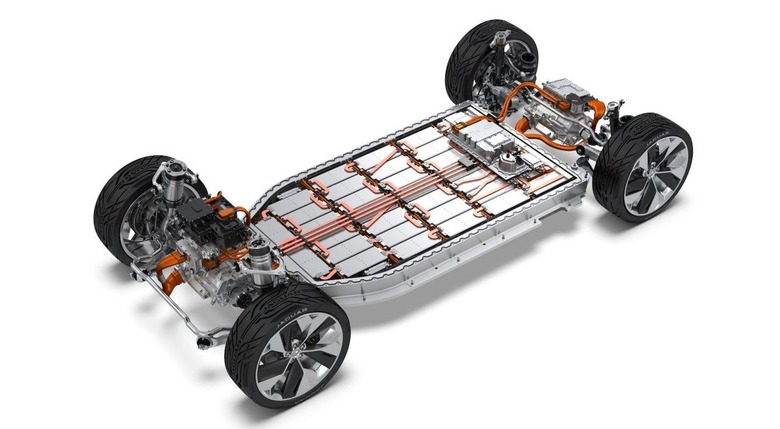 The design allows Jaguar to keep the propulsion system compact, while center of gravity is low thanks to the battery pack slung in the wheelbase. Using li-ion batteries supplied by LG Chem, the 90 kWh pack is liquid cooled. Jaguar says that by judicious application of heating during winter and in colder climates, it can squeeze more than 30 miles more range out in such conditions.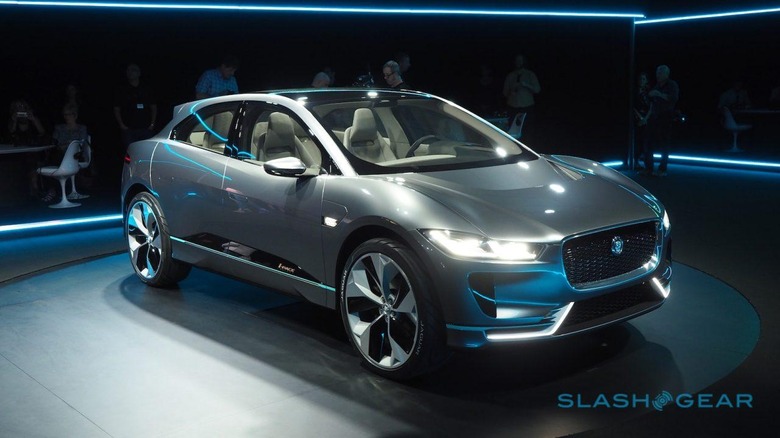 Total range for the I-PACE Concept is quoted at more than 220 miles on the US EPA test cycle, or more than 500 km on the European NEDC test cycle. Hooked up to a 50 KW DC charger, the crossover should fully recharge in less than two hours. Jaguar tells me that inductive charging – where owners wouldn't need to physically plug into a charger, but instead just park over a special pad – is definitely on its radar.
What we shouldn't expect to see, however, is a Jaguar equivalent of Tesla's Supercharger network. Even though the Model X is seen as a prime competitor, the Jaguar team tells me that it has no plans to produce its own I-PACE exclusive charging points. That's better served by existing charging networks, they argue, all of which the production SUV will be compatible with.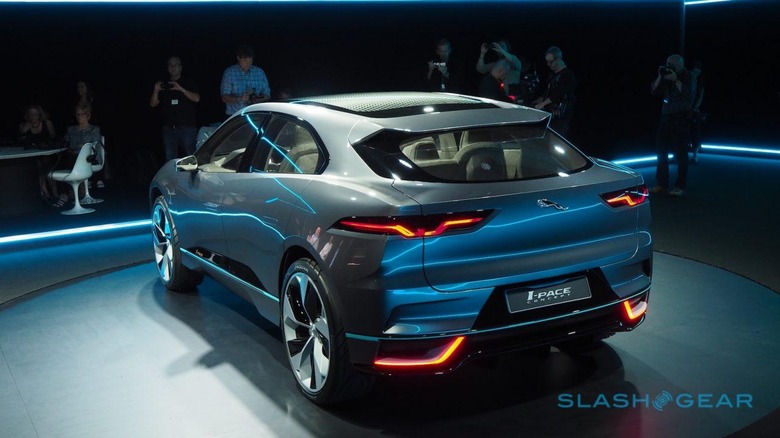 Though the Tesla comparison is an obvious one, the I-PACE Concept is actually a fair degree smaller: the Jaguar is more than 14-inches shorter. In fact, it's more akin to a midsized crossover, though that doesn't necessarily translate to a cramped cabin. With a wheelbase only around 3-inches shorter than its California rival, Callum and his team has looked to making the most of the architecture the new platform allows.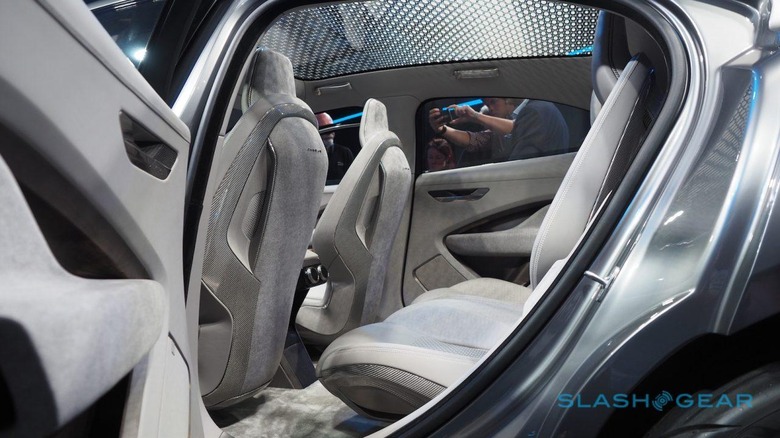 That means pushing the front seats forward, increasing rear legroom for five adults without cutting into the trunk. Since there's no engine in the front, nor a drivetrain running through the center of the cabin, the "cab forward" design can echo that of mid-engined sports cars, maximizing interior space. Design elements like a suspended dashboard, floating without any floor supports beneath, that flows into a similarly cantilevered center console emphasize the effect.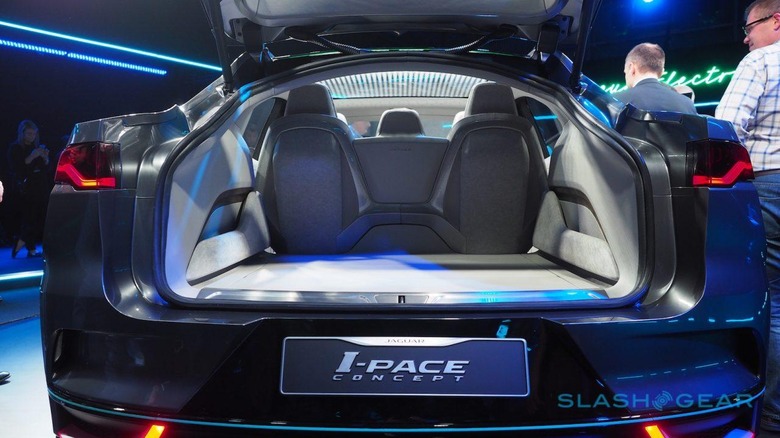 It still leaves space for a 18.7 cu-ft. rear trunk, along with 1 cu-ft. of front trunk (or "frunk") space, which Jaguar expects I-PACE owners to use to store their charging cords. They'll plug into a hatch on the front passenger-side wheel arch; the concept car has five LEDs to show current battery status from afar.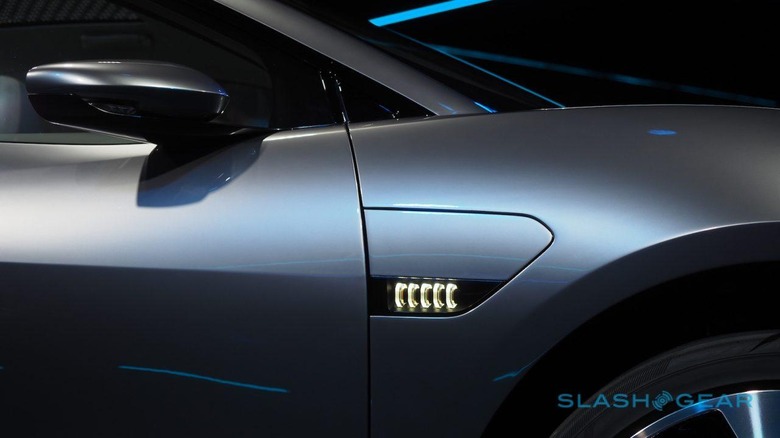 On the outside, the F-PACE similarities are clear, though plenty of the detailing is inspired by Jaguar's far more striking C-X75 concept supercar. A strong, high shoulder-line emphasizes the muscular arches – helped, of course, by the vast wheels shod in custom rubber – while the sharp angle of the rear hatch cuts into luggage space in the name of style. It's almost five inches shorter than the Model X, too.
Some of Jaguar's styling elements are magnificent. At first glance, for instance, the gaping chromed grille looks much as you'd expect to find on any of the automaker's current production cars. Squat down until you're face-to-face with the roaring company emblem, though, and you realize the mesh curves in at the top, peeling away from the metal rim.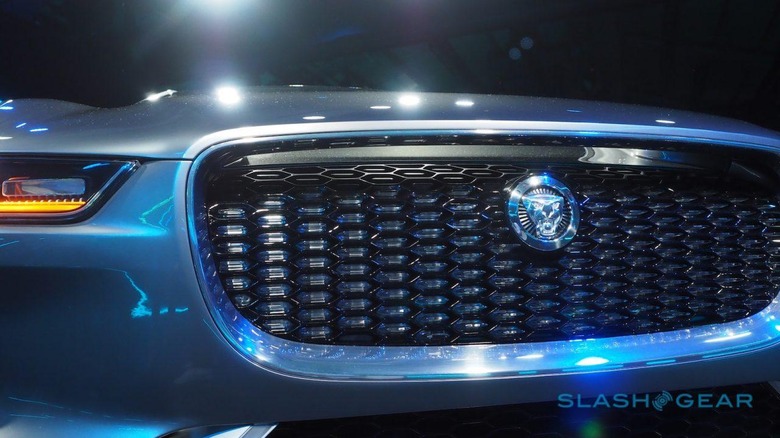 Instead it flows under the front edge of the hood to join with the cutaway section midway toward the windshield. It's effectively a front spoiler, which couldn't have been designed in had a more traditional engine been required underneath. Thanks to its inclusion, the I-PACE Concept has a drag coefficient of 0.29, impressive for an SUV.
The exterior, Jaguar tells me, is likely to be little changed between concept and production. I'm guessing the same can't be said for the interior, which – as with all auto show exotica – digs a little deeper into fantasy. The company insists, though, that it's "clear statement" of what's to come.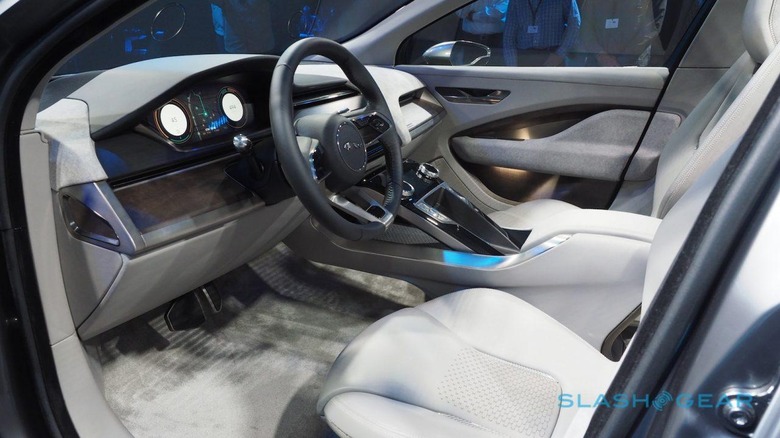 That means a mixture of beautiful but impractical fabrics, like laser-cut leather and "Moonstone Alcantara", which look as though they'd be perfect for your kids' fuzzy-felt animals. Colored carbon fiber, aluminum, and dark, open-poor walnut wood are thrown in too, punctuated with Jaguar's signature lozenge motif. That shape crops up again in the full-length glass roof, which has LEDs embedded to sparkle like stars at night.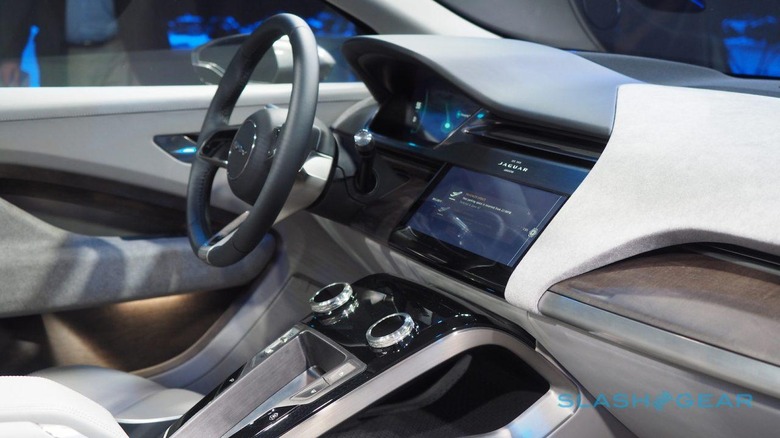 Gone is the current Jaguar drive knob, replaced by more discrete buttons for forward, neutral, park, and reverse. As an EV, the I-PACE Concept doesn't have a gearbox, of course. There's no shortage of displays, either. The driver gets a vast 12-inch virtual cockpit behind the steering wheel, and there's a second touchscreen of the same size at the top of the center console.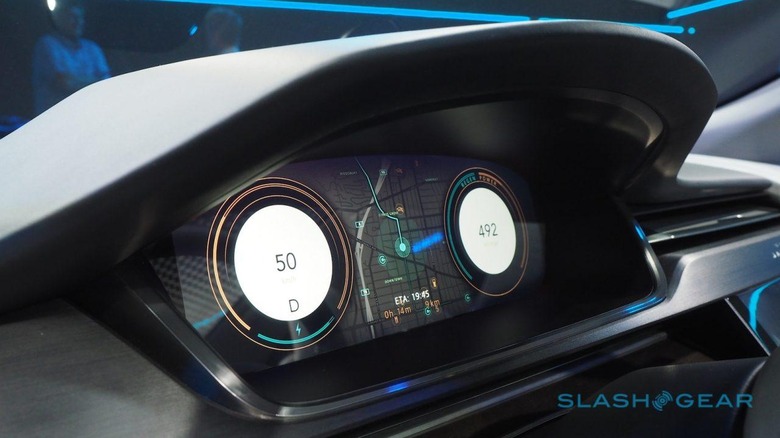 That handles infotainment, navigation, and internet access. Below it, a smaller, 5.5-inch touchscreen is dedicated to secondary controls such as HVAC, flanked with two laser-etched dials each with a screen at their center. A full-color head-up display delivers the key information into the driver's line-of-sight, controlled by capacitive buttons – with haptic feedback – on the steering wheel.
Once again, the devil is in Jaguar's details. The knurled heating control dials are particularly special, but equally considered are the grooves for sliding a finger up and down to control the electric windows, or the touch-sensitive seat controls. All more than likely out of the realm of feasibility for an actual car, sadly.
Still, there are some takeaways we can use in advance of the production I-PACE set for dealerships in a couple of years time. By pushing the cab forward, for instance, front visibility is much improved; that allows Jaguar to position the seats lower than in a typical crossover, emphasizing the sporting ambitions of the car. It also gives a more distinctive view between the bulging front wings.
NOW READ: 2017 Jaguar F-PACE First Drive
For now, that's somewhere the driver will have to be looking. Although Jaguar execs concede that electrification, connected car, and autonomous driving are three tightly entwined aspects of tomorrow's vehicle, I'm told only the first two are the focus of the I-PACE Concept. There's piloted driving, undoubtedly, building on adaptive cruise control, but no mention of Tesla-like "Autopilot" technologies.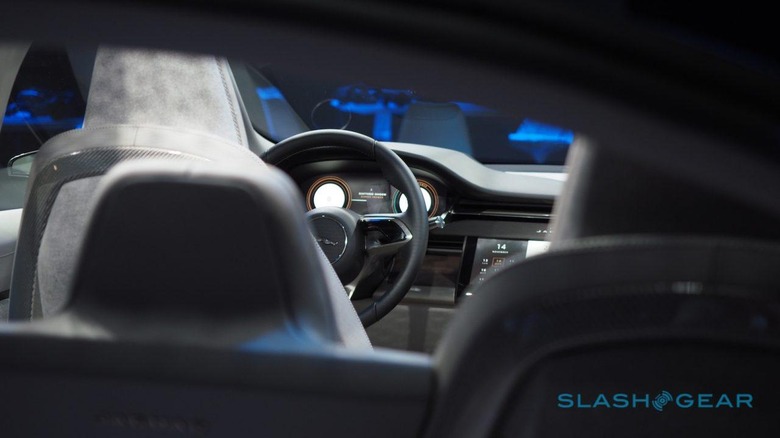 It might come in time, mind. Although Jaguar is keen to keep discussion on the car at hand, the electric platform is far too huge an undertaking for just one vehicle. That likely means different battery capacities in future versions of the I-PACE production car, but also using the same underlying technology for other upcoming vehicles. After all, as Callum himself concedes, the sound of an electric drivetrain in action might not be the same as that of a V8 engine, but it's undoubtedly the soundtrack of the future.
Closer at hand, the production I-PACE will get its big reveal late next year. Jaguar won't talk specifics like pricing at this stage, though execs did confirm to me that it will undercut Tesla's Model X. That's currently just short of $90k before subsidies and incentives.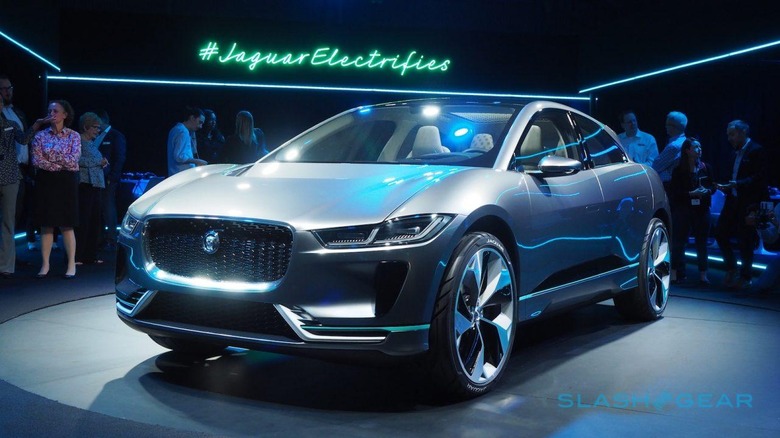 "This will be Jaguar's first-ever battery-powered electric vehicle and opens a new chapter in the history of our legendary brand," Ian Callum says of the production car. Indeed, the Director of Design says he believes the I-PACE will be the most important car to Jaguar since the legendary E-Type. For the moment, Jaguar has opened the LA Auto Show 2016 by throwing down a bold gauntlet; we'll be keeping track of how the rest of the industry rises to that challenge in the SlashGear Cars hub.