200-mph Jaguar F-Type SVR Announced Ahead Of Geneva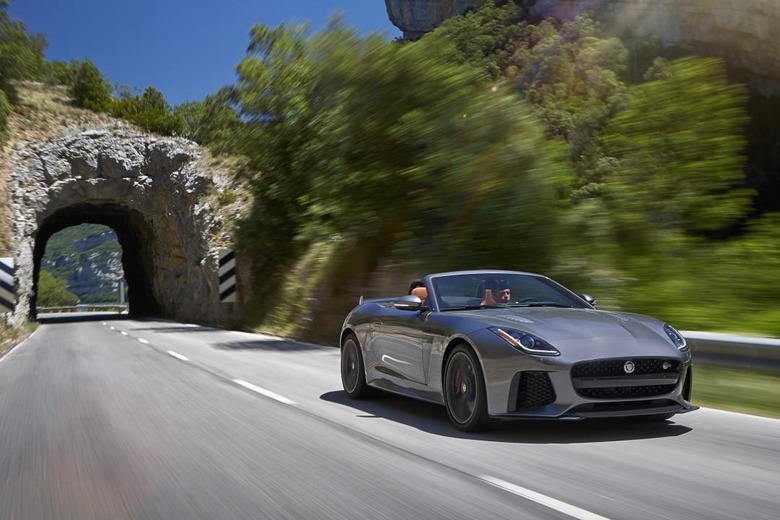 Jaguar has announced its latest high performance salvo ahead of its introduction at the 206 Geneva Motor Show: the Jaguar F-Type SVR. Capable of hitting 200-mph, the F-Type SVR qualifies as the quickest production car ever built by the brand, and it expands the use of the SVR badge from the Range Rover Sport SVR that was debuted by corporate sibling Land Rover just last year.
The Jaguar F-Type is already a formidable sports car, but the SVR edition takes the vehicle's speed and handling prowess to an entirely new level. 575 horsepower and 516 lb-ft of torque are made possible from its 5.0-liter supercharged V8 by way of the same engine tune used on the limited edition Jaguar Project 7 roadster. The SVR features a new titanium exhaust system and upgraded cooling under the hood, and an eight-speed automatic transmission is standard with the car.
The vehicle's active rear differential and standard all-wheel drive system provides the traction required for the F-Type SVR to hit 60-mph from a standing start in an astonishing 3.5 seconds, and six-piston carbon ceramic brakes are also on hand to help slow things down. A number of suspension and driveline upgrades have also been made to the car, including new front and rear swaybars, enhanced camber and toe stiffness at the rear of the vehicle, and all-wheel drive torque vectoring capabilities that are more aggressive than in the base F-Type R.
How to spot the Jaguar F-Type SVR in a crowd? Traveling at 200-mph has required Jaguar engineers to re-think the car's aerodynamic details. New hood vents, an extended front bumper, lift-canceling slots in the wheel arches, and a smooth underfloor tray are part of the package, while a redesigned carbon fiber rear spoiler that automatically extends and retracts when needed also sets the car apart from other versions of the F-Type. Inside, SVR badging and unique quilted leather round out the styling differences.
You'll have to ante up considerably to park the Jaguar F-Type SVR in your garage: the brand has listed the coupe version of the SVR at $125,950, while the convertible will set you back $128,800. This represents a $20,000 premium over the 550 horsepower F-Type R, and nearly double the price of the entry-level, 340 horsepower six-cylinder F-Type.