2017 Jaguar F-PACE First Drive - Clever Kitty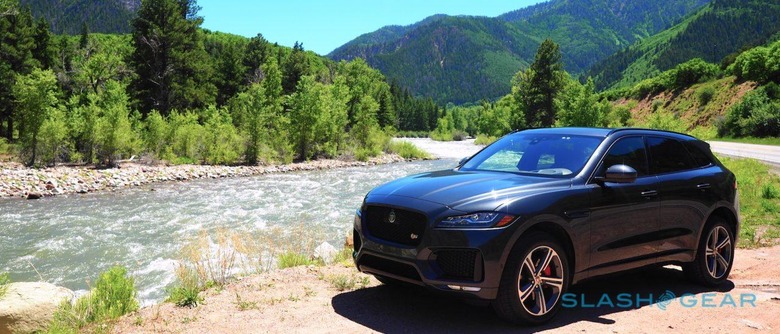 Jaguar may be new to the SUV segment, but there are no allowances for tardiness: the 2017 F-PACE has to land a knock-out punch to heavyweight rivals and prove the famed British marque is about more than just coupes and heritage. Falling somewhere in-between competitors like the BMW X3 and X5, and Audi Q3 and Q5, in size, the F-PACE doesn't take the easy route of raiding Land Rover's parts bin but instead forges its own path on both the highway and in the rough stuff.
With one of the prettiest cars on the road today, the F-TYPE, in its portfolio, you can't fault Jaguar for taking inspiration from the sports car for its crossover. That could still have been a recipe for disaster, but happily design director Ian Callum has pulled another rabbit out of the hat, and the F-PACE looks tremendous.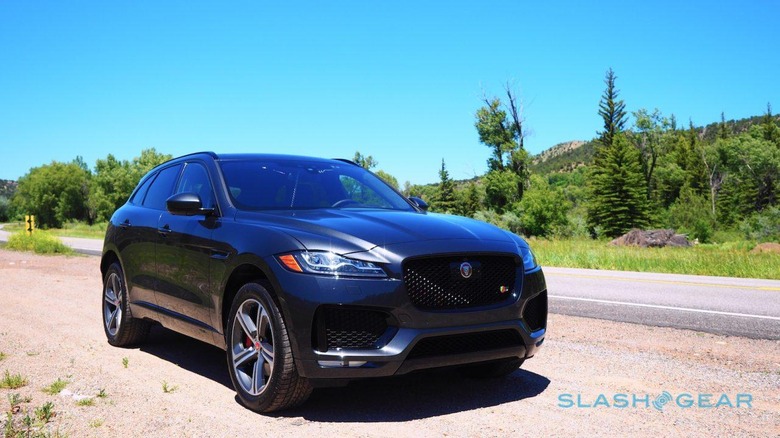 At the front, the big meaty grill and glaring headlamps lead back into a deeply sculpted hood and beefy fenders. The shoulder line rises dramatically as you get to the rear three-quarters, leaving the rear glass – as on the Range Rover Evoque – a narrow sliver. As with its brand cousin that leaves the F-PACE looking planted and solid, but unlike the Evoque rear visibility isn't unduly impacted, and headroom in the rear seats is still comfortable.
Open the power tailgate and you'll find 33.5 cubic feet of cargo space, which rises to 63.5 cubic feet if you drop the 40/20/40 split rear bench. Higher spec cars get power-folding rear seats.
The detailing is sharp, too, with the F-TYPE lending its minimalistic tail-lamps among other things, and that continues inside. The optional Luxury Interior Upgrade Package brings, for $2,200, suede headliners, 4-zone climate control, adjustable ambient lighting, and other niceties. Prestige trim level and above gets leather seats.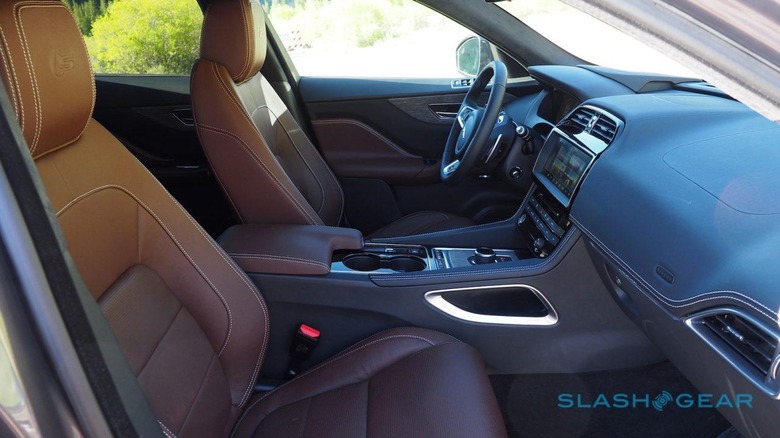 Below that, though, the faux-leather is a noticeable dip in quality, It's still a decent place to be, but it doesn't have quite as premium a feel. There's still some hard plastic to be found in the lower door trim and elsewhere, and I'm not convinced by the swathe of shiny black plastic across the – admittedly easy to use – HVAC controls.
Jaguar's sports seats, fitted on the F-PACE R-Sport and on the F-PACE S, have 14-way electric adjustment, including side-bolsters which squeeze in pleasantly to keep you in place in the corners.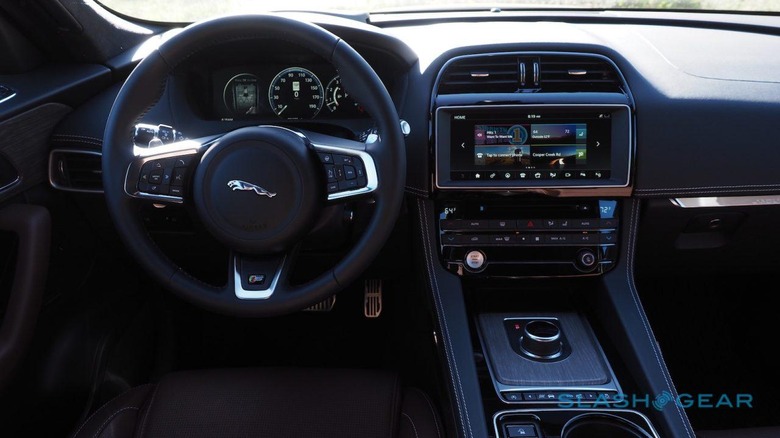 Jaguar has three engine options for the F-PACE, kicking off with a 2.0-liter turbocharged diesel "20d" with 180HP from $40,990, followed by a 3.0-liter supercharged V6 in either 340HP "35t" or 380HP "S" forms, from $42,390 and $56,700 respectively. The turbodiesel and 340HP V6 versions come in normal, Premium, Prestige, or R-Sport form. I had the opportunity to test both gas engines, both of which come with all-wheel drive (AWD) as standard.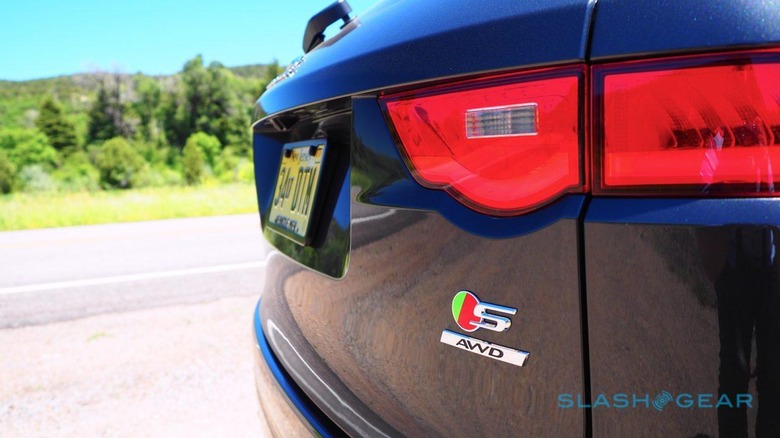 It takes driving the two engines back-to-back to really notice any difference in power, and for most people I suspect the F-PACE 35t will be more than sufficient. All versions share the same predominantly aluminum chassis with the F-TYPE, as well as getting double-wishbone suspension at the front and Integral Link at the back.
The electric power steering has a variable steering ratio as standard, and there are monotube dampers as standard together with brake-based torque vectoring. The F-PACE S gets adaptive dynamics which adjusts the damping based on body and wheel movement for a smoother and more agile ride.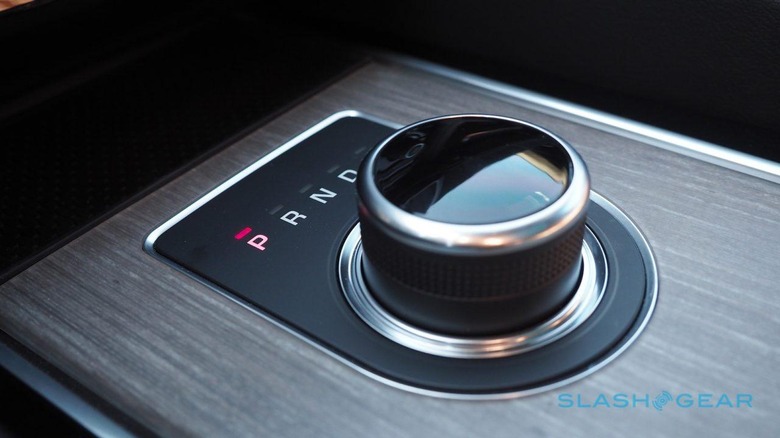 With either engine, power delivery is immediate, though the F-PACE is more eager when the 8-speed is set to Sport mode and the chassis switched to Dynamic. The transmission does a great job of slicking through the gears itself, but there are paddles behind the wheel if you prefer; happily, in paddle mode, even when you hit the redline the F-PACE won't overrule you and upshift, and it doesn't automatically nudge you back into automatic mode either.
The F-TYPE DNA shows itself again when you hit the corners. There's none of the typical SUV understeer unless you're pushing to foolhardy extremes, the steering weighting up nicely and the car staying flat and stable. It's worth snatching for the paddles at times like these, because they provoke a wonderful growl from the engine, swiftly followed by a sonorous back-pressure roar from the supercharger.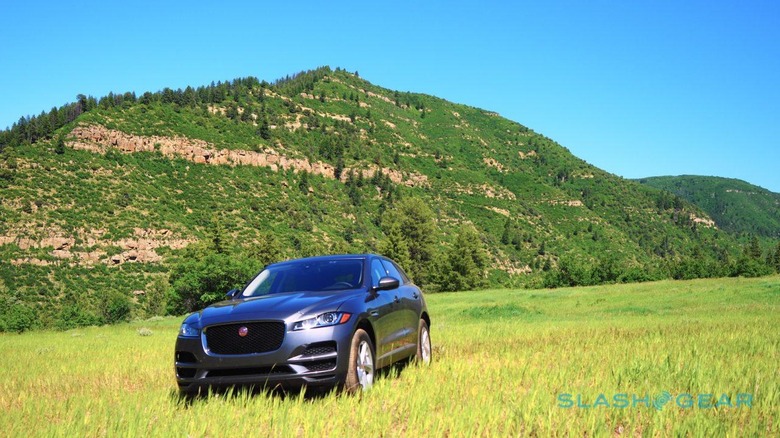 In short, it's the sort of on-road glee that you'd usually have to look to something like a Porsche Macan Turbo for, but the Jaguar also has off-road chops too. My time in the rough stuff was fairly minimal – I suspect most owners will rarely, if ever, go far from asphalt – but enough to see that the torque-on-demand AWD works.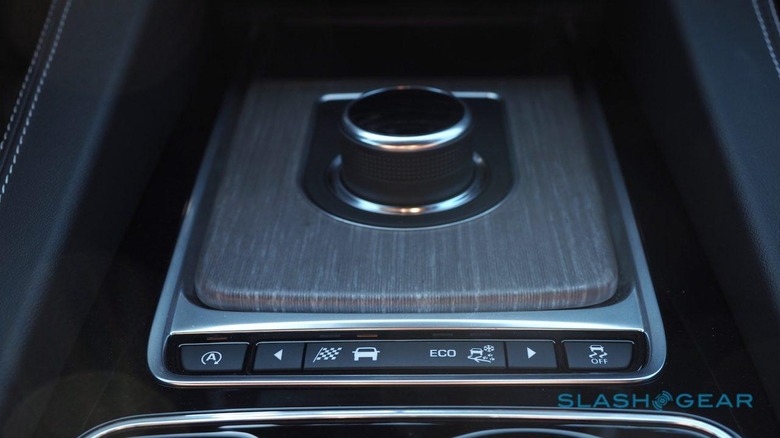 Most of the time, all the engine power is pushed to the rear wheels, but if the F-PACE figures there's a loss in grip at any of the four corners, it can move the torque forward too. There's a clever multi-plate wet clutch and chain drive underneath doing the magic, but all you really need to know is that it responds quickly: from 100-percent rear bias to 50:50 in 165 milliseconds, indeed.
It works with the new Jaguar Adaptive Surface Response (AdSR) system, which automatically switches between the best profiles for snow/ice, wet tarmac/gravel, and deep snow/deep gravel. That adjusts throttle, transmission, and DSC settings accordingly, while the All Surface Progress Control (ASPC) – effectively cruise control for off-roading – can take on braking and throttle at speeds between 2.2 and 19 mph.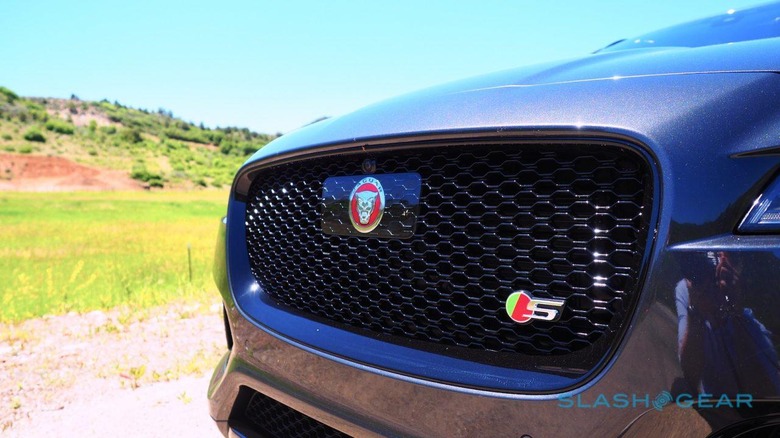 Likely to see more use are the various assistive driving systems Jaguar offers on the F-PACE as part of the $3,200 Technology Package. There's adaptive cruise control of course – it uses the sensors that flank the logo in the front grill, which look like someone forgot to take a screen-protector film off the car – as well as automatic emergency braking and lane-keep assistance, but it can also spot speed signs (including temporary ones) and flag them up on the driver display (and, if fitted, the $990 head-up display).
There's even the ability to automatically adjust speed based on the legal limits, with the F-PACE offering to slow the car down if the limit decreases, or speed it up if the opposite is true, just as long as the accelerator is pressed.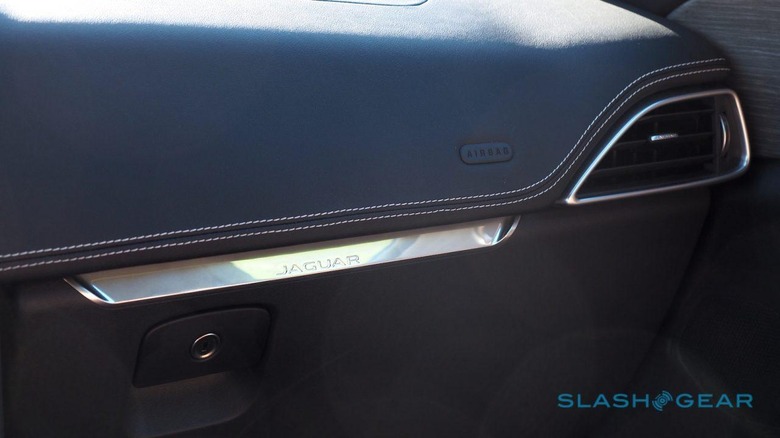 A excellent-sounding 380W Meridian sound system with 11 speakers is standard, as is a panoramic sliding sunroof, auto stop/start, and 18-inch alloy wheels. Stepping up to the Premium grade – for $3,210 more – throws in 19-inch wheels, a reversing camera, power-folding mirrors, and garage door remote, while the $48,700 Prestige upgrades the leather and the Xenon lights, adds InControl apps to the infotainment – more on which in a moment – power lumbar and heating on the front seats, parking aids, keyless entry, navigation, and a heated steering wheel.
The $53,000 F-PACE R-Sport has 20-inch alloys, a body kit and satin chrome trim, full-LED headlamps, lane-keep assist, autonomous emergency braking, blind-spot monitoring, the fancy sports seats, fog lamps, and SiriusXM, among other things.
Jaguar's standard infotainment system, dubbed InControl Touch, uses an 8-inch touchscreen with shortcut keys either side, and offers optional connectivity with apps on a connected iPhone or Android device and navigation for another $500. Aesthetically it looks clean, but it can be sluggish in use – the smartphone-style gesture controls Jaguar is so proud of work, but they judder and jerk – and there's neither CarPlay nor Android Auto.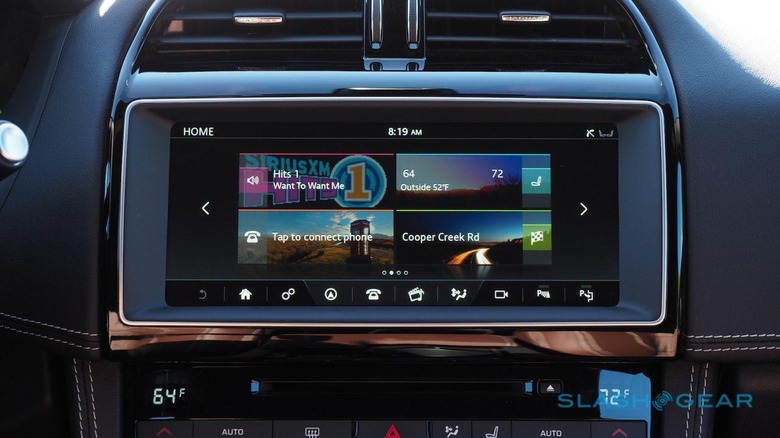 Far better is InControl Touch Pro, a newer, faster, and generally improved system that's part of the $3,200 Technology Package available on Prestige trims and higher. It swaps in a wide, 10.2-inch touchscreen and uses a quadcore Intel processor and SSD storage: as a result, it's noticeably faster to navigate around, particularly when you're swiping through maps.
Part of that turn of speed is down to Jaguar switching to ethernet-based interconnectivity in the background, rather than the usual proprietary cabling. There's also plenty of headroom for future upgrades, the company tells me, claiming also to have growing interest from third-party app developers keen to create companion titles for the platform.
Navigation comes as standard with InControl Touch Pro, and there are some neat features courtesy of Jaguar's work with HERE. Arrive at your destination, for instance, and the system will automatically offer to find you nearby parking lots; alternatively, it can hand over navigation duties to the Route Planner app on your smartphone, to guide you through the final steps.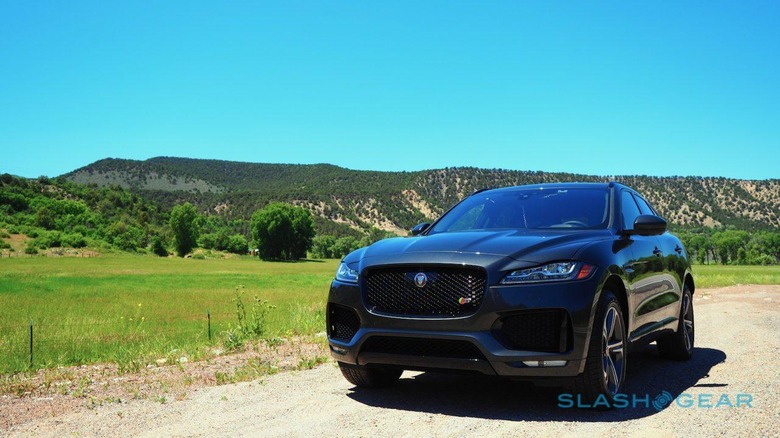 There's also a Commute Mode, which learns your daily route and, rather than pestering you with unnecessary spoken directions, only pipes up if it spots congestion. Finally, you can share your ETA with someone via text or email, and if that changes it'll automatically ping out an update to them.
InControl Touch Pro comes with an upgraded 825W Meridian audio system version with 17 speakers and surround, which sounds stellar.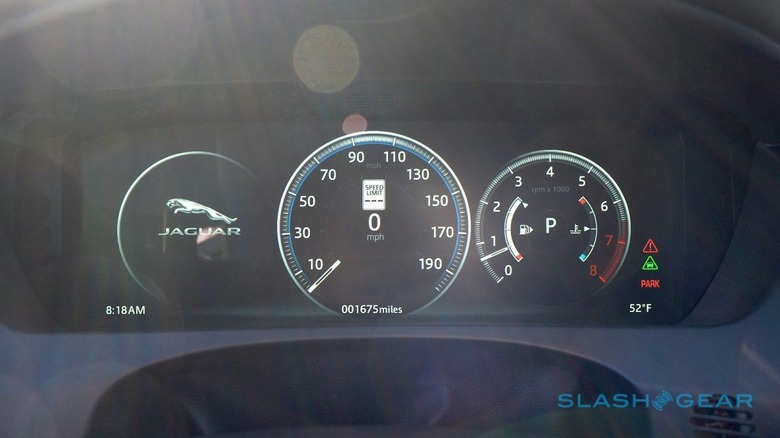 The Technology Package also comes with a 12.3-inch LCD for the driver, replacing the analog gages and smaller, 5-inch LCD in lower-spec cars with an Audi Virtual Cockpit-esque screen. That can be switched between traditional dials, a full-screen 3D map, and other views.
Jaguar's other accessory worth considering is the Activity Key, a $400 rubberized bracelet that allows you to lock the regular keys in the car while you're at the beach, out riding your bike, or generally being active. It uses RFID and – when you tap it against the "J" in the Jaguar logo on the rear – grants access to the trunk and all of the doors.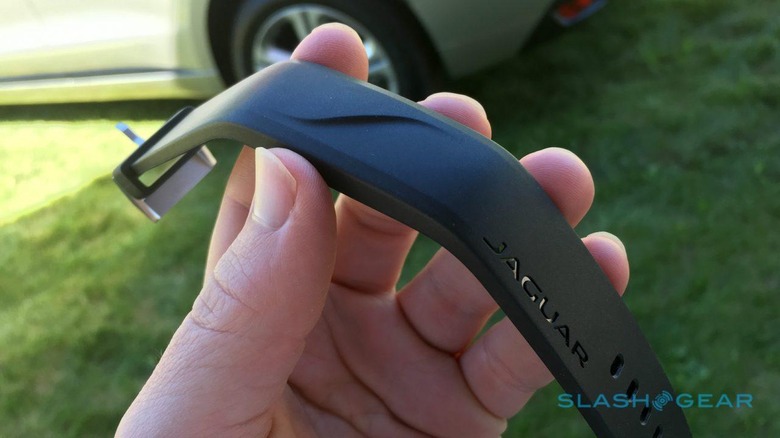 It's a clever idea, and conveniently battery-free and completely waterproof, but I can't help but think it's a little large. Think chunky-Fitbit rather than sleek Livestrong band.
Overall, the range of options is pretty vast, and so is the F-PACE's price span. Personally, I'd not want to sacrifice InControl Touch Pro since it's a marked upgrade over the standard system; that means you're looking at $54,295 for an F-PACE Prestige at least. The Luxury Interior Upgrade and Driver Assistance Packages are only available on R-Sport and higher, however, pushing the sticker price even further.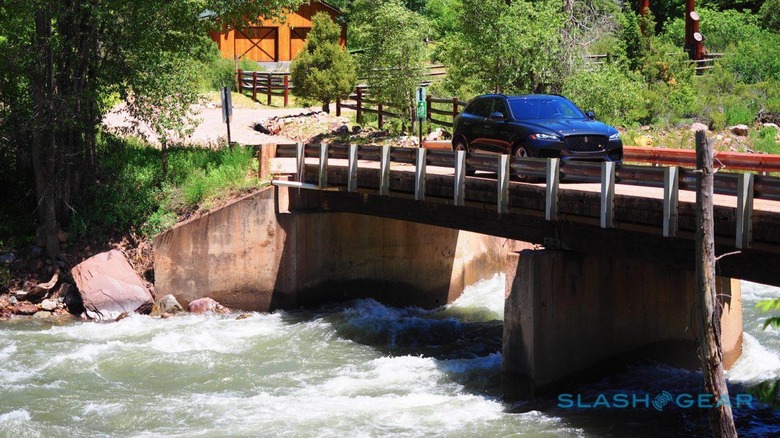 Is the F-PACE worth it? Jaguar's SUV is certainly more sports sedan-like to drive than most rivals in its segment, without unduly sacrificing flexibility or comfort, and – even with the company's ambitious sales targets – is likely to be a more exclusive sight on the roads than the competition. I'd pick it over a BMW X3 or X5, certainly, and it makes the usually striking Evoque look pedestrian in comparison.
An SUV with the soul of a sports coupe was always going to be a tall order, but Jaguar has come impressively close to offering that perfect balance of practicality and performance.