iPhone Lite and Apple Media Pad in works for Verizon?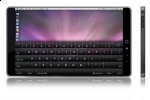 After talk earlier this week regarding Apple and Verizon's ongoing negotiations, rumors regarding two new mobile devices already in the prototyping stage have leaked from Cupertino.  The Apple iPhone Lite and the Apple Media Pad are both tipped as headed for Verizon, the former a cheaper iPhone and the latter having a large touchscreen, VoIP and WiFi connectivity.
According to the sources, the iPhone Lite is smaller and thinner than the current iPhone 3G, and built around a SoC (System on a Chip) that combines and reduces the bulk of the standard components.  It would be less expensive than the iPhone 3G, and be intended predominantly for calls rather than the full gamut of smartphone functionality.
As for the Apple Media Pad, details are similarly scant but it's described as being smaller physically than the Amazon Kindle 2, but with a proportionally larger display.  That touchscreen – which is likely to be a capacitive panel in keeping with the iPod touch and iPhone – can be used to navigate music and photos, together with watching high-definition videos.  The Apple Media Pad would also support VoIP over its WiFi connection, and might be based on the same SoC as in the Verizon iPhone Lite.
The sources suggest that one of the devices could launch as early as this Summer, and given the AT&T exclusivity agreement – which ends in 2010 – there's speculation that the Apple Media Pad may be the first to arrive.  However the terms of Apple's contract with AT&T are not fully known, and if they can argue that the iPhone Lite for Verizon is a separate category of product then they may be able to deliver it to the rival network sooner.  It's unlikely that the Apple iPhone Lite is a CDMA device, though, given the company's public antipathy toward the US-centric technology, leaving either GSM – which Verizon do not support in the US – or LTE, the first network roll-out of which is promised by the carrier in 2010.
Rumors have circulated for months now about orders for 10-inch displays and capacitive touch panels placed by Apple.  The early assumption was that the company planned a touchscreen netbook, but it now looks as though the panels could be intended for the Apple Media Pad.  It's also possible that the recent talk of a 5-megapixel camera could refer to the same device.
[mockup image via]