iPhone 5S parts arrive upstream: minor feature changes in order

Again the iPhone 5S appears to be hitting the parts community internationally and again we're treated to an up-close look at how little the device will be changing from one generation to the next. What you're about to see is a set of spare parts appearing in stock at parts source TVC Mall, they suggesting said parts are all officially source (OEM originals, that is). While you're perfectly willing to take this report with a grain of salt, know this: the hardware bits and pieces here do indeed appear to line up exceedingly well with past leaks.
The iPhone 5S being shown here in pieces works with a body that's essentially the same as the iPhone 5, save a few minor adjustments internally – and one at the back. The one change appearing on the back of the iPhone 5S is a dual-LED flash in place of a single bulb, the single bulb coming in on the iPhone 5 and iPhone 4S alike.
The front panel on the iPhone 5S is not shown in this set of images, but according to previous up-close images we've come across (shown below), it would appear that there's only a slight change to the way the speaker and front-facing camera are arranged. This appears, at the moment, to only be an aesthetic choice – but we wouldn't rule out the necessity of change due to an improved front-facing camera.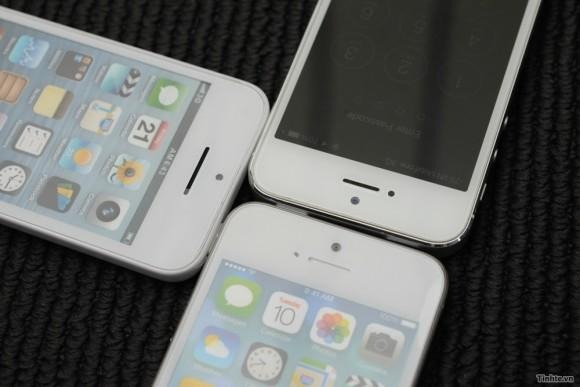 The only other major change inside the device is the adjustment of the pins for the iPhone 5S home button metal spacer. This piece works with a bit more space on on side and a screw hole moved significantly downward, this leaving room for either a new part (perhaps a fingerprint scanner) or a simple adjustment in the way the cords are placed in the display panel.
Above you'll see a couple comparisons mocked up by NWE comparing these new parts to older leaks of the iPhone 5S which seem to support the idea that they're all coming from the same source.
Meanwhile the most recent – and several-times unofficially confirmed – report on Apple's next move is that this iPhone – at least one model, that is – will be announced at a special event that'll be taking place on September 10th. If that is indeed the date of the next Apple event, we'll be there with bells on – stay tuned!