iPhone 5 specs leaked by Cincinnati Bell

It appears that in addition to the other few leaks from this weekend, the folks at Cincinnati Bell will be on Apple's naughty list as it seems they've leaked a bit of info on the iPhone 5 pre-maturely. What we can see here is that, even though the page was removed an instant after it was discovered to be live, the iPhone 5 32GB does exist, and Cincinnati Bell will be carrying it. On the other hand, a slip of the pre-prep hand of an intern isn't always the same as a certainty. Is this future device really going to cost $639.99 and have a 4-inch display plus 4G speeds?
That's what the listing says, anyway, more than likely off-contract, that is, nearly $650 of slightly updated specs, that is. An 8 megapixel camera is also attached and a simple "4G data speeds" doesn't exactly bring this leak in as a lock. Compared to the other leaks we've seen today, this one seems downright silly, in fact. That said, we wouldn't mind seeing such a device this Tuesday, and we're sure Cincinnati Bell will be on the list of groups at least hoping to carry the device come some weeks later – or same-day, who knows? Check out our iPhone 5 details roundup post and see what you can gather.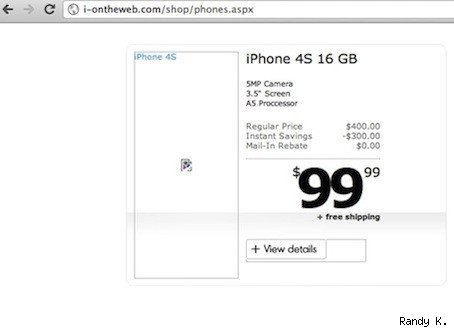 In addition, another so-called screenshot was taken by the same fellow, Randy K, which shows an iPhone 4S with a 3.5-inch display, A5 processor, and 5 megapixel camera, all this for $99 USD after $300 rebate. Sound strange? A few weeks ago your humble narrator here had a similar thought in mind with the column entitled "Why the iPhone 4S will be Free" – check it out and see if you're amongst the masses of readers that disagree so hard that they yell about it.
All that said, we'll be at Apple on Tuesday bringing you all the information LIVE via our SlashGear Livecast page at 10AM PST. Be there or be so late with the news that your ears will bleed. Believe it!
[via Tuaw]