iPhone 5 last-minute leaks include A6 chip and Qualcomm LTE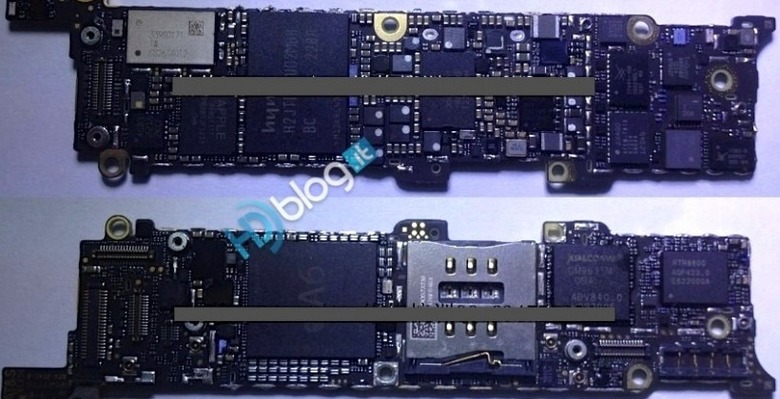 With less than two hours left before the big iPhone 5 Apple event [tune in to our liveblog], several bits and pieces have leaked including what very much appears to be the logic board from the device, complete with components. This piece of hardware is set to include the motor and the radio, both a brand new A6 chip and a bit of Qualcomm hardware to back up 4G LTE connectivity. This will trump the previous devices on the market including the iPhone 4S and the iPad 3rd generation devices, both of which use an A5X chip.
This device's collection of architecture straight from AppleHD blog includes a MDM9615M modem from Qualcomm, this ready for 4G LTE. There's a nano-SIM tray here as expected, this connecting well with the collection of tips and notes over the past few weeks from component creators – and from supposed "accidental" leaks from mobile carriers as well. This device will almost certainly be working with power well beyond what the previous iPhone model offered up and will definitely have the graphics power of at least the current-generation iPad.
Note that this device may be accompanied by an iPod touch with the power of the previous iPhone – this following the line of releases that fall in two-step from Apple's mobile universe. The iPod touch release may well be coming later this year – October, more than likely, with a set of other updated units in the mobile line like the iPad mini – or iPad Air – whatever you'd like to call it for now.
Stay tuned to SlashGear all day long to see all the Apple news straight from the source – we've got a liveblog of the iPhone 5 event starting right before the big news drop at 10AM PST. Check our pre-event hardware rundown as well as our pre-event software wrap-up to see what this event may bring – and get pumped up – we're almost there!
[via MacRumors]