iPhone 4S: The Opinions Are In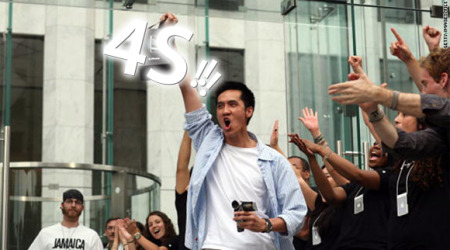 With the iPhone 4S hitting stores and mailboxes this week, it becomes one of the most vital times for reviews of this newest member of the legendary smart device family. Only a select few hand-picked people were given the iPhone 4S with enough time to review the device at length, and you KNOW that they're going to go just about as in-depth as you could possibly want them to go. That said, what we're going to try to do here is to soften the immense blow that would be the hours of reading you'd normally have to do to get through all of them. What's the general consensus amongst the first reviewers of the iPhone 4S? Let's take a look!
Note that the image you see above is a photo of Vince whooping after picking up the very first iPhone back in 2007. This photo was spread across the news like butter for months and even years after it was taken, (minus the 4S mark, of course,) and continues to represent the excitement that the Apple-loving community has when they first walk out of the store with their brand new Apple device.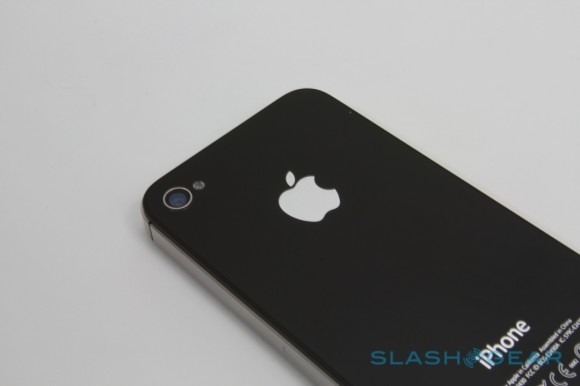 Our own SlashGear review has Vince starting off with a quick talk on Apple's keeping of the iPhone 4 case design, hits on the power of the A5 processor, knocks out iOS 5 in a whole separate review, and hits on the point everyone should always be looking for: battery life.
"From the outside the iPhone 4S looks identical to the iPhone 4. Inside, it's anything but. Apple has resisted the urge to change design for the sake of change, and stuck with the same 3.5-inch Retina Display, glass and aluminum casing, and minimalistic aesthetic as before. It's a decision that frustrated some in the aftermath of the launch event, but makes sense if you consider the evolution of the iPhone.

...

Apple says the iPhone 4S offers twice the processing power of its predecessor, along with an impressive 7x the graphics abilities. The proof is in the real-world performance, and as you can see in our side-by-side video with the iPhone 4 up against the iPhone 4S, the new handset consistently pulls ahead. Much of the advantage is yet to be unlocked: we're expecting that, just as with the iPad 2, as developers get to grips with the upgraded hardware there'll be even more ambitious software to showcase it.

...

Battery life, meanwhile, has also impressed. Apple quotes up to 8hrs of 3G talktime or 14hrs of GSM talktime, up to 200hrs standby, up to 6hrs of 3G browsing or 9hrs of WiFi browsing, up to 10hrs of video playback or up to 40hrs of audio playback. Real-world use will be a combination of each of these, naturally. Still, with very heavy use, including over five hours of constant play, an hour of talktime, everything set to push, auto-upload of images and video to Google+ and more, along with almost seven hours of standby, the iPhone 4S was down to 12-percent. That's an admirable worst-case scenario for a power-user: we expect the iPhone 4S to deliver 7-9+ hours of active use under normal conditions, certainly sufficient for a full work day." — Vincent Nguyen for SlashGear
Before we continue, have a look at the SlashGear hands-on video with the iPhone 4S so you have a better idea of what we're dealing with here:
[vms c5384e622b09eb829b8d]
Baig praises Siri, noting the partial need for hands in the short run:
"The neatest feature on the iPhone 4S is the chatty personal assistant. You can summon Siri on the 4S by holding down the Home button or merely bringing the phone to your ear. And there is a lot she can do. She can dial a friend, send a dictated text or e-mail, look up a stock price and find movie times. The real power comes in the many ways you can converse with Siri and be understood. Asking "Will it rain tomorrow?" yields the same weather results on the phone screen as "What is the forecast for the week ahead?" When you ask a question of Siri, you'll see that question typed out on the screen, followed by the appropriate response. (In that way, Siri isn't always hands-free.)

Apple concedes that Siri isn't a finished product; she is in beta. But even with her blemishes, Siri is pretty darn cool. And she helps make the iPhone 4S pretty darn cool, too." — Edward C. Baig of USA Today
Jaroslovsky also holds Siri high, noting the science fiction nature of it:
"The most interesting new feature is Siri, the voice- recognition system. You've long been able to run searches on phones using Google Inc.'s Android software, and Microsoft Corp. has embedded speech-based features throughout the latest version of its Windows Phone 7 operating system. Those phones, though, have a limited vocabulary and often require you to phrase your inquiries very carefully.

Siri is something different. Remember the scene in the old "Star Trek" movie where a time-traveling Scotty tries to direct a Mac by picking up the mouse and casually speaking into it? Imagine it with just the mouse and not the Mac, and you've got the essence of Siri: natural language integrated with the phone's sensors and software." — Rich Jaroslovsky of Bloomberg
Mossberg notes the uniqueness of Siri (noticing a trend here?) but immediately notes the Beta nature of it, not praising it quite as readily as other reviewers. Also note how Mossberg doesn't have a heart attack as some reviewers, certainly none in this pack of course, are prone to do, instead noting the likelihood that people may enjoy the device.
"The standout feature, not available in other iPhones, or in any other phone I've seen, is Siri. It answers questions and provides information using natural language and an intelligent understanding, not just of words, but of context and colloquial phrasing. It isn't perfect, and is labeled a beta, but it has great potential and worked pretty well for me, despite some glitches.

...

The iPhone 4S is one of Apple's less dramatic updates, but, when combined with the Siri, iOS 5 and iCloud features, it presents an attractive new offering to smartphone users. Some may be content to skip the new hardware and just enjoy the software and cloud features with older models. But those buying the phone will likely be happy with it." — Walt Mossberg on AllThingsD
Have a look at Siri in action here in SlashGear's hands-on with the system on the iPhone 4S, this again part of the larger iPhone 4S review we've got up.
[vms 9d6c64a04e3ab9f63fee]
Next, Pogue takes the opportunity to divide the iPhone 4S carriers by what he sees as the best reasons to grab the device on each in one of his four new "Things" the iPhone 4S has, starting immediately into SIRI in the next.
"THING 3: The iPhone 4S is a world phone. As of Friday, you will be able to buy it from AT&T, Verizon and, for the first time, Sprint ($200, $300 or $400 for the 16-, 32- or 64-gigabyte models). But even if you get your iPhone 4S from Verizon, whose CDMA network is incompatible with the GSM networks used in most other countries, you'll still be able to make calls overseas, either through Verizon or by inserting another carrier's SIM card. Call ahead for details.

Each carrier has its selling points. Sprint is the only one with an unlimited iPhone data plan (example: $110 a month for unlimited calling, texting and Internet). AT&T says it has the fastest download speeds. But if you care about calling coverage, Verizon is the way to go.

THING 4: Speech recognition. Crazy good, transformative, category-redefining speech recognition." — David Pogue on Personal Tech for NYT
Snell, in contrast with Mossberg, does not hold back his love of the device, not at all, complimenting his love with some GLBench Pro tests (also included below).
"It's a classic look, easily my favorite of all the iPhone designs to date. The fit and finish are immaculate; not a single thing about the iPhone 4S feels cheap. In terms of styling, the iPhone 4 feels like the most expensive electric razor ever made, or maybe like a finely-tuned luxury watch.

...

The results of my general-performance tests showed the iPhone 4S to be roughly twice as fast as the iPhone 4. Apple claims graphics performance on the iPhone 4S has been boosted even more by the graphics component of the A5, with speed gains of as much as 7x. That's a best-case scenario, but my tests with the GLBench Pro graphics benchmarking app did show enhanced graphics performance. One 3D test sequence played at roughly five times the frame rate of the same scene on the iPhone 4; another was roughly double the frame rate." — Jason Snell of Macworld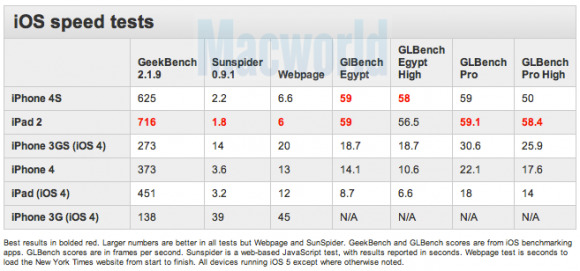 Chen brings us back to Siri once more – and here you should note why this is happening in basically every review. It's not JUST because Siri is the most unique and easy to single out features on the device, not just because it actually DOES seem to be pretty awesome, but because the iPhone 4 was reviewed back when it came out. What does that mean? It means that these reviewers know that you've already seen the iPhone 4, and it doesn't make a bit of sense to go back over all the features that are carrying over to the iPhone 4S.
The bulk of the iPhone 4S is the same as the iPhone 4, and although most reviewers do feature sections on the new 8-megapixel camera and the A5 dual-core processor, we've already seen those before too, not necessarily on the iPhone, but on other similar devices – the iPad 2 has the same processor and essentially every high-end smartphone on the market has an 8-megapixel camera. The camera has an impressive new setup that boosts it to at least the quality if not better of all the rest, and the iPhone 4 is still the most-used camera on Flicker, this one higher quality. What more do you need to know?
Chen is here with a bit of Siri, then we'll get back to the camera next.
"To give you an idea of how convenient Siri is, it takes about three seconds to create a reminder with a voice command, as opposed to the 10 seconds it takes me to manually type an event into a to-do list or calendar entry. Before, with the standard iPhone calendar, I would often forget to add an event because I was too busy to type it, and as a result I would forget I had something scheduled altogether. With Siri and Apple's new Reminders to-do list app, it's unlikely I'll forget anything important again because the process is so effortless.

It's kind of like having the unpaid intern of my dreams at my beck and call, organizing my life for me. I think Siri on the iPhone is a life changer, and this is only the beginning." — Brian X Chen of Wired
Baig speaks on the camera, speaking both on how the camera has been improved and how it's become easier for him to manage.
"Apple improved the optics in the iPhone 4S to the degree that the camera inside the phone matches, if not exceeds, many decent point-and-shoots. The camera has 8 megapixels (up from 5 megapixels in the iPhone 4), but the megapixel count doesn't nearly tell the whole story. Among other things, Apple engineered the sensor so it will let in a lot more light. It added face detection, too, for detecting whether you're capturing a portrait or group shot. And the camera fires up and lets you shoot the next picture in a snap.

...

In the past, I've found snapping a picture on the iPhone a bit clumsy because of the way you had to tap an onscreen shutter button. Now, you can press the volume-up button on the side as a new way to take a picture, much more shooter-friendly. The iOS 5 upgrade adds a couple of tools to help you compose an image: optional grid lines and pinch to zoom." — Edward C Baig of USA Today
Take a look at this time at a couple of photos and videos as taken with the iPhone 4S by SlashGear, and note that they're all either 1080p or 8-megapixels strong:
[vms 07526da55a679f0332de]
[vms 98da20044041262b3ac7]
Continuing on, Gruber brings it back to speech and hits on Siri in the gut, showing here the one obvious downfall (at the moment) for the iPhone 4S's most talked about feature being the lack of real 3rd-party integration.
"People are going to start clamoring for third-party Siri integration as soon as they see Siri in action. But I'm not sure what form that integration could take. Best I can think is that apps could hook up to (as yet utterly hypothetical) Siri APIs much in the same way that Mac apps can supply system-wide Services menu items. But how would they keep from stomping on one another? If Siri supported third-party apps and you said, "Schedule lunch tomorrow at noon," what would Siri do if you have multiple Siri-enabled calendar apps installed? This is similar to the dilemma Mac OS X faces when you open a document with a file extension that multiple installed apps register support for." — John Gruber for Daring Fireball
Topolsy also pulls a punch, or perhaps a compliment, in noting the difference between contrast values between the iPhone 4 and the iPhone 4S — see the photo taken by Topolsky below, the iPhone 4S above and the iPhone 4 below.
"The display on the 4S is Apple's well regarded 960 x 640 Retina Display, and it looks no less impressive now than it did when the iPhone 4 was first released. One thing I did note, however, was how much less contrast-heavy the screen looks in comparison to the previous model. The iPhone 4S has a noticeably different color tone, and blacks seem far less dark. This isn't necessarily a bad thing; when comparing Dead Space (a pretty dark game) side-by-side, I found the iPhone 4S display more eye-pleasing. Still, the newer screen definitely has a slightly more green-tinted, washed-out look compared with the older device." — Joshua Topolsky of ThisIsMyNext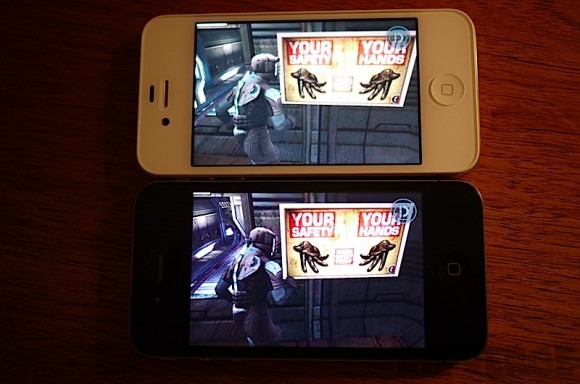 Metz ties it all off nicely with a few quick sentences on what it means to own an iPhone 4S instead of waiting for the iPhone 5.
"To some people, Apple's new iPhone 4S isn't the complete overhaul they have been hoping for. Its model number, which doesn't include a "5," reeks of the status quo.

That's ridiculous.

Sure, the 4S doesn't render the iPhone 4 hopelessly obsolete, and on the surface they're nearly identical. But with a faster processor, new software, a voice-activated personal assistant and a souped-up camera, it's a major improvement over the current iPhone." — Rachel Metz of Associated Press
Got all that? Remember to keep attuned to our [Apple portal], our [iPhone 4S portal], and our review of both of the newest of Apple's big mobile heroes. SlashGear has a gigantic iOS 5 review as well as a iPhone 4S review, both written, as mentioned above, by Vincent Nguyen.