iPad mini release list clarified: two colors, three sizes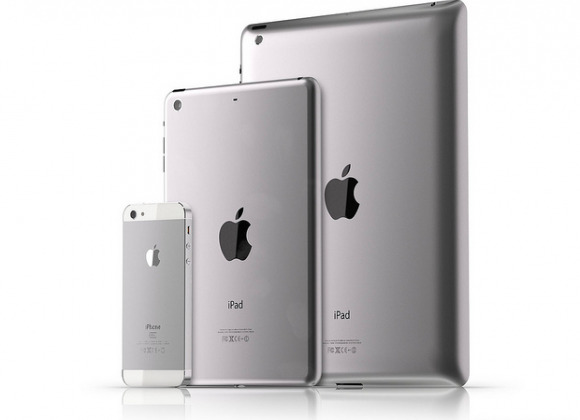 This week another release list has been shown with the SKU numbers of each of what appear to be 24 different iPad mini models coming rather soon to an Apple store near you. This listing shows that there will be two different colors – white and black (A and B), four different storage capacities (8, 16, 32, and 64GB), and three different kinds of wireless internet connectivity. These models will likely come in wi-fi only, 3G, and 4G LTE capability configurations right out of the gate.
The source for a new listing of SKU numbers (as shown below) delivered this image along with information about supply number to Apple Insider. They noted that the smallest device – that being the 8GB wi-fi only model, will be produced in the greatest numbers, while each model on its way up the scale will have different supply numbers based on capacity and connectivity. White and black, it seems, will be produced at the same levels as one another.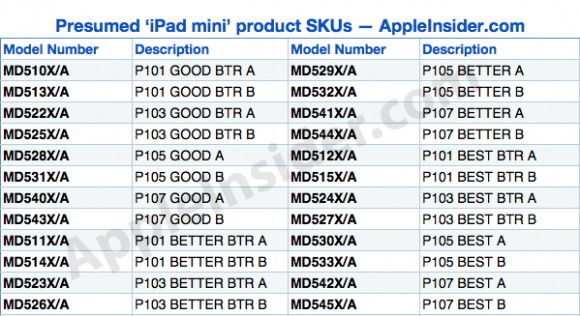 The retail lists shown so far – real or falsified as they were – have suggested that the 8GB wi-fi version of this next-generation iPad will cost around $249. At this price, the device would undercut the iPod touch in some cases, this leading skeptics to hold reservations about the final pricing scheme. With this many models of the iPad mini ready in the system already, we must assume Apple intends to sell quite a few of them, one way or another.
The iPad mini will likely be shown for the first time officially at the Apple event that will be taking place on October 23rd. This event will be covered live by SlashGear and will be appearing in full in our main news feed as well. Stick around our Apple portal for the whole show!