Now that the first wave of the 3rd Generation iPad (which we've already reviewed in full) has been released to the public, everyone seems to want to know: is it better than Android? The short answer is the same I'll always give: depends on what you need it to do. The long answer is of course a bit more complicated than that – and it's not just all about benchmarks, mind you: it's about the experience – and the experience with both Android and iPad is currently fantastic.
The following is part one of a series of iPad 3rd Gen Hands-on posts we'll be doing, with the next one being a benchmarking post showing the processing power of the new iPad right up against who Apple said they had beaten to a pulp in the graphics department: NVIDIA and their quad-core Tegra 3 processor. We started that battle off in the post called Should you buy the new iPad or an Android tablet? We'll get deeper into that later – for now we'll start fresh with the iPad and its Retina display, A5X chip, and 5 megapixel camera.
What we're dealing with here is a device which essentially alleviates all of the downfalls of the iPad 2. Though it is one of the best selling devices of all time, and has continued to decimate the competition single handedly throughout its lifespan, the iPad lineup has had a display that, while it does look fabulous on its own, is currently trumped by a series of Android tablets with slightly higher pixel counts and brighter lights behind them. The new iPad has no peer in the display department.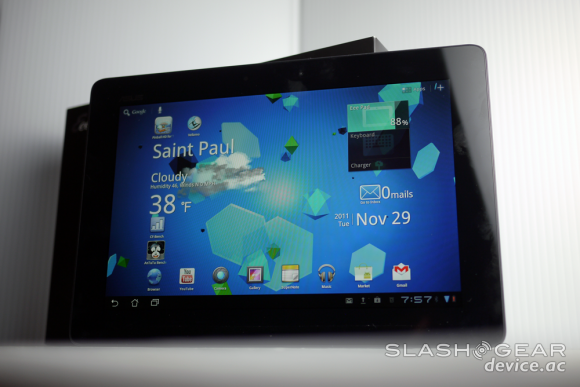 Above: the ASUS Transformer Prime
Retina Display
The new Retina display does not blow me away when I look at it, when I'm playing a game, not even really when I'm watching a high definition movie – but being "blown away" isn't what I want. The new iPad instead has a display that's so perfectly tuned that I don't think about its quality at any point while I'm using the device. The display quality is no longer a point of contention here in this device – the viewing angles are immense, the brightness has a range that's just right, and the pixels per inch are so large that I can't tell they exist.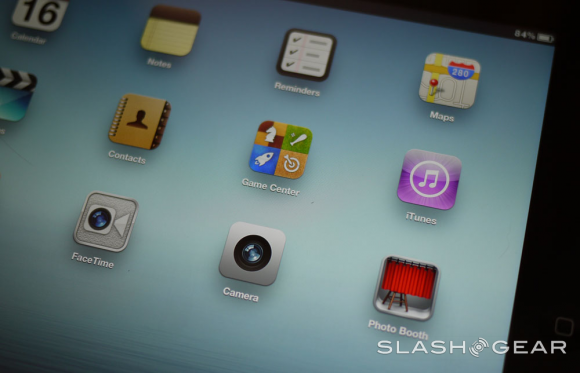 There are a series of Android devices coming out soon with high definition displays as well, several of them having been shown off at CES 2012 and MWC 2012. They too have the technology needed to impress the eye to such a degree as to make one's mind forget that low quality graphics where ever an issue. Just like a fantastic movie full of special effects so fantastic that a person doesn't even know they're there, here too is the generation of displays we've been waiting for – they're just great.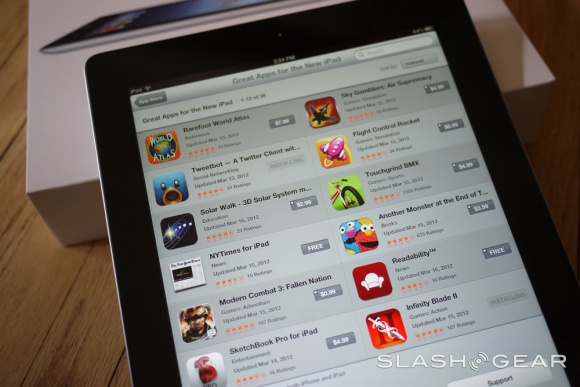 A5X Chip
We have yet to compare numbers between the new iPad's A5X chip and the many processor masterpieces that litter the Android landscape. That said, I must say once more that we're at a point in our history here in the mobile world where the processors we're working with are so fantastic that we no longer have to wait more than a few moments for anything to load. Even games with the highest demands for graphics power are loaded in just a few instants, if in any time at all. Have a peek at this hands-on with Infinity Blade II on the new iPad for example:
What a masterpiece! There's nothing like it in the world, right? Perhaps you should also take a look at a game which shows off the graphics prowess of the NVIDIA Tegra 3, the very processor Apple contended had just 1X the graphics power of the new iPad's A5X chip. This example comes from Mobile World Congress 2012 where we checked out a multiplayer version of the game Shadowgun – here played on a Transformer Prime with a Logitech gaming controller and played out via HDMI cable to an HDTV – it's like magic!
[vms 8cdefce4de5ddc18befa]
Of course these are two very different examples of the power of two very different processors – but therein lies the point. While you might find both publishers and chipmakers speaking up on how superior one processor is over another on a daily basis, the end result here in our undeniably awesome modern world is this: we had nothing like this only a few years ago. For those of you thinking of purchasing a device here in the technologically awesome world we were all born into – check out what these devices can do, figure out which of these fantastic features you want, and just buy them all anyway!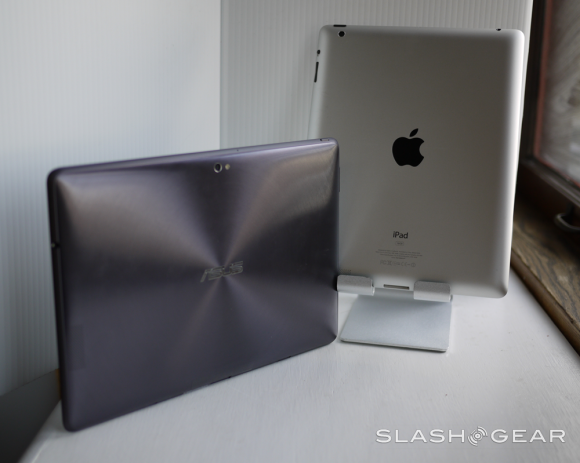 Apple's new A5X chip is astounding, and there's been no trace of any kind of hiccup for any function we've yet tried out – I don't expect we'll find any missteps or breakdowns either. I'll let you know if there's anything bad about it, but don't hold your breath.
Wrap-Up of Part One
Again this is only one of many columns I'll be writing in the coming days and weeks with the new iPad, a device we fully expect to outsell the last iPad and the iPad before that. Let me and us know what you want to know about it, and I will do my best to answer any question you might have. Meanwhile I'll be pitting it up against the Transformer Prime in all its quad-core glory soon!
Also be sure to prepare yourself, again, with the review series of tablet reviews we've got up to and including the new iPad:
• iPad 3rd Gen Review
• iPad 2 Review
• ASUS Transformer Prime Review
• ASUS Transformer Prime with Android 4.0 Ice Cream Sandwich Review