iPad 3 AMOLED plans led Apple COO Tim Cook to Samsung meet?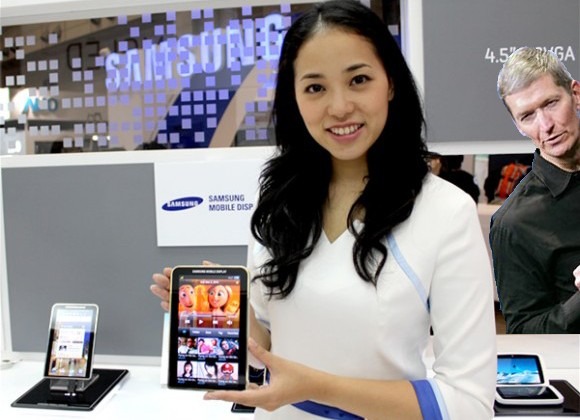 Samsung Mobile and Apple may be at each others' throats in the courtroom right now, over allegations that the Galaxy range of phones and tablets too closely mimic the iPhone and iPad, but relations between other Samsung divisions and Apple are reportedly going from strength to strength. A source apparently told The Korea Herald this week that "Apple wants to tap into Samsung's AMOLED technology for an upgraded version of the iPad 2, considered as many as the iPad 3 that is likely to be launched toward the end of this year", with COO (and acting-CEO) Tim Cook allegedly flying in to meet with senior-level Samsung execs in South Korea.
At that meeting, the sources suggest, Cook offered Samsung Display an advance to secure AMOLED panels for the third-gen iPad. If true, that would mark a transition for the tablet from LCD panels – with LG Display the primary supplier – to the rival technology.
However, it's not all clear cut. A Samsung Mobile Display spokesperson said "he had not heard of such discussions with Apple" while the company is believed to have seen its AMOLED production timetable set back by the Japanese earthquake. Samsung has previously said that it has no plans to use its Super AMOLED or Super AMOLED Plus displays in tablets of its own this year.
Production at Samsung's 5.5Gen facility is expected to hit 48,000 substrates per month, rising to 100,000 in the first half of 2012. If the rumors regarding Apple's intent are true, that suggests it won't be until next year that Samsung could likely meet the demand for the iPad 3. Supplies of the iPad 2 have been constrained since its commercial release, with LG Display's inability to meet panel demand cited as a key cause, and only now is the situation believed to be alleviating.
Earlier this week, a judge ruled that Samsung must hand over various Galaxy tablets and phones – some of which unreleased – to Apple's legal team for examination. It seems they might not be the only samples the company is providing Cupertino, though under far more agreeable circumstances.
[via OLED-Info]