Intel confirm Atom delay until September; ASUS relieved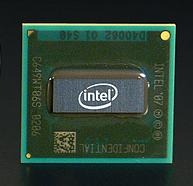 With all the Atom-powered notebooks on show at Computex, you'd be excused for thinking that Intel's manufacturing shortfall was long past.  Not true, worried out loud Asustek's Jerry Shen; both the new Eee PC 901 and 1000, together with the Eee Box B202, are powered by the 1.6GHz processor.  While denying that Atom availability would seriously impact upcoming Eee shipments, Shen did suggest that, unless Intel ramp up production by October, getting hold of an Eee pre-holiday would be tricky.  Of course, Intel responded by saying that, in fact, fabrication would be up to speed by September.
According to Sean Maloney, executive vice president and general manager of Intel's Sales and Marketing Group, it's unexpectedly high-demand from Asustek and rivals that has prompted the shortage.  Maloney reassured press and manufacturers that Intel has "got four 300-millimeter fabs, so we can really hose this stuff out."  "By September," Maloney continued, "there are going to be very, very high volumes."
Unsurprisingly, chip production is being watched closely by other companies too.  Acer is reportedly in weekly talks with Intel regarding Atom supplies, although the company denied that the CPU shortages had, or would, affect the launch of the new Aspire One ultraportable.  This is the first time Intel have outlined their production schedule; ASUS had previously suggested the delay would continue until September.  The chip company is also rumored to be working on a dual-core version of the Atom, also scheduled for launch in Q3 2008.