ASUS confirm Eee Box B202 desktop: $269 for 1.6GHz Atom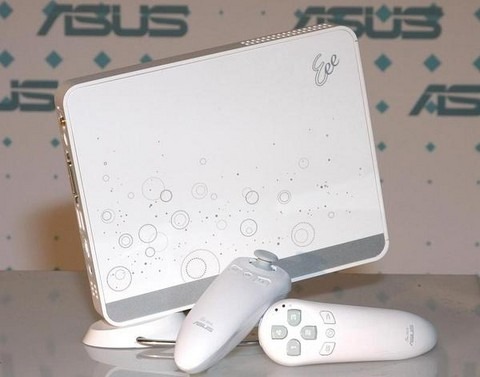 ASUS have been flaunting their now-official Eee Box B202 around Computex 2008 in Taipei, with spaces on the débutante's dance-card filling up fast.  As with the Eee notebooks, both Windows XP and Linux versions of the desktop will be available, each packing a 1.6GHz Intel Atom CPU, 802.11n and DVI output.  Best of all are the prices: just $269 for the Linux model and $299 for the Windows model, each with 1GB of RAM and an 80GB hard-drive.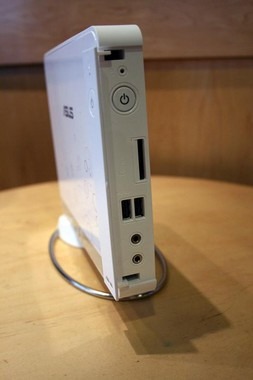 Thankfully the photo of the Eee Box we saw last month looks to be a pre-production design; the B202 on show at Computex has the slick curved stand and relatively discrete side-panel graphics as seen in the original images.  Customisation includes a range of storage – from 80GB to 250GB – and RAM – from 512MB to 2GB – which should be happy running XP.  Already many are looking to the B202 as a potentially capable home media or TV streamer box.
ASUS expect to see the Eee Box B202 hit US shelves in mid-July.  It'll also have competition from MSI's Wind PC, the desktop version of the Wind budget ultraportable.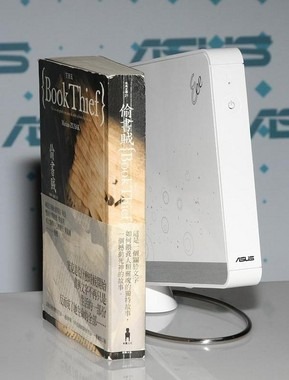 ASUS release:
Name and Model: Eee Box B202

OS: Linux System/ Hardware Compatible with Windows XP

Processor: Intel Atom N270 (1.6 GHz, FSB 533)

Memory: DDRII 512 MB / 1 GB / 2 GB (see US configs below)

Storage: 80 GB / 120 GB / 160 GB / 250 GB (see US configs below)

Chipset: 945GSE + ICH7M

VGA: On-board Intel GMA 950, 1600 x 1200 maximum resolution

Networking: 10/100/1000 Mbps LAN, 802.11n WLAN, Bluetooth optional

SD/MMC/MS slot: SD, SDHC, Mini SD, (Micro SD through adapter) ; MMC, MMC plus, MMC4.x, RS MMC, RSMMC4.x (MMC mobile through adapter);MS,MS PRO

Audio: Azalia ALC888 Audio Chip

Front Ports:

USB x 2

Card Reader x 1

Headphone-out jack (WO/SPDIF) x 1

MIC x 1

Rear Ports:

USB 2.0 x 2

Gigabit LAN x 1

DVI out x 1

Line-Out (L/R) with S/PDIF x 1

WiFi antenna

Accessories:

19Vdc, 4.74A, 65W power adaptor

Mouse (optional)

Keyboard (optional)

VESA mount (optional)

WiFi antenna

Stand

Dimensions: 8.5" x 7" x 1"

Net Weight: 2.2 lbs.

Gross Weight: 6.6 lbs.

US Configurations and MSRP:

$269 1GB memory + 80GB HDD Linux edition

$299 1GB memory + 80GB HDD XP edition

$299 2GB memory + 160GB HDD Linux edition

Availability: For the US, we're expecting to hit the market Mid July. For French-speaking Canada, a French Linux version will be available the following month.
[via Gizmodo]