Huawei Honor 6 Plus shows up at TENAA with two rear cameras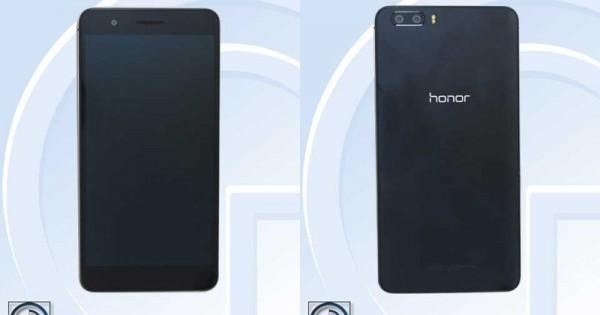 After just unveiling the Ascend Mate7 last September, it seems that Huawei is gearing up for yet another smartphone launch, at least based on this TENAA sighting and a teaser for the company's own Weibo account. This time, however, it won't be much of a big jump as it is a spinoff from the Chinese OEM's existing Honor 6 smartphone. But this Huawei Honor 6 Plus isn't a simple upgrade. Implied from the name, this upcoming phablet takes a few cues from Huawei's competitors in the market.
Huawei might have a thing for HTC. The Ascend Mate7, for example, had a few elements similar to the HTC One Max, in particular the placement of the fingerprint scanner and the large central camera sensor on the back as well as the front-facing design. While the Honor 6 Plus takes its design from the Honor 6, it "borrows" something else from HTC. This time around, it is the duo camera setup, which first debuted with the HTC One, that Huawei is implementing for the device. TENAA lists it as an 8 megapixel shooter. Whether that number also applies to the front camera is something we have to wait for.
The Honor 6 Plus upgrades the display from 5.0 inches of the Honor 6 to a 5.5-inch. Sound familiar? Yes, that is the same screen size as the iPhone 6 Plus. See the pattern? Devious naming schemes aside, the display might have actually just been upsized for very little gain. The Honor 6 has a 5.0-inch Full HD screen while the Honor 6 Plus will have a 5.5-inch Full HD screen, which means the latter will have a lower pixel density.
In almost all other aspects, the Honor 6 Plus is similar to its smaller predecessor. It is powered by a 1.8 GHz octa-core processor, probably the same Kirin 920 on the Honor 6. RAM is at 3 GB and storage at 32 GB, expandable with a microSD card up to an additional 64 GB. It has your usual range of sensors, but no fingerprint scanner this time around. At least not from TENAA's listing. TENAA also has two Honor 6 Plus models in its database, differing only in the supported network bands, with the PE-TL10 adding TD-SCDMA which the PE-UL00 lacks.
The placement of the two rear cameras on the Honor 6 Plus is a bit strange and quite different from HTC's, so it remains to be seen if it will adversely affect functionality in any way. Plus, part of the HTC Duo Camera's appeal is in the software that supports it, which we will also have to wait for when Huawei does finally pull off the veils from this phablet.