Huawei Honor 6 Flaunts Very Thin Bezels, High-End Specs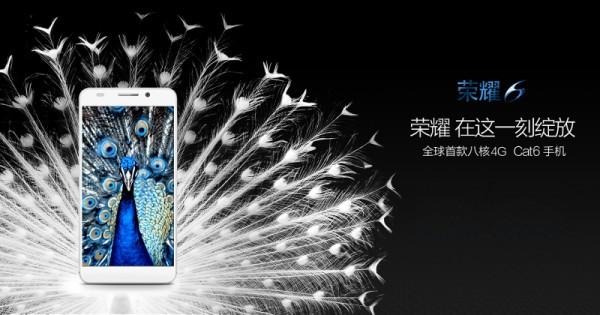 You might have been distracted by Microsoft's colorful glossy Nokia X2 reveal, but Huawei will grab your attention with its somewhat strangely named Honor 6 flagship. Aside from sporting what is touted to be a processor as fast as Qualcomm's beasts, this smartphone boasts of a incredibly thin bezels that give more space to the device's screen.
That screen measures 5.0 inches and only has a Full HD resolution. Not quite the QHD some would want, but for that size, it's more than just fine. What will be immediately noticeable when you look at this phone though, at least form the front, are the bezels that are barely there on the sides. Huawei claims these only reach 2.86 mm. The effect is that the screen takes up 75.7 percent of the whole smartphone face. That is definitely one of the recorded highest screen to face ratio. Of course, you get nothing less than Corning Glass to keep that screen safe. There are also no buttons on the front, with only the speaker grill and front 5 megapixel camera to break the monotony of the front face.
Inside, the Huawei is no less impressive. Here we have an octa-core Kirin 920, Huawei's own custom chip. The company takes no pains to point out that it beats the Qualcomm Snapdragon 801 and almost matches the 805, at least in AnTuTu. This one runs on four 1.7 GHz Cortex-A15 cores and four 1.3 GHz Cortex-A7 cores. A 2 GHz version is said to come later. There is a premium serving of 3 GB of RAM and 16 GB or 32 GB of internal storage, expandable with micro SD cards up to 64 GB. The Honor 6 boasts of a lot of networking capabilities. Aside from dual-band WiFi, it also has support for Cat6 LTE, which means theoretical speeds of 300 Mbps on downlink.
Flip the device over and you are greeted with a 13 megapixel shooter. This is no ordinary camera though, as it employs Sony's IMX214 sensor, with a f/2.0 aperture. And the aluminum case that adorns the body of the Honor 6 gives it a premium look, though one that also looks quite similar to certain devices in the market. It isn't just for show either. According to the company, the aluminum alloy is used to help dissipate heat, keeping the smartphone 4-6 °C cooler than most devices.
For those features, the Huawei Honor 6 also has a price to beat. The 16 GB model will go with a price tag of 1999 RMB, roughly $320, while the 32 GB variant will cost 2499 RMB or $369. The device will launch in the Chinese market starting July 1, unfortunately without any word on global availability.