HTC Sensation up for pre-order at Vodafone: Due May 19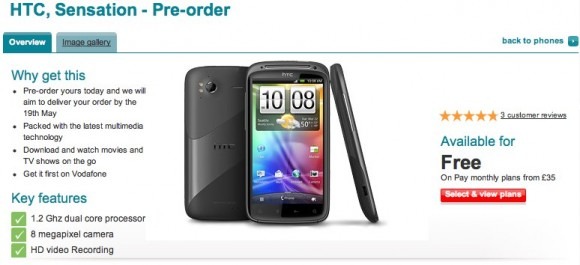 Vodafone has thrown open UK pre-orders for the HTC Sensation, the qHD dual-core Android smartphone announced last month. According to the pre-order page, the smartphone is scheduled to arrive by May 19.
As for pricing, the Sensation will be free on pay-monthly plans from £35 ($58), assuming a two-year agreement. No sign of a SIM-free price at this stage. Vodafone has clinched the exclusive on the Sensation, at least initially, though it's expected to be available across European carriers shortly after and then go on sale in the US as the T-Mobile Sensation 4G later in 2011.
The Sensation has a 4.3-inch qHD display, dual-core 1.2GHz Snapdragon process, 8-megapixel camera and a new version of HTC Sense running on Android 2.3 Gingerbread; we already reckon it'll be the only device that could potentially rival the Samsung Galaxy S II. More on the HTC Sensation in our hands-on report and in the video demo below.
[vms b617e9998dc4dd82eb3c]