HTC One Render And Sample Image Leak

Previously known as the HTC M7 that we've heard so much about, some more details about the HTC One have leaked out, specifically a new rendering and a sample image from the new device, courtesy of EVLeaks. The render claims to show off a full frontal of the rumored smartphone, while the sample image gives us a potential glimpse of what to expect from the camera when HTC's new flagship arrives, presumably a little over a week away.
What's most interesting about this render is that it looks to be the exact same image that we saw last month, except this time we see the navigation buttons at the bottom, as well as the display and latest iteration of HTC Sense. So, technically, we're not learning too much new information at this point, but it is curious to note that this render only sports two buttons at the bottom: Back and Home, with the HTC logo in the middle.
Other than that, you have your front-facing camera, earpiece, sensors, and the microphone at the bottom, which could possibly double as a front-facing speaker considering the size of the vent. As for the sample image, it's nothing special, and it isn't at a particularly high resolution.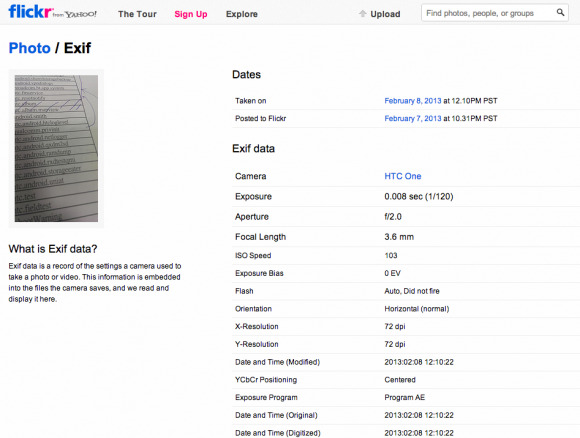 Previous rumors have suggested that the phone will sport "ultrapixel" technology and even indicated a 13-megapixel sensor, so this particular sample may have not been shot at full res. Alternatively, it could just be a fake image altogether.
In any case, it'll be interesting to see what else we find out in the coming days. HTC will be hosting an event that's just right around the corner on February 19, so we may end up seeing the new HTC One for the first time, but in the meantime, we're keeping sensibly skeptical and will let you know about any further developments. Stay tuned!