HTC One Max Robert Downey Jr full-length teaser appears [UPDATE]

While just a couple of bits and pieces were spilled yesterday, overnight it would appear that HTC made with the full-length video spot for their newest campaign entitled "Big Things Ahead." They also use the tag #HTChange, a single iteration of the multi-word collection of possibilities for what H.T.C. could stand for. It's also been suggested that this advertisement teases not only the HTC One Max, but the oncoming brand embodiment by Robert Downey Jr., Iron Man himself.
When you have a peek at the spot below, you'll see a lovely Bell Huey helicopter touch down on a flight deck near a relatively small man. In this man's hand you see an HTC device. Not knowing the relative size of the man exactly, and only seeing the device moving swiftly, it could be any one of the following:
• HTC One
Meanwhile rumors of Robert Downey Jr. signing with HTC for $12 million bucks earlier this year persist. The man that hops off the helicopter has a haircut like RDJ, walks like Tony Stark, and has black rimmed glasses like RDJ. We're still in the lab analyzing the high-five.
The HTC One Max is tipped to be working with a massive 5.9-inch display with the same amount of pixels as delivered in the HTC One. That means 1080p and a slightly less dense display, but with a Qualcomm Snapdragon 800 quad-core processor under the hood. This is a step up from the HTC One, matching the next generation of devices complete (we hope) with multi-band LTE.
UPDATE: Another HTC One Max photo has been leaked via NWE – gaze at the massiveness!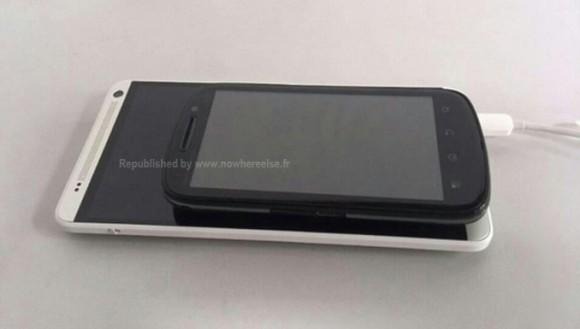 This device will likely appear right around the same time as the September 4th Samsung event which will almost certainly bring in the Samsung Galaxy Note III, the most direct competitor to the HTC One Max in the flesh – we'll see soon!