HTC Jetstream Review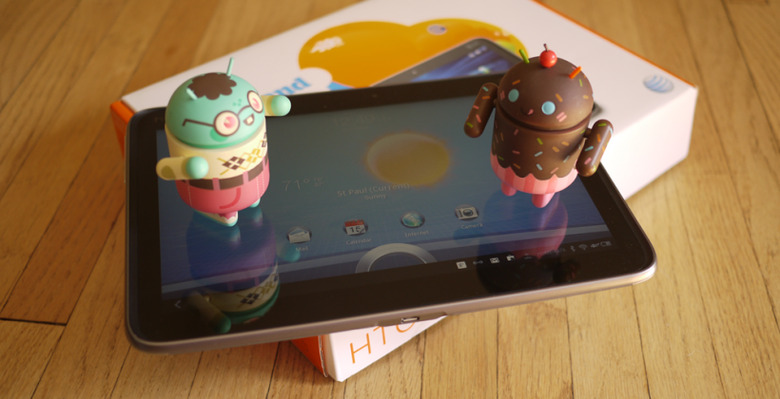 Presenting HTC's vision for the perfect 10-inch Android tablet, the HTC Jetstream, complete with a Qualcomm MSM8660 1.5 Ghz dual-core processor under the hood and a pricy $700 USD bill attached to it carried by AT&T. The question we've got on our minds, and have had on our minds since the pricing was first announced is: how could a 10-inch tablet enter an environment with several 10-inch tablets already having been out for several months with a significantly higher price and expect to do well for sales? As it turns out, this HTC tablet does not hold back – not in construction or content – but will its individual specifications be enough to create one product worthy of the price tag?
Hardware
This device, as I mentioned in the unboxing post, is amongst the highest-quality in tablet architecture on the market today. You don't get much in the way of ports, unfortunately, with only a microUSB* at the bottom and a headphone jack at the top, but you DO get a full-sized SIM card slot and a microSD card slot under the ribbed plastic cover surrounding the back-facing 8-megapixel camera and dual-LED flash.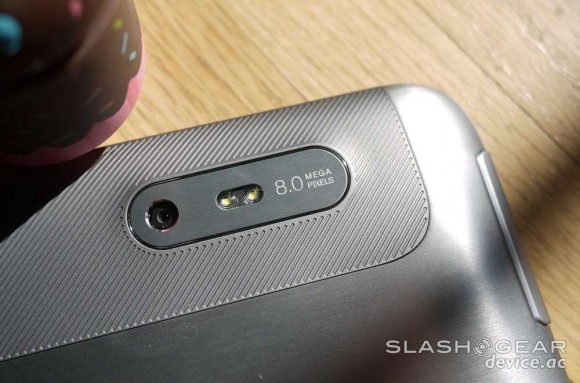 *What's not made entirely clear in the advertisements for this device is that the microUSB at the bottom of the device is MHL enabled, this meaning that if you've got an MHL converter cord, you can output video to HDMI. On the other hand, the video that's output is surprisingly low quality, and compared to what we've seen with past straight-through HDMI ports (like on the Motorola XOOM, for example) and the MHL HDMI functionality on the Galaxy S II, the Jetstream really doesn't add up. It's nice to know that the port is there, on the other hand, just incase you'd like to use it.
The tablet is mostly made of metal and glass, and though that makes us want to compare it to the Acer Iconia Tab A501 [also on AT&T soon with LTE], the HTC form makes this feel like the most high-class tablet on the market. Unlike the iPad 2, the Jetstream dares to add some form to the back and front of the device instead of making it as minimalistic as possible. The same is true about the HTC-modified software inside, as well, Android Honeycomb still looking very similar to its original form as seen in our original Android 3.0 Honeycomb review on the XOOM.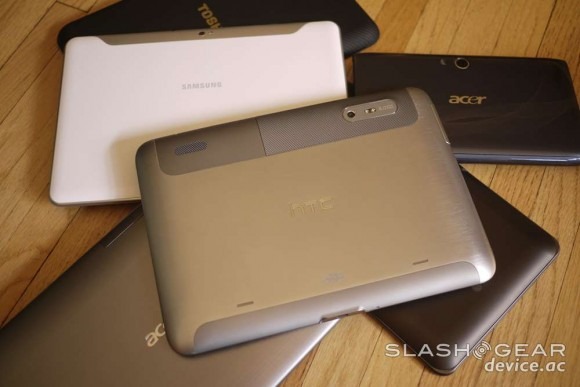 This tablet certainly isn't the lightest tablet in the pack, but just by holding the original XOOM carried by Verizon in one hand and the Jetstream in the other, I've got to say it doesn't feel like the heaviest, either. The Jetstream also doesn't seem to be going for the thinness award either, with its thickest point rivaled only by the massive Toshiba THRIVE tablet. That said, again, the grip is very nice, and this is as high-quality craftsmanship as you'll see on and HTC device.
Before we go on, check out the hands-on video and exploration filmed by your humble narrator here, and get to know your tablet inside and out:
Hands-on Exploration
[vms cb40b095eda264a85f15]
Software
With this tablet you'll get your first glimpse of HTC Sense for tablets. The HTC Flyer got a new look at Sense (new at the time, that is), but this was only running on Android 2.3 Gingerbread and was not specifically tailored for tablets working with anything larger than that device's 7-inch display. Here we get what HTC considers the ideal tablet environment on Android. You'll find it engaging and that it feels like home to you HTC lovers out there, but right from the outset there does seem to be a few oddities that we hope will be rectified with an update.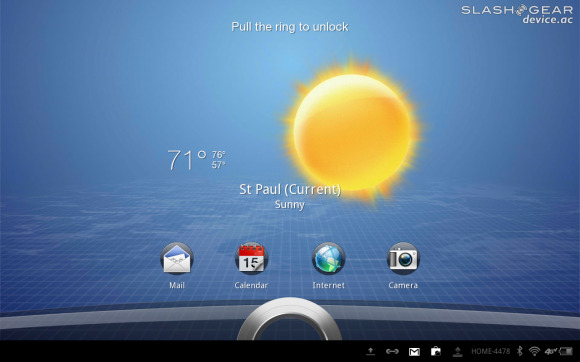 The first oddity is the ring unlock screen. While it's fun to use this ring from the bottom of the screen on a handset, it's fun because you can work with it with a single thumb. Here instead, the ring right in the center of 10-inches of display, you've got to either stretch your hand out quite a bit OR simply hold the device with one hand while the other does the work. Google rectified this problem when they first released Honeycomb by placing the lock on the right-hand side of the display when held in landscape mode. HTC, it would be much easier and more convenient to unlock this device if the ring were set along the right-hand side of the display, regardless of if the tablet is sitting in portrait or landscape mode.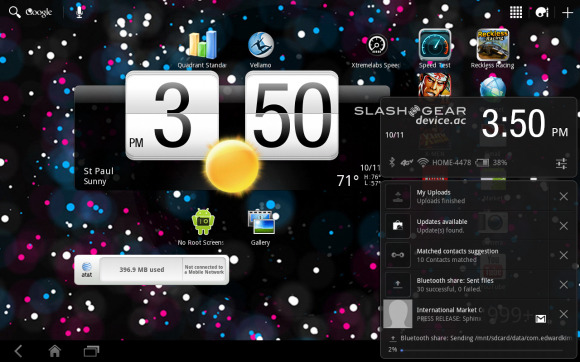 A set of apps sits inside this device, a full list of which you can get from viewing the hands-on video above, that you've seen in many AT&T or HTC devices before. One of those apps is Footprints, an app that encourages you to tap and record your location as you travel through the city, through the forest, or even cross-country. This app alone is indicative of what HTC intends you to use this device for: everything.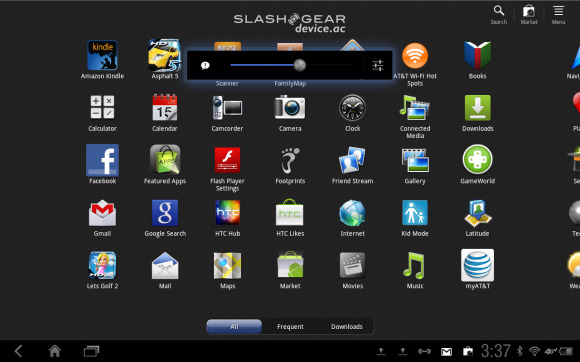 The change between having a tablet that was meant for pulling out only at a desk or tablet and tablet that was meant for anytime use happened when the original Samsung Galaxy Tab, the first large-release Android tablet, was released. It had a camera on the back of it, and we used it all the time! Oh we didn't? That's because since cameras were introduced on tablet-sized mobile devices, there's never been a camera worth using until now. They've essentially been junk, or at least junk compared to that smartphones were capable of – but the Jetstream spits in the face of that legacy and jams a full 8-megapixel 1080p back-facing camera in your face, capable of wonderful things, plus a certainly decent 1.3-megapixel camera on the front that's not half bad.
Camera
This camera combo, but especially the back-facing camera, makes this tablet uniquely able to act as a media collection device that's decent. As I've mentioned before and I'll mention again, tablets have gotten a terrible rep for their low-grade cameras, turning off the whole first generation of tablet users not only because they're difficult and awkward to use, but because they result in second-rate photos and videos. What you've got here with both nearly the most updated HTC camera interface and a full HD 1080p video and 8-megapixel photo capable camera is a new vision.
Have a look at the photos and the video below and compare to every other tablet on the market today. Here the HTC Jetstream is the clear victor, hands down.
Benchmarks
What you're working with here is the Qualcomm MSM8660 1.5 Ghz dual-core processor, one that's certainly been waited on for a while, and it does not seem here to disappoint. Check the stats, see how this device doesn't pin down the competition in every category, but notice how well it does against the current champion, the Galaxy S II, especially in CF-Bench. Can't wait for the hacks and overclocks on this processor!
Also check out the speed tests – AT&T LTE, is that you? Not quite, not here in Minnesota, at least. But the icon is there!

Battery
The battery on this device is a non-removable 7300 mAh, this meaning that basically WHATEVER you're doing this the device, you'll have more than a day's use. In fact, at this very moment we're at over 24 hours use with the tablet and still have 48% left, and that's using the AT&T data on the device — you'll see in the image below that the tablet has been on for 3 days and only a TINY bit of charging, less than a couple of hours, and we're good to go at least for another half-day with heavy usage.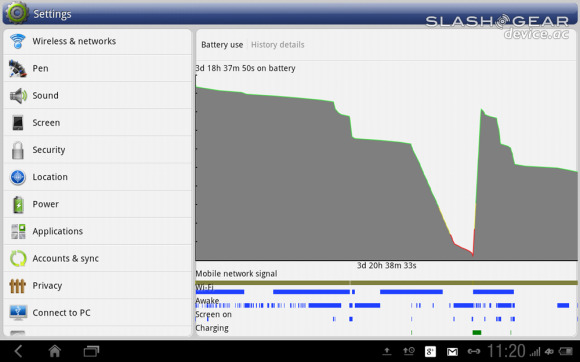 Wrap-Up
It is, again, unfortunate that this tablet will cost you seven bills. If you take away the price, on the other hand, you've got one of the nicest Android tablets on the market, complete with the most comprehensive and well-done user interface placed over Android Honeycomb yet – HTC's Sense is always welcome in devices in my house, as it were. If only this were an alternate universe and the work and materials that went into this project were inexpensively sourced, we'd have the $400 tablet of our dreams.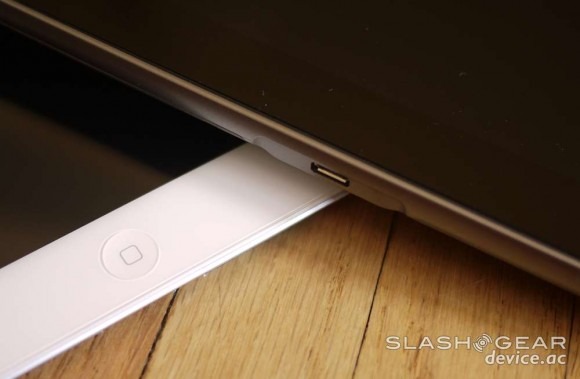 As it is, what you've got here is a tablet that might not survive the winter. I'll continue to express my remorse over the pricing until the price is dropped because I certainly don't want this piece of hardware to go the way of the TouchPad, even IF that would mean we could see then the greatest $100 Android device of all time. HTC Jetstream, you beautiful metal machine you, you were born at a strange time. Here's rooting for you.