HTC Incredible 4G shot with ICS and elite upgrades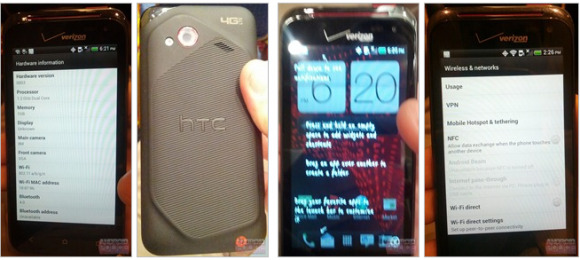 The next generation in one of HTC's best-selling lines of devices has appeared in several photos today complete with Android 4.0 Ice Cream Sandwich and HTC's own Sense 4.0 inside. This device is set to replace the HTC Incredible 2 which we've reviewed and adore so well and will have not only a dual-core processor and Verizon's 4G LTE connectivity, it'll have many of the same perks the HTC One series has as revealed earlier this month in our HTC One S and One X reviews. This device will likely be running the Qualcomm Snapdragon S4 dual-core processor and comes with red Beats logos and flares like you've come to expect from HTC devices.
This device comes with MHL connectivity for HDMI conversion to your big-screen TV, NFC right out of the box, an 8 megapixel camera on the back, VGA camera on the front, and 8GB of built-in storage. Like all great Android devices with a love for expansion, this device has a microSD card slot with the ability to take on 32GB of extra space. Inside you'll also find 1GB of RAM.
Have a peek here briefly at the HTC One S, a member of the HTC One family running Sense 4.0 on top of Android 4.0 Ice Cream Sandwich – this is a very similar experience to what you'll get in the Incredible 4G:
The display on this device is likely 4-inches, but that's not entirely been confirmed quite yet. That said, it does appear very much to have qHD resolution meaning whatever we've got here, it's gonna be sharp. Like the HTC Rezound, this device has a rubbery-like soft plastic back and many of the same red stylings, and by all means looks to be nearly as bulky and fat as that machine was (and is) as well. We shall see!
[via Android Police]