Now that HTC has essentially made good on their promise to stay solid with one hero phone for the year with the HTC One (at least this long), it's time the HTC Desire 500 com about to bring on the differentiation. What you're seeing here is a set of winning bits and pieces of the HTC One, including Sense 5.0 and Beats Audio, leaving out several keys – BoomSound, for example. No worries though, this device isn't aimed at the same audience as the HTC One or One mini anyway.
Up front of this device you've got a 4.3-inch display with a resolution of 800 x 480 paired with a quad-core Qualcomm Snapdragon 200 processor clocked at 1.2GHz. You'll still see HTC BlinkFeed, you've still got a body that looks strikingly similar to the HTC One S up front and the HTC One SV around the back, and you've still got a microSD card slot. This time you've got the ability to carry a 64GB card, on the other hand – that'll be needed especially now that this smartphone comes with just 4GB of internal storage.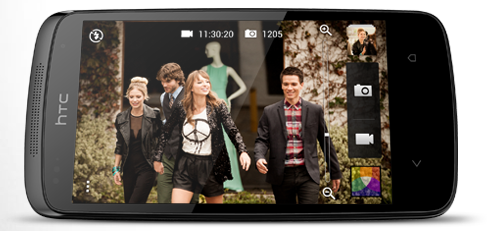 This device's processor is backed up with 1GB of RAM, the device works with 2G/ 2.5G – GSM/GPRS/EDGE or 3G/ 3.5G – UMTS/ HSPA, and connectivity ranges from a 3.5 mm stereo audio jack to Bluetooth 4.0 with aptX. There's no NFC included here, bafflingly, but you do still get DLNA connectivity along with all the sensors: accelerometer, proximity, and ambient light.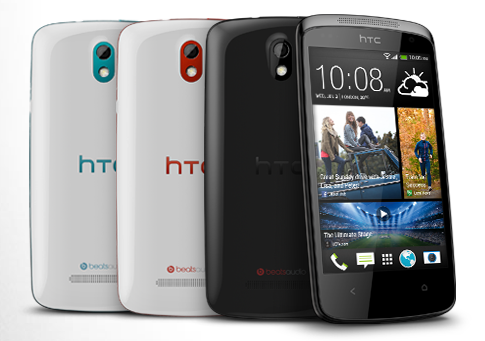 The HTC Desire 500 takes a slightly more traditional approach than the HTC One with its cameras, working with an 8 megapixel shooter on its back and a 1.6 megapixel camera on its front. These cameras work with the same HTC ImageChip that the HTC One S and HTC One X do, working here with new camera features such as "Continuous shooting and VideoPic" and slow motion video recording.
You've got dual-SIM holders that'll allow you to switch from one carrier to the other with ease, and while we're not expecting this device to hit the shores of the USA any time soon – there's always Europe! At the moment, this device is aimed squarely at Taiwan, appearing first on the first of August.
VIA: HTC