Flagship smartphones may get us talking, but it's mass market devices like the HTC One SV that get huge sales, and that's just what UK 4G trailblazer EE needs to help push LTE to the mainstream. HTC's mid-range Android ticks some high-end boxes, with its 4G support and slick design, but there are compromises in the mixture too, in order to hit a more affordable price point. Is the One SV the LTE Android for the everyman? Read on for our full review.
Hardware and Design
For a mid-range handset, HTC has done a decent job with the One SV's physical design. The back cover – removable, unlike many recent HTC phones – has the same soft-touch finish as we know from the 8X and One S, despite being plastic, while the scratch-proof Corning Gorilla Glass 2 up-front has smoothly curved edges which help the slightly angular sides nestle nicely into the palm of your hand.
Front and center is the One SV's 4.3-inch display, using an LCD2 panel as per many other models in HTC's range. It's a bright panel, with decent viewing angles, but its resolution puts it at a disadvantage: at WVGA 800 x 480, it's behind the qHD models in the same sort of price bracket, and leagues behind the 720p and 1080p displays other phones use (including HTC's own DROID DNA, which has an excellent Full HD screen). The result is graininess from the clearly visible pixels, most noticeable when in the browser or viewing photos or video.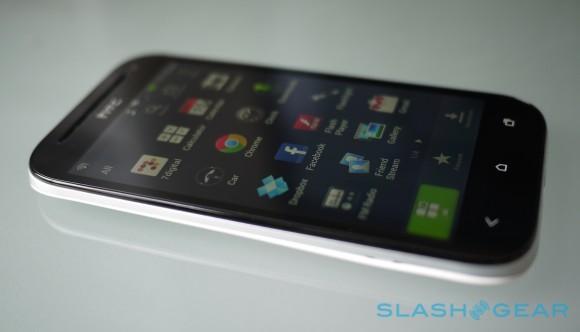 There's a 3.5mm headphone jack on the top, alongside the power/standby button, while a microUSB port is on the bottom edge and a volume rocker on the right. We were slightly surprised by how slippery the One SV could be; placed face down, it quickly found a route off the edge of our sofa and onto the floor, though happily resisted the bump. On the plus side, it's easily dropped into a pocket, and at 128 x 66.9 x 9.2 mm and 122g isn't unduly bulky. The matte white back cover did pick up dirt and smudges easily, however, while the broad, ridged earpiece spanning most of the top bezel was an instant fluff magnet.
As for what's inside the casing, the One SV runs Android on a 1.2GHz Qualcomm S4 dual core processor, with 1GB of RAM and 8GB of onboard storage. There's triband UMTS/HSPA (up to 42Mbps down and 5.76Mbps up, network permitting) and quad band GSM/EDGE along with the LTE, together with WiFi a/b/g/n (2.4/5GHz), Bluetooth 4.0 (with aptX support), and NFC. A digital compass, GPS, GLONASS, accelerometer, proximity sensor, and light sensor round out the key features.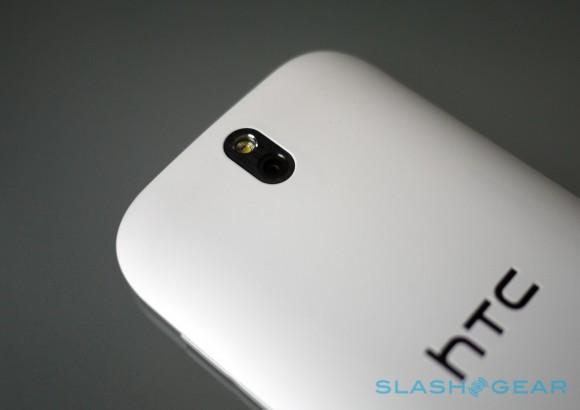 On the back, a nugget of metal surrounds the 5-megapixel camera and LED flash. As per previous phones, HTC uses a backside-illuminated (BSI) sensor for improved low-light performance, along with an F2.0 aperture, 28mm lens. The front camera runs at 1.6-megapixels, and shoots 720p HD video compared to the 1080p Full HD supported on the back. HTC slots in its dedicated ImageChip for pre-JPEG-conversion processing and swifter back-to-back photography.
While One X+ and 8X owners have to make do with what storage HTC gives them (or what they can muster from the cloud), those picking up a One SV can slot in a microSD card instead. Up to 64GB cards are supported; the removable cover also means you can switch out the 1,800 mAh battery, handy given that LTE can be a power-hog.
Software and Performance
If the display resolution is HTC's first real goof with the One SV, the version of Android the smartphone runs is definitely the second. Android 4.0.4 Ice Cream Sandwich is loaded, complete with HTC Sense 4.1, an inexplicable decision given Jelly Bean has been around since mid-2012. It's Android as we know and, generally speaking, love, though you miss out on Project Butter's interface-smoothing magic, and that's a real shame on a handset already running mid-tier hardware.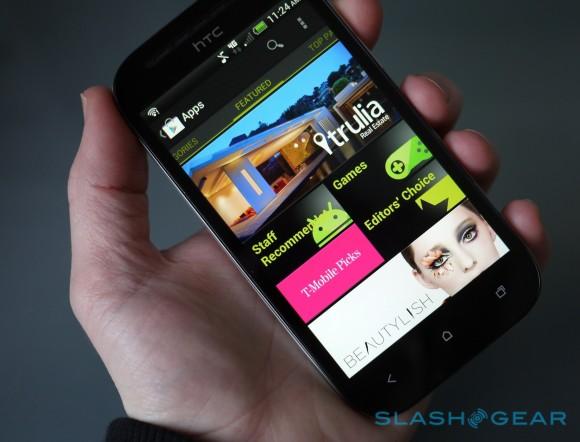 Sense remains a mixed bag, certainly distinctive but feeling more than a little over-designed, certainly when compared to the crisp, near-minimalist simplicity of pure Android. First-time smartphone owners should find it reasonably user-friendly, however, and HTC preloads a number of applications, including Dropbox (which prompts you to set up an account and auto-sync your photos and videos with the cloud), Evernote, a video editing app, 7digital for music downloads, a flashlight, and others, most of which are familiar from a long line of HTC devices.
Familiarity is good, but we're not convinced custom manufacturer skins and Android still make sense (excuse the pun), at least for users. HTC's interface may help it differentiate from other Android OEMs, but it also introduces delays in owners receiving core OS updates. Given the One SV is a step or two behind on that front already, it means Sense is hardly welcome.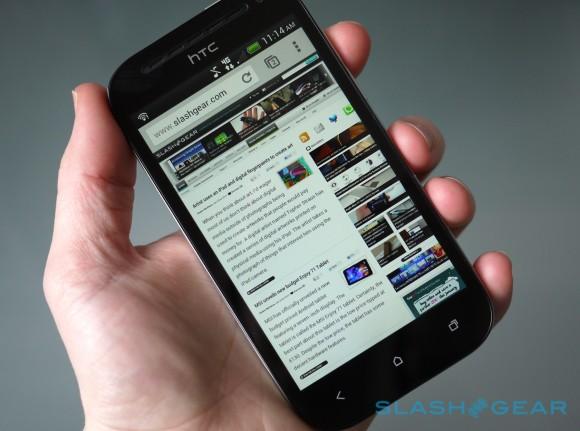 The other differentiator is Beats Audio, though the One SV doesn't get the power-amps of more expensive HTC devices. Instead, it's more of a custom equalizer, ramping up the sound – particularly the bass frequencies – in a way that suits dance, RnB, and other genres, but conversely mangles classical and jazz. Thankfully it can be turned off in HTC's reskinned settings page.
The 1.2GHz dualcore S4 processor may not be the fastest chip around any more, but it's capable enough for everyday use. We ran Quadrant, the Android benchmarking tool, and the One SV scored 4446, putting it just short of the HTC One X (which has a 1.5GHz quadcore).
Camera
Even for the midrange, 5-megapixels is beginning to look conservative, though we're the first to admit that a good sensor performs beyond the sheer number of pixels it collects. Unfortunately, despite HTC's choice of BSI chip and lens pairing, the One SV's camera performance is middle-of-the-road.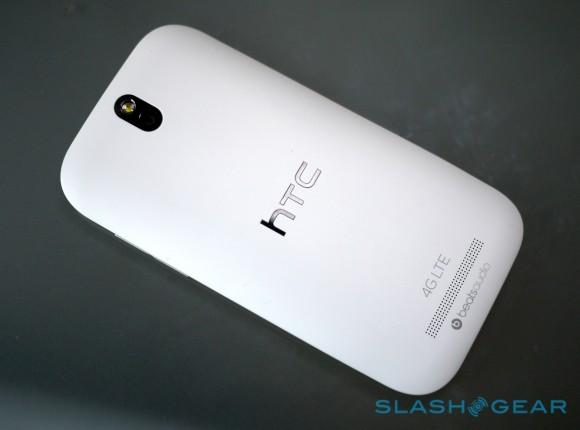 It's not that the camera isn't fast; it loads quickly (though we'd still like a dedicated camera key on the side, as HTC's Windows Phones get) and captures frames right when you tap the on-screen control. Simultaneous photo and video capture is supported, with both buttons shown at once, and if you keep your finger pressed on the shutter release, the One SV will keep snapping at 4fps until you've taken 60 shots.
No, what lets the One SV down is the fact that the resulting photos and video simply aren't that great. The stark scenes of snowy London certainly weren't the easiest of things to capture, but the HTC's camera struggled unduly with contrast and exposure, shedding detail by the handful as it tried to balance the brighter and darker elements of the frame. Meanwhile, points of brighter color – the red "STOP" sign, for instance – lost their vitality as the One SV opted for a more muted reproduction.
Close-ups proved a little more impressive, with the One SV able to lock onto nearby subjects with accuracy, but again color temperature proved troublesome. Holding the camera still, we watched as the preview flipped between warm and cool settings, making capturing a decent frame a matter of perfect timing in hitting the button.
As for video, there's some judder in the frame and the same exposure issues as affected stills show themselves in footage, too. Clips can be grainy, and colors flat and muted.
Phone and Battery
The One SV's sizeable earpiece makes for loud calls, and our callers had no issues hearing us or being heard. Calls are only made over 2G/3G networks, not EE's 4G LTE network (as per the UK model we were reviewing; in the US, the One SV is a Cricket exclusive), and you lose 4G connectivity for data while on a voice call.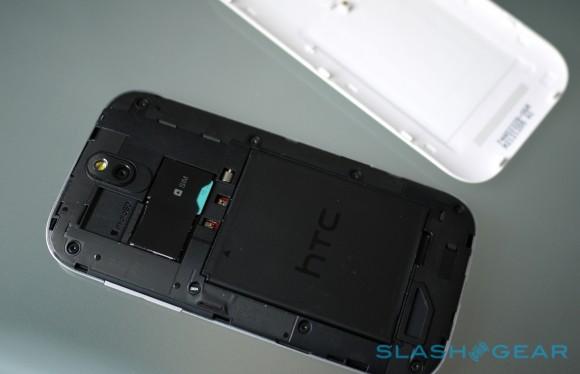 LTE performance unsurprisingly varies depending on where you live; EE's fledgling network has huge ambitions, but so far is limited to denser-populated patches of major cities. With only one bar showing out in London's Zone 2, we saw high speeds of around 13Mbps down and up to 17Mbps up, though EE is certainly capable of faster. Still, it's worth remembering that 4G isn't the magic bullet for mobile data today, and in fact HSPA+ networks can still outshine it in some locations.
The mid-range specifications translate to only moderate draw on the battery, as long as you don't make too much use of the LTE connection. HTC rates the One SV as good for up to 8hrs talk time or 12 days of standby, though it's worth noting that those are 3G figures.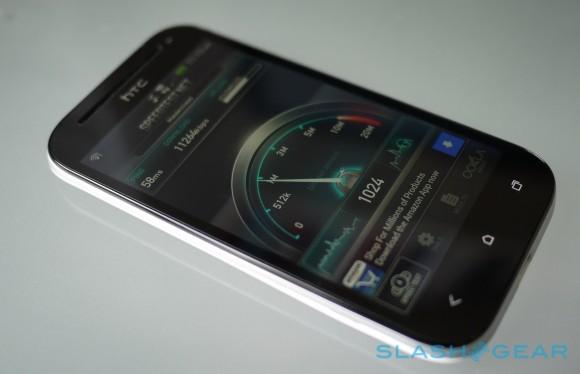 In practice, with push email turned on, automatic photo uploads, some media streaming and local playback, a little web browsing, GPS in Google Maps, and Facebook/Twitter checking, we got a day out of the One SV. Turn on the mobile hotspot, however, which allows you to share the HTC's 3G/4G connection with WiFi-tethered devices like your laptop, and you'll see the phone exhausted far quicker.
Pricing and Value
SIM-free, the HTC One SV will set you back £350 in the UK; Cricket will sell it to you, off contract, for $349, and then offer you month-to-month service on a rolling agreement. EE, meanwhile, will give you the One SV free upfront, if you're willing to spend at least £36 per month over a two-year agreement. That only includes 500MB of data, mind; figure on spending £41 or £46 per month if you want 1GB or 3GB respectively.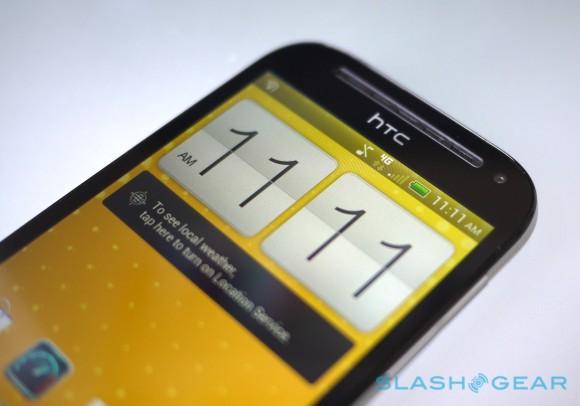 Overall, then, it's a cheap phone with expensive service, at least in the UK. Factor in that EE will sell you a Samsung Galaxy S III on the same monthly contract, albeit with a £49.99 one-time payment for the device, and the One SV starts to look out of place.
Wrap-up
You can certainly see HTC's strategy: make a neatly styled, midrange device that balances battery life with the usefulness of 4G, and help push LTE connectivity out of the premium tier. Unfortunately, some of the company's decisions – or, perhaps, the corners cut in order to meet the target price – take their toll on the One SV proposition overall.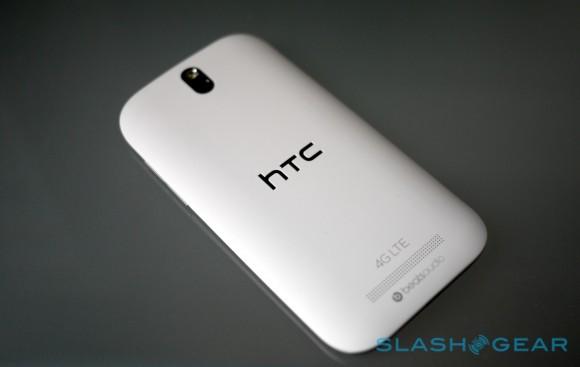 We could live with the last-gen processor, and even the WVGA display only really proved glaringly disappointing when viewing media, but the lackluster camera is a serious blip. HTC first debuted its ImageChip technology with research suggesting mobile photography was one of the key factors buyers weighed in picking a new phone; unfortunately, that's where the One SV falls most short.
Couple that – in the UK at least – with some expensive tariff pricing from EE that puts an altogether more appealing handset within easy reach, and the HTC One SV loses more of its shine. It's not a bad device, but it demands too many compromises from cutting-edge users tempted by 4G, and can't compete on price with more affordable HSPA+ phones on other networks.