HTC Chromebook in pipeline tip sources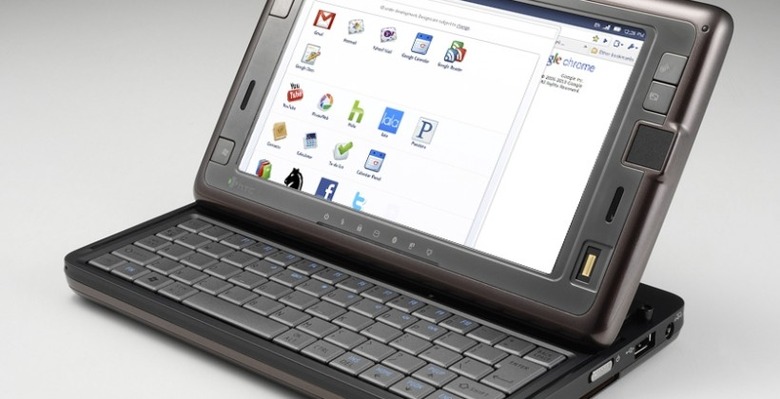 HTC is reportedly considering producing a Chromebook using Google's Chrome OS, despite underwhelming sales of Acer and Samsung hardware using the cloud-centric platform. The new HTC – billed as an "internet-access device" – would differ in that the company is apparently looking to "combine the advantages" of Android and Chrome OS, according to DigiTimes' supply chain sources, though it's unclear if that means a dual-boot arrangement or something else.
HTC could be envisaging something akin to the Shift, the company's UMPC from back in 2008 which could boot into both a customized version of Windows Mobile 6 and Windows Vista, allowing for smartphone-style and laptop-style use depending on your task demands. Rather than Microsoft's platforms, however, the new device could switch between Android and Chrome OS, the former intended for internet browsing and content  consumption, while the latter would allow for content creation using Google's cloud-based apps.
Alternatively, the "advantages" mentioned could refer to running Chrome OS on an ARM chipset, as Android phones use, rather than a more power-hungry Intel processor. The platform already has ARM support, but so far the only commercial hardware released has used Intel's Atom CPUs. With ARM at its core, a Chrome OS device could likely run for longer on a single charge and still deliver high definition video and other multimedia benefits.
Acer and Samsung both cut the starting price for their Chromebooks earlier this week, in the hope that it would spur on consumer interest; even so, cumulative sales are expected to only reach 30,000 at most by the end of the year. Google also tweaked Chrome OS itself slightly, to make discovering browser-based apps more straightforward to discover. Back when we reviewed the Samsung Series 5 Chromebook we found it to be solid hardware but unable to compete with similarly priced notebooks when it came to flexibility of use.