HTC Shift CDMA EV-DO UMPC Review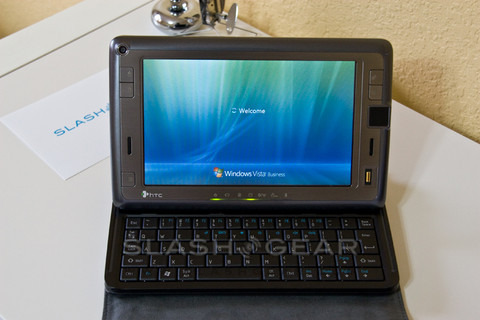 HTC have made a name for themselves with capable, business-friendly smartphones, and when back in March 2007 they first suggested they were turning their hand to the UMPC market there was no shortage of interest. Boasting full Windows Vista support, as well as a cut-down quick-start SnapVue interface for basic tasks, QWERTY keyboard, touchscreen and multiple wireless options, the HTC Shift was hailed by some as likely to be the first decent UMPC. The subsequent journey from announcement to actual launch – a point first estimated for Q3 2007 – has been punctuated by delays, wavering interest and more than a little criticism of how competitive its specs are in light of the latest competition; HTC sent over the new CDMA version of the Shift, complete with Sprint EV-DO support, for SlashGear to see whether time has been kind to the UMPC.
First impressions count for a lot when you've just spent $1,500 (unsubsidized) on a device, and HTC make a decent attempt of giving the Shift's packaging a premium feel. Inside the metal-effect sleeve and matte cardboard box is the UMPC itself, a tri-fold leather case, tiny AC power brick in its own felt drawstring bag, wired hands-free kit with stereo earbuds, and a surprisingly chunky breakout box that adds three USB, a miniUSB and ethernet ports via the Shift's single onboard USB. Somewhat strangely, the leather case is actually attached to the Shift by screws; perhaps HTC are trying to avoid too many broken screen repairs from those who might normally carry their gadgets in the raw.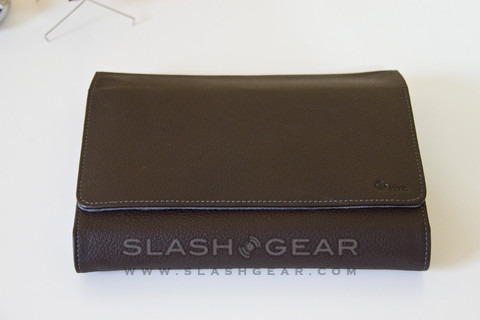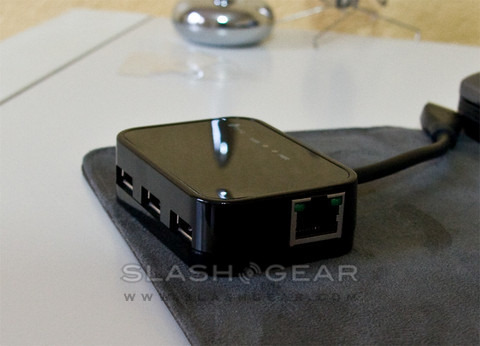 Familiarity from months of anticipation means the Shift's design doesn't exactly wow, but build quality is impressive and the plastics feel sturdy. To the left of the screen there's a webcam, left and right mouse buttons, speaker and the SnapVue/Vista toggle button; to the right there's a shortcut to the HTC Communications Manager app, a button that flips between 800 x 480 and 1024 x 600, a postage stamp-sized trackpad, speaker and finally a biometric fingerprint scanner. Around the edges of the 25mm thick device lie a VGA-out port, power switch to boot into Vista, SD card slot, single USB port, mains power socket and a 3.5mm headset socket.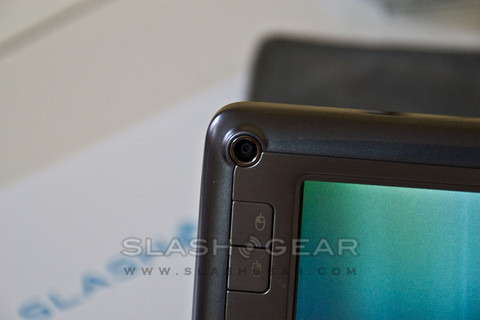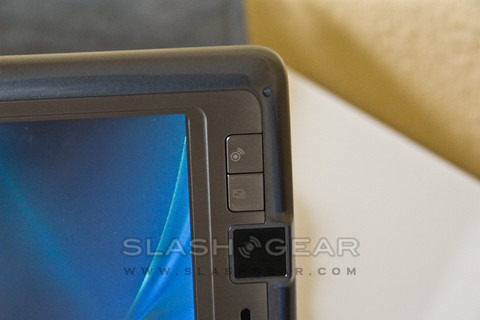 Of course, the Shift's hardware party trick is the sliding keyboard, and with a firm push the touchscreen fascia moves up to reveal the roughly half-size keyboard. The display can also tilt, turning the Shift into a mini laptop, and the hinge is both sturdy enough to feel reassuring as well as to stand up to touchscreen prodding without collapsing back. Obviously you won't want to copy out War & Peace on this keyboard, but unless your fingers are of the sausage variety then you should have no problem pecking out emails, making edits to Word documents and Presentations, and entering URLs and passwords. The reduced space has relegated the function keys to share space with the number keys (and require a Fn modifier) and for some reason, despite there being the keys to accommodate them, F11 and F12 have been omitted. More frustrating, the keyboard lacks a backlight and as such – together with the space-saving layout – is nigh-on impossible to use properly in low-light conditions unless you've had far more practice than we have.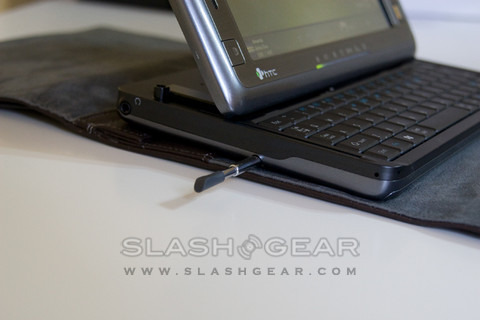 The temptation, perhaps, would be to use the Shift as a true UMPC, with the keyboard hidden. It's not an especially light device – 790g with battery attached, compared to, say, Samsung's Q1 Ultra which rocks the scales at 690g – but the combination of touchscreen and trackpad mean you can alternate between one- and two-handed use. The display is reasonable, with a powerful backlight you can easily afford to leave a few notches down (and reap the battery rewards); a passive touchscreen, it responds to any press, so you'll only need the stylus HTC include if you're using Vista's handwriting recognition. It's relatively low standard resolution (800 x 480) is acceptable considering it measures just 7-inches, and flipping into the 1024 x 600 mode takes care of any oversized dialog boxes.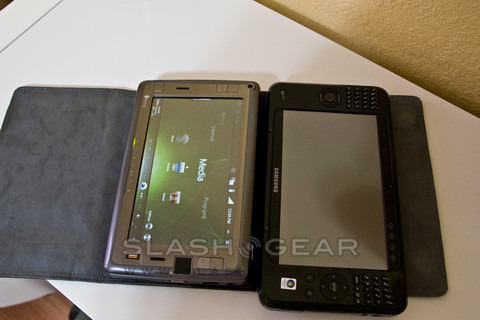 If the HTC's hardware trick is its screen, its software trick has to be SnapVue. Intended to bridge the divide between smartphone and full Vista laptop, SnapVue is HTC's cut-down version of Windows Mobile that the Shift can instantly load for when you merely want to check email, contacts or calendar. As the device can be configured to support push email via an Exchange server, being able to quickly read messages without waiting for Vista to boot fully is a real time saver. Assuming there's network coverage, you can also send SMS messages via SnapVue; however, despite the presence of a hands-free kit in the box, you can't make voice calls, and the modified email app loses Windows Mobile's usual ability to open message attachments. Instead you'll have to save them to the 40GB hard drive and open them up in Vista.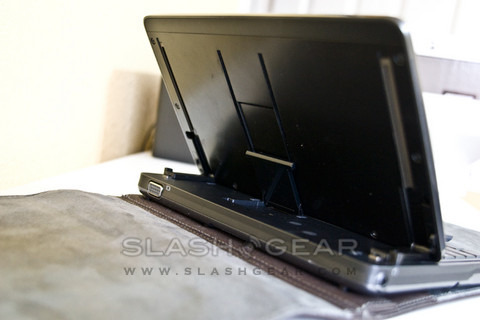 HTC suggest you can eke out three days of use solely using SnapVue, though of course you'd be basically carrying a massive, slightly under-functioning smartphone. In fact that may simply be their pre-emptive defence of the Shift's Vista battery life: 2hrs of normal use, dropping to 1.5hrs with anything taxing the CPU. That's a not-unusual situation to be in, either, as the 800MHz Intel A110 single-core processor and 1GB of RAM are noticeably sluggish running Vista; we'd like to have tried out XP Tablet Edition, which is known to be kinder to lesser-specified machines, but HTC haven't the relevant drivers for the UMPC's hardware.
It's a shame, because when you've got a full battery and a decent Sprint signal the Shift makes a decent portable internet machine. The lack of EV-DO Rev.A support is another disappointment, and means the CDMA Shift can't match its GSM sibling's browsing speeds when there's a top-speed HSDPA network about. We'd have to lean toward the GSM version if it were our money, especially taking into account using the Shift outside of the US where CDMA networks are far rarer. VoIP and video conferencing are both usable either via a WiFi connection or over EV-DO, and the quick-launch HTC Communications Manager gives straightforward control over switching wireless options on and off (with a one-touch flight mode), adjusting volume for the surprisingly impressive speakers and changing the screen backlight settings.
Have HTC made the perfect UMPC? It's difficult to recommend the Shift as a general purpose ultraportable, with most traveling users better served by a normal laptop and a separate smartphone (especially given Shift owners will still have to carry a cellphone for voice calls). However, users who really do demand a mobility solution – not just at different desks, but using their laptop while standing, walking and generally moving around – the Shift makes a pretty convincing, if expensive argument. Yes, an improved version of SnapVue and higher-capacity battery would make the argument stronger, but if you find yourself in that ultramobility niche the Shift should definitely be on your shortlist.
[rating:3/5]
Unboxing Video
[View the entire gallery of HTC Shift]