HP Touchpad priced/dated; 7-inch webOS Opal incoming, plus 4 Honeycomb 10-inchers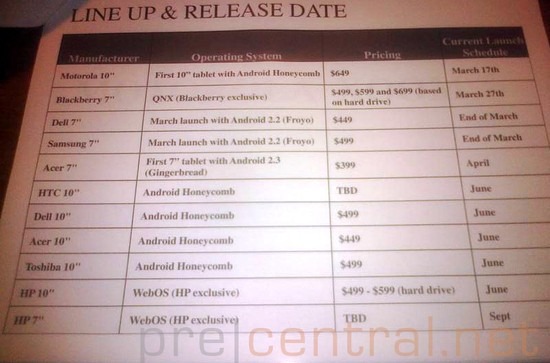 The HP Touchpad and a new 7-inch webOS tablet codenamed HP Opal are among multiple incoming slates included in a new retailer roadmap leak. According to the document, acquired by PreCentral, the Touchpad will drop in June priced between $499 for the 16GB model and $599 for the 32GB version.
Meanwhile, a 7-inch webOS model will arrive in September, though details of hardware and pricing are unknown. We're assuming this is the same Opal as leaked earlier this year, expected to measure around 180 x 144 x 13mm and have a 1024 x 768 capacitive touchscreen.
Meanwhile, a 7-inch Acer – which we're guessing is the Iconia Tab A100 – is arriving in April for $399, though it's said to run Android 2.3 Gingerbread rather than the Android 3.0 Honeycomb Acer has previously promised. It will apparently be followed by 10-inch tablets from HTC, Dell, Acer (presumably the Iconia Tab A500) and Toshiba in June, all running Honeycomb and priced between $449 and $499.