HP Topaz and Opal webOS Tablet Features Detailed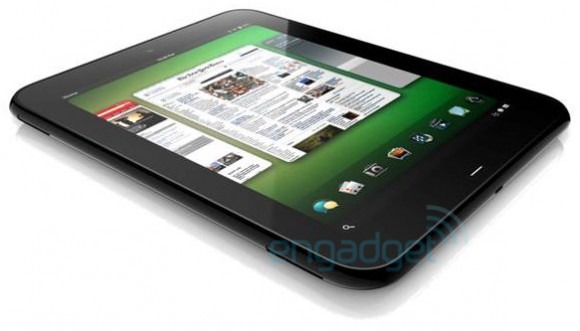 Looks like the details regarding HP's webOS-based tablets aren't staying secret, even as the company's official announcement looms closer (of which they were nice enough to remind us about). Engadget's unnamed sources have come through yet again, detailing some of the design elements of the upcoming pair of tablets.
The unnamed source was up-front about the measurements of the two tablets. The Opal, which we know is the 7-inch webOS-based tablet, will measure in at around 180 x 144 x 13mm, which means it will be about the same size as Samsung's Galaxy Tab Android-based tablet, albeit slightly shorter and wider. The capacitive touchscreen display will feature a TFT LCD with a resolution of 1,024 x 768. While the Topaz, the 9-inch version, will measure in at 241 x 190 x 13mm — or practically identical to the measurements seen in the current generation iPad from Apple. Unfortunately, the source wasn't sure what the resolution of the Topaz will be, but suggested that it could be the same as what the Opal's. A good bonus, though: it looks like HP will be including their Beats premium audio processing.
As for storage, the tablets won't be hindered by the physical storage on the devices. HP and Palm have made sure that there will be "tens of gigabytes" made available up in the cloud, for each tablet owner.
Some additional information regarding the Topaz and Opal webOS tablets may have been revealed in a recent consumer survey, which was conducted by GfK Custom Research North America. While the survey doesn't mention HP or Palm, or even webOS specifically, there are mentions of "Synergy," along with talk about a feature called "Touchstone." The survey asks if people would be interested in using programmable wireless charging docks that would change their tablet device into a digital photo frame, or an alarm clock. Features that we've seen in webOS 2.0's Exhibition mode.
And then there's one additional feature worth mentioning: Tap-to-Share. By "tapping" two tablets together, owners will be able to easily transfer content like web pages, or a document, from one device to another. Furthermore, it sounds like HP's focus on cloud storage may come in handy in the way that applications are loaded. It may be even possible to run some applications, and saved documents, right from the cloud storage. This is apparently a move from HP to make the laptop the new desktop, so that while someone is out and about, they only need their tablet.
Other mentions are features we've seen in webOS 2.0: Flash support, and "true multitasking." Of course, it's good to see that these features are being carried over to the tablet experience. On a lesser note, it sounds like the tipster does know that HP and Palm are planning on launching handsets, but that what they have seen is "nothing too amazing."
[via Engadget]