HP Topaz and Opal webOS Tablets Detailed, Renders Showcased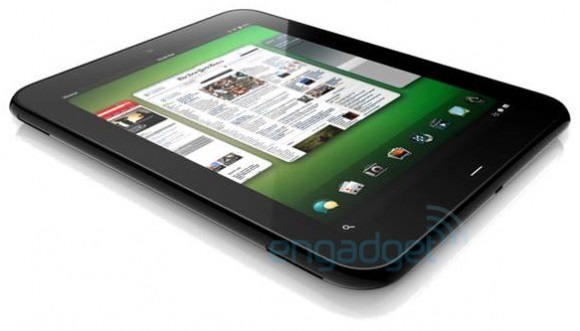 HP has an announcement to make regarding webOS on February 9th. The tagline "Something big, Something small, Something beyond" had many people trying to guess what the company had to show off, with plenty of fingers being pointed at a tablet device. HP and Palm haven't been coy with their tablet talk, though, and have confirmed that a tablet device is on its way featuring Palm's webOS mobile Operating System (OS). As many high-profile devices generally do, it seems that at least one of the tablet devices has found its way into the Internet, in internal render form, well before the official unveiling of the device.
A source has sent Engadget the first renders of the tablet device that HP and Palm have been working on. According to the source, HP is working on a pair of tablet devices. Topaz, which we've heard about in the past, is the 9-inch variation, while the Opal is the 7-inch, smaller version. The render doesn't do much to show us what will actually be coming to market later this year, and into 2012, but there are a few interesting things to take away from it.
There's a microUSB port on the bottom, and the design of the tablet seems to feature a three-speaker layout. There doesn't seem to be any hardware buttons on the device, which goes right in-line with what we've heard in the past. While it's a tablet device, we imagine that HP and Palm have made it so that the device can be rotated. With that in mind, while we can see that there's a gesture area right above the microUSB port, Engadget believes it will probably rotate with the display. At the top of the device, there seems to be a front-facing camera.
Details about the devices, both the Topaz and Opal, are still non-existent at this point. Word about a release date, let alone the specifications and pricing of the tablet devices, are still up in the air at this point. Though, we don't imagine that HP and Palm will not showcase at least one, if not both, of these tablets at their press event right around the corner. A captured screenshot does suggest that an LTE-based version of the Opal will be launching on Verizon's network in September, 2011. While an LTE-based AT&T model won't be popping up in stores until July, 2012.
[via Engadget]