Acer Iconia Tab A100 hands-on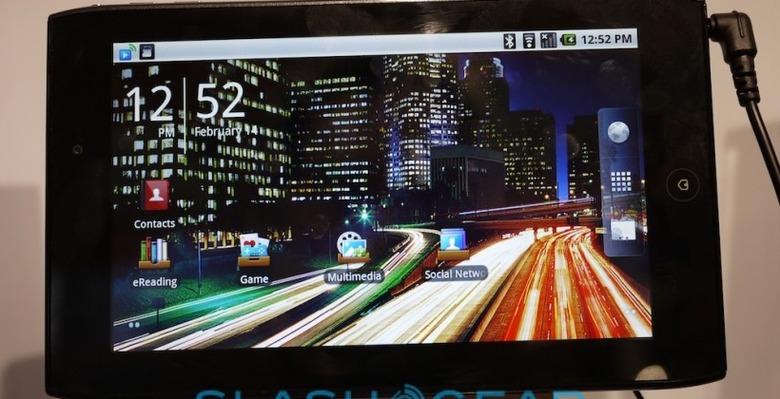 Earlier we reported from MWC 2011 with a hands-on of the Acer Iconia Tab A500. Well, now we have a hands-on with its little brother, the A100. Again, unlike the Iconia Smart, which is more of a phone and tablet hybrid, the A100 focuses on being a full tablet but smaller with a 7-inch display.
The Iconia Tab A100 will be running Android 3.0 Honeycomb, although the hands-on model at MWC is still using an earlier version of Android. The device is optimized for rich multimedia consumption including HD viewing, 3D and console-quality gaming, and can even feed HD movies to your TV thanks to 1080p HD video playback.
The device has a 7" (1024x600) 16:9 full touchscreen display with multi-touch and gyro meter control for a rich gaming experience. A 5MP auto-focus camera on the back side, and a 2MP front-facing camera makes it useful for taking photos as well as live chat. WiFi, 3G, Bluetooth 2.1, HDMI port, and USB ports allow for many connectivity options. The device will be available in April. Pricing information is not yet announced.
Press Release:
Acer's ICONIA TAB A100

Mobility at its best

Barcelona, February 14th, 2011 – Whether you are into gaming, social network or enjoying your multimedia on the go, the new Acer ICONIA TAB A100 is your dream come true. Stylish and compact, this 7" tablet offers unrivalled portability and matches it with the ultimate high performance, taking your mobile experience to the next level.

The Acer ICONIA TAB A100 primary focus is on providing a truly rich user experience. This is why it will be equipped with Android 3.0 "Honeycomb", the new Android operating system specifically optimized for tablets. On the home page, resources are grouped into four main content usages, within easy reach of your fingertips:

- Games Zone: here you can find a variety of compelling preloaded games – online 3D, console and casual – that you'll certainly enjoy.

- eReading, where you can find the tools you need to download or read magazines and books. Magazines with Zinio, books with Nook and LumiRead.

- Multimedia groups all the apps you need to enjoy music, videos and photos.

- SNS brings your social life together. Not only you can find the links to Facebook, Twitter, but also Acer SocialJogger that lets you check, post and update all of your accounts at a glance.

Also pre-loaded on the Acer ICONIA TAB is clear.fi, the Acer media sharing system that enables the seamless integration of the device in the home clear.fi environment to easily access, play and share multimedia across the home network and to instantly publish updates to social media networks.

To provide a truly outstanding user experience, a device must have a powerful engine. The Acer ICONIA TAB A100 will be powered the dual-core NVIDIA® Tegra™ 2, the first mobile dual core CPU, that delivers up to two time faster browsing, for the best web experience ever. Plus, the ultra-low power (ULP) NVIDIA® GeForce® GPU with Flash 10.1 support, ensures amazing graphics for optimized HD viewing, 3D and console-quality gaming, and multimedia playback anywhere. What's more you can relish movies, photos and more on your big screen TV in full HD glory thanks to 1080p HD video playback.

Don't be fooled by size of the screen. On this 7" (1024x600) full touch screen tablet with a 16:9 aspect ratio, you can enjoy photos, videos and movies as well as read books and magazines, and most impressively you'll be able to run and play premium HD arcade games and complex online 3D games, thanks to the multi-touch screen and gyro meter control, for a gaming experience on par with the best consoles.

The Acer ICONIA TAB A100 is also a joy for the ears. Complete with Dolby Mobile technology providing rich vibrant audio with extended bass performance and added depth, this tablet takes the entertainment experience to a new level. To top off the rich entertainment experience, the ICONIA TAB A100 comes with a 5MP auto-focus rear camera, to capture you're life best moments and quickly upload them to your social networks, and a 2MP front-facing camera to engage in live chat with your friends.

Multiple connectivity options, including Wi-Fi, 3G or Bluetooth® 2.1, maximise your mobile experience and keep you in touch with all you care about. Complete with a built-in HDMI port and 1080p output, it may also be used to enjoy HD content in full HD on a big screen TV or monitor, while a full-size and a mini USB help connecting the ICONIA TAB A100 to other devices.

Compact and stylish, is easy to handle and flaunts a trendy back cover embellished by an eye-catching pattern.

Discover a new world of interaction with the Acer ICONIA TAB A100!

The Acer ICONIA TAB A100 will be available in the UK towards the end of April 2011, pricing TBA.